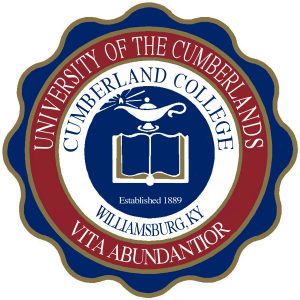 Flexible On-Site and Online Baptist Education From UCumberlands
The University of the Cumberlands appears in our ranking of the Top 10 Great Deals: Bachelor's in Theology and Christian Studies Degrees Online.
Split into four colleges with a 17:1 student-faculty ratio, the University of the Cumberlands is Kentucky's largest private Christian institution awarding 45 undergrad, 35 post-grad, and 28 wholly online degrees. For example, the Information Technology Sciences BS received the National Security Agency's CAE-CD designation in March 2018 for a 120-credit cyber operations curriculum online. The Hutton School logs 120-credit Business Administration BS majors into Moodle for IACBE-accredited courses like Real Estate and a two-day Executive Forum.
In Williamsburg or Florence, the Physician Assistant Studies MS welcomes 27-month cohorts for 113 credits and 10 clinical rotations from Norton Children's Hospital to Baptist Health Corbin. Directed by Dr. Matthew Lyons, the 60-credit Addiction Counseling MA is the United States' only CACREP-accredited online program focusing on drug rehabilitation for CADC credentialing.
Admitting six times yearly, the Education Specialist EdS offers three 30-credit Rank I tracks for School Counseling, Principal, and Superintendent with eight-week courses like Pupil Personnel Services. Other UC opportunities include the Bachelor's Degree in Missions, Applied Physics BS, Church Planting BA, Art Education BA, Criminal Justice BS, Project Management MBA, Family Nurse Practitioner MSN, Leadership Ph.D., and Clinical Psychology PsyD.
About the University of the Cumberlands
The University of the Cumberlands originated on January 7, 1889, when the Gen. Green Clay Smith opened the Williamsburg Institute in Roeburn Hall for the Mount Zion Association. Chartered by the Kentucky Legislature in 1888, it grew to purchase nearby Highland College in 1907. Six years later, the Baptist Church renamed it Cumberland College in honor of the "Little Niagara" Falls.
Accredited in 1931, Cumberland advanced to the four-year senior level for Bachelor of Arts/Science degrees in 1956. On April 6, 1988, the Board of Regents approved Cumberland's first graduate program for teachers. In May 1994, its 150-acre, 37-building Williamsburg campus erected the Cumberland Inn and Robert O. Williams Museum.
The University of the Cumberlands adopted its current name in July 2001 with doctoral education. Endowed for $73.3 million, UCumberlands now enrolls 11,696 Patriots from 38 nations online and on-site with 40+ clubs like Mountain Outreach. On Niche, UC boasts America's 166th most conservative students, 272nd safest campus, and 327th best teaching program.
The U.S. News & World Report also ranked the University of the Cumberlands 88th for online bachelor's and 146th for online MBA degrees.
University of the Cumberlands Accreditation Details
On December 7, 2016, the Southern Association of Colleges and Schools Commission on Colleges (SACSCOC) Board of Trustees decided to reaffirm the University of the Cumberlands for Level VI accreditation compliance through 2026 under its 10th president, Dr. Larry Cockrum, who accepted the university's Education Digital Marketing Award. Based 283 miles south via Interstate 75 in Decatur, this accepted 11-state Appalachia accreditor is recognized by the Council on Higher Education Accreditation (CHEA) and Kentucky Council on Postsecondary Education (CPE). Program-specific accreditations are extended from the following:
 Commission on Collegiate Nursing Education (CCNE)
 Council for Accreditation of Counseling and Related Educational Programs (CACREP)
 International Accreditation Council for Business Education (IACBE)
 Council for Accreditation of Educator Preparation (CAEP)
 Accreditation Review Commission on Education for Physician Assistants (ARC-PA)
University of the Cumberlands Application Requirements
Starting at the University of the Cumberlands is classified "moderately difficult" by Peterson's because 1,656 of the 2,326 Fall 2017 applicants were triumphant for 71 percent acceptance. First-year Patriots must conclude a high school education or score above 450 on each GED Subject section. Four years of English, three years of Math, and three years of Science are preferred. Advanced Placement exams graded at least "3" count for three credits. On average, freshmen present a 3.44 GPA, 1070 SAT, and 23 ACT mark. Undergrads under age 22 who transfer fewer than 12 college credits with 2.0 GPAs must exceed the 18 ACT minimum.
The Online RN-BSN only admits Associate Degree in Nursing grads with passing NCLEX-RN grades.
Non-native English speakers add a 550 TOEFL pBT, 6.0 IELTS, or equivalent score.
The Graduate Admissions Office demands 120 credits of accredited bachelor's study. Most master's request 2.75 GPAs or higher, but some require 3.0. Physician Assistant Studies MS cohorts need nine prerequisites, including Medical Terminology, Biochemistry, and Statistics. Post-grads also meet the 50th GRE percentile with minimum 300 scores after August 2011.
The University of the Cumberlands has a preferred freshman filing deadline of March 1st. Transfer admission conveniently rolls through August 15th for Fall and January 6th for Spring starts. International students should apply before June 1st, November 1st, or April 1st. Check each Graduate School's unique program deadlines since they vary. For instance, the Clinical Mental Health Counseling MA requires February 15th and the Educational Leadership EdD requires December 21st cutoffs.
Access the Self-Service Center to complete the free UC Application online. Have high school and college transcripts shipped to 6178 College Station Drive in Williamsburg, KY 40769. Use institutional codes like 1510 (ACT) and 1145 (SAT) for test submissions. Other checklist items include the F-2 Request form, affidavit of support, state licensure, background check, interview, three recommendations, vaccine record, and experience résumé. Learn more by contacting admiss@ucumberlands.edu or (606) 539-4240.
Tuition and Financial Aid
For 2019-20, the University of the Cumberlands will reduce on-campus undergrad tuition by 57 percent from $23,000 to $9,875 annually. Living at the Williamsburg campus dorms' like Archer Hall adds $9,300 for room and board. UC budgets $1,400 for textbooks and $5,000 for extra necessities per year. Annual bachelor's attendance equals $25,575 on-site and $16,275 with parents. Online adults pay $199 per credit or $597 by course. Each accelerated, eight-week term incurs one $50 technology fee. Therefore, the 128-credit Public Health BAS would cost $25,872 overall. The Graduate School prices each program separately though. For example, the Master of Arts in Teaching bills $315 per credit or $13,230 total. Information Technology Ph.D. candidates spend $500 per credit for $30,000.
According to the NCES College Navigator, the Financial Aid Office in the Gatliff Building gets 57 percent of UCumberlands Patriots median assistance of $16,275 to share $28.02 million combined. Institutional funds include the Presidential Scholarship, Transfer Scholarship, Jim Taylor II Scholarship, Lewis Appalachian Scholarship, Music Scholarship, Christian Leadership Scholarship, Athletic Scholarship, Phyllis Richardson Wood Scholarship, Bert T. Combs Scholarship, Adams Scholarship, Sibling Scholarship, and Gwynn Cornell Scholarship. The Patriot Scholars Program gifts full-tuition $9,875 awards for outstanding freshmen exceeding 3.5 GPAs and 27 ACT scores. Since 1983, the Kentucky Governor's Scholars Program has selected 1,020 individuals statewide after the January 10th deadline. Other state-based aid like the College Access Program, Kentucky Tuition Grant, Early Childhood Scholarship, and Coal County Completion Scholarship help. Finishing FAFSA forms coded 001962 could unlock the Federal Pell, SEOG, TEACH, or Iraq and Afghanistan Service Grant. The Office of Student Employment offers paid FWS positions like theatre or circulation assistant. College Factual also lists an average UC debt of $23,024 from Federal Direct and Graduate Plus loans.
Search the full list of accredited University of the Cumberlands degrees at the Academic Dashboard website.