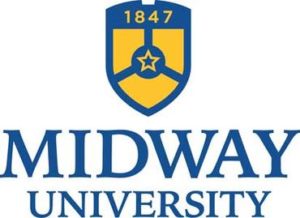 Degrees at Midway University
Midway University appears in our ranking of the 15 Best Deals on MBA in Hospitality Management Online Programs.
Students at Midway University may earn a variety of degrees on campus through the school's Day College option, as well as online where the university offers many accelerated degree programs. The university also has night classes for working adults. Enrollees can earn bachelor's and associate's degrees, as well as graduate degrees at the university. There are also options for non-degree seeking students, adult students, and dual-enrollment seekers.
Degrees are offered within three schools that include the School of Arts and Sciences, the School of Health Sciences, and the School of Business, Equine & Sport Studies. Some of the most popular programs at the university include business, education, health care administration, psychology, and criminal justice. The university has a freshman retention rate of 79 percent, and more than 65 percent of its classes are held with fewer than 20 students in attendance. The overall student-faculty ratio is 19:1.
Midway University describes many of its degrees as career-focused with options available in areas like nursing, education, and business. In addition to standard bachelor's degrees and a handful of associate's degrees, students can also enroll in several pre-professional programs in areas like dentistry, medicine, occupational therapy, and veterinary medicine.
The university also allows students to design their own minors when they're interested in building knowledge in an area that doesn't have a formal minor. Areas of study include environmental science, psychology, sport management, biology, chemistry, and the unique bourbon studies option.
The university also offers a dual enrollment option for highly motivated high school students where enrollees earn college credits in general education classes while also taking high school classes. Dual enrollment students receive a discount of $100 per credit hour. To qualify for dual enrollment, students must be a junior or senior in high school and have a GPA of at least 2.5. Students must also meet prerequisites for certain courses and take the ACT or SAT.
In addition to dual enrollment options for high school students, the university also focuses heavily on adult education, online classes, and evening education. A selection of topics that students may study online includes education, health care administration, sport management, marketing communications, mathematics, and criminal justice.
The university even offers its graduate programs online with available degrees that include a Master of Business Administration, a Master of Science in Nursing, and a Master of Education. Degrees usually require some general education requirements, but there are opportunities to transfer previously earned credits to the university where they can be used to reduce the number of overall classes a student must take to graduate.
About Midway University
Midway University was established in 1847 in the community of Midway, Kentucky. The school was an institution for women until 2016 when the school's board of trustees decided to open enrollment to men, too. There are around 1,050 undergraduate students and 210 graduate students attending the institution. Its official colors are yellow, blue, and white, and the university's mascot is the Eagle.
The private university is affiliated with the Disciples of Christ, which is a Christian denomination. When it was founded, the school was called the Kentucky Female Orphan School, and it had 16 students and one teacher. A minister and an elder of the local Disciples of Christ Church were responsible for its founding and spent time soliciting funds to help the school receive permission from the State of Kentucky to begin operations.
Midway University Accreditation Details
Midway University was last accredited in 2015 and received its regional accreditation from the Southern Association of Colleges and Schools Commission on Colleges. The university was first accredited in 1949 and has maintained its accreditation in every decade since that time. The university will undergo another accreditation in 2025. Some programs offered by the university are additionally accredited by various organizations.
For example, the Accreditation Commission for Education in Nursing, Inc. has accredited the Associate of Nursing, Bachelor of Nursing, and Master of Nursing programs. The Associate of Nursing is also approved by the Kentucky Board of Nursing. The university's programs in education are accredited by the Kentucky Educational and Professional Standards Board.
Midway University Application Requirements
First-time college students seeking enrollment at Midway University must submit official scores from the SAT and ACT, as well as have official transcripts from high school sent to the university. Students may also provide a General Education Diploma as evidence of having completed high school. The recommended minimum GPA for freshmen students at the university is 2.5 on a 4.0 scale, and students should try to achieve at least an 18 on the ACT or an equivalent score on the SAT.
The university also requires that students complete several classes in high school in preparation for taking college classes. Those classes include math, English, social science, and natural science. Some degrees require specific classes. For example, math and accounting majors should take trigonometry or pre-calculus. Nursing majors should take chemistry.
Tuition and Financial Aid
The full-time rate for 12 to 18 credit hours for undergraduate students at Midway University is $12,250 per semester. Students who enroll in part-time study will pay $910 per credit hour. Summer classes are $395 per credit hour. Those who choose to enroll in evening and online undergraduate classes will pay $395 per credit hour with RN-BSN students paying a slightly higher rate of $354 per credit hour.
Other charges students may pay include a space in a residence hall and a meal plan. Room charges range between $1,600 and $2,700 a semester, and meal plans cost $1,400 per semester. There is also a technology fee of $75 per semester and a student activity fee of $100 per semester. Online students will also pay a Learning Management System fee of $150 per online course. For graduate students, rates vary from $250 to $494 per credit.
Students may apply for financial aid when they enroll in classes at Midway University. All students should submit their FAFSA form in advance of enrollment to qualify for loans, grants, and scholarships. Students may need to provide some follow-up paperwork as part of their financial aid application.
Students will receive an email from the university that will contain information about the student's financial aid awards. Some of the merit scholarships available to students at Midway University include the Ruth Slack Roach Leadership Scholarship and the Pinkerton Scholarship.