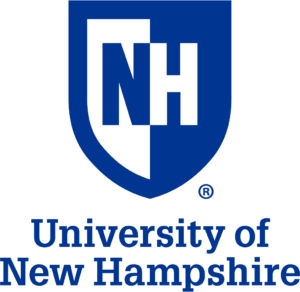 University of New Hampshire Programs & Degrees
The University of New Hampshire appears in our ranking of the 15 Best Deals on MBA in Hospitality Management Online Programs.
There are twelve colleges and schools that comprise the University of New Hampshire, as well as an online degree division. Departments and divisions from which students may take classes at UNH include the Carsey School of Public Policy, the College of Health and Human Services, the College of Liberal Arts, and the College of Engineering and Physical Sciences.
Additional departments include the UNH Franklin Pierce School of Law, the Thompson School of Applied Science, and the School of Marine Science and Ocean Engineering. Popular pursuits at the University of New Hampshire include degrees in business administration, psychology, speech, biology, and parks & recreation. The school has a student-faculty ratio of 19:1.
Overall, more than 40 percent of the university's classes are offered with fewer than 20 students. The freshman retention rate is a highly respectable 86 percent. Although the university doesn't have a dual enrollment program for high school students, there is a dual admission option for students who want to complete some classes at a New Hampshire community college and eventually transfer to a four-year institution.
The university offers degrees at the associate, bachelor's, master's, and doctoral levels. Students can also pursue dual degrees, dual majors, and several graduate certificates. Some of the associate degree programs include an Associate of Applied Science in Applied Animal Science, an Associate of Science in Biological Sciences, and an Associate of Applied Science in Veterinary Technology.
Students who want to pursue a four-year degree at the undergraduate level can choose from a Bachelor of Science in ASL/English Interpreting, a Bachelor of Science in Biomedical Science, or a Bachelor of Science in Business Administration. Many degrees offer multiple concentrations, and some are even offered in an accelerated format or in partnership with a graduate degree program.
One major with several concentrations is biomedical science, which has concentrations in medical laboratory sciences, medical and veterinary science, and medical microbiology. Similarly, the associate degree program in applied animal science offers concentrations of equine management, animal agriculture, and companion animal science.
At the graduate level, some of the topics available for study include chemistry, earth science, mathematics, nursing, and political science. There are also many doctoral degrees available on topics like genetics, chemical engineering, applied mathematics, and history.
About the University of New Hampshire
The University of New Hampshire is a public research institution with the main campus in Durham, New Hampshire. The school was established in 1866 and has grown to become the largest university in the state with more than 15,000 students. The university was originally founded as a result of the 1862 Morrill Act. The school also has status as a land-grant, sea-grant, and space-grant school.
The university has a school of law, which is located in Concord, which is the state capital. The university's official mascot is Wild E. Cat, and students participate in sports teams as the Wildcats. Games are played in the NCAA Division I in the America East Conference. The hockey teams play in the Hockey East Conference. The university's official colors are blue and white, and the motto is "Science, Arts, Industry."
University of New Hampshire Accreditation Details
The New England Commission of Higher Education has accredited the University of New Hampshire as an institution of higher learning. This accreditation covers the entire school and is designed to offer students assurance that their institution operates at a reasonable level. There are also many programs, degrees, and departments that have earned additional accreditation status from nationally recognized agencies.
Accreditations include those from the American Bar Association, the Academy of Nutrition and Dietetics, and the American Association for Marriage and Family Therapy. Other approvals come from the American Occupational Therapy Association, the American Speech-Language-Hearing Association, the National Association of Schools of Music, and the Commission on Collegiate Nursing Education. Accrediting agencies are often recognized by the Council for Higher Education Accreditation.
University of New Hampshire Application Requirements
Applicants to the University of New Hampshire must meet several requirements for grades and the classes they take in high school in preparation for college study. Students must obtain a B/B+ on their college preparatory classes of English, math, science, and foreign language. After completing the official application, students will have their high school transcripts sent to the university and ask a teacher or counselor for a letter of recommendation.
The university considers SAT and ACT scores optional. Some programs have special application requirements in addition to the university-wide requirements. For example, art studio majors must submit a portfolio. Music students must submit to an audition. Students should also have Advanced Placement and dual enrollment credits submitted for consideration at the time of their application.
Tuition and Financial Aid
New Hampshire residents will pay $15,520 per year for tuition, and out-of-state residents will pay $32,050 per year for tuition. Students in the region of New England may qualify for a reduced out-of-state tuition rate of $27,160. Some programs are charged by the credit and are different from standard tuition. For example, students in engineering and computer science programs pay $717 per credit, and business & economics students pay $692 per credit.
For graduate students, the rate for a year of study for New Hampshire residents is $14,170. The rate for out-of-state students is $27,810 per year. Students who qualify for the New England Regional Student Program will pay $21,255 per year. Students may also pay some fees while enrolled for classes at the University of New Hampshire. Fees include a $188.50 health & wellness fee and a $90.50 psychological & counseling services fee.
More than 83 percent of first-year students who attend the University of New Hampshire receive financial aid and the average annual scholarship awarded is $12,4000. The three main steps required to obtain financial aid include completion of the FAFSA form, application for scholarships, and the receipt of a financial award. The priority date for financial aid for students attending UNH is March 1.
Students may qualify for financial aid that includes grants, scholarships, and loans. Applicants will usually receive a financial aid award notification that includes more than one type of award. At the federal level, students may receive grants through the Federal Supplemental Educational Opportunity Grant program and the Pell Grant program. The University of New Hampshire also offers athletics athletic grans-in-aid to help pay for tuition.