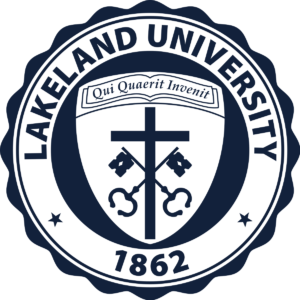 Lakeland University Degree Opportunities
Lakeland University appears in our ranking of the 15 Best Deals on MBA in Hospitality Management Online Programs.
Students who attend Lakeland University can enroll in classes offered in a traditional format on campus or online, as well as at several regional campuses throughout the state of Wisconsin. The university has a freshman retention rate of 71 percent. Programs are offered by the School of Business & Entrepreneurship, the School of Humanities and Fine Arts, and the School of Science, Technology & Education.
Some of the undergraduate majors available to students at Lakeland University include those in accounting, industrial systems analytics, food safety and quality, and psychology. Some programs are only offered at a few sites, but others are offered virtually everywhere the university offers classes. For example, students can enroll in the accounting program at any site or online.
However, the graphic design program is only available in Milwaukee or Green Bay, and the degree is offered as a degree completion program. The university also has a very large number of evening classes for working students and nontraditional students and actively recruits students who already have some experience in college and want to finish their degree.
There are four graduate programs offered at Lakeland University that include the Master of Business Administration, Master of Education, Master of Accounting, and Master of Science in Leadership and Organizational Development. All programs are offered in Sheboygan and Milwaukee, and students can also earn their MBA or their MS in Leadership and Organizational Development online.
The university has a dual credit program from its partnerships with local area high schools, and students can earn college credits before graduating from high school. Classes are held at local area high schools, and the program has more than 1,500 students participating at more than 25 high schools around the Plymouth area. Dual credit programs don't require a tuition payment.
In addition to its dual credit option, students can also consider dual enrollment, which features classes taught by college professors that also require tuition. Students may be able to enroll at a reduced rate at some partner high schools. Students can also consider taking Advanced Placement (AP) courses while in high school, which can help reduce the number of credits a student must take when they enroll for college.
About Lakeland University
Lakeland University is affiliated with the United Church of Christ and features undergraduate and graduate degrees at its Plymouth, Wisconsin campus. In addition to its Lakeland campus, the university also has online, evening, and weekend options for study at seven different locations around the state. The school was established in 1862 by a group of German immigrants who were interested in building an academy and seminary in the area.
The school has more than 3,900 students attending classes. Out of those students, approximately 2,600 attend during the evening, and the rest attend classes on campus on a traditional schedule. The university's students are nicknamed the Muskies, and they plan in the Northern Athletics Collegiate Conference. Popular sports at the university include baseball, cross country, golf, track & field, and wrestling. The university was a college until 2016 when it was elevated to university status.
Lakeland University Accreditation Details
Lakeland University is accredited by the Higher Learning Commission, which is responsible for regional accreditation in the Midwest and throughout Wisconsin. The university undergoes an accreditation cycle every ten years. The university also has specialized accreditations for some of its programs and degrees, as well as state approvals for various programs. For example, the Council for the Accreditation of Educator Preparation (CAEP) has accredited the teacher education program.
In addition, the Wisconsin Department of Public Instruction has approved the graduate school counselor preparation program and the undergraduate teacher education programs. Further, the graduate program in community counseling has earned approval from the Wisconsin Department of Safety and Professional Services. The university is also a part of the National Council for State Authorization Reciprocity Agreements, which allows out-of-state students to take online classes.
Lakeland University Application Requirements
The admissions team at Lakeland University indicates that there is no single factor that determines an applicant's admission status, but that there are some minimum standards that applicants must meet. For example, the university requests that prospective students have a minimum GPA of 2.0 or above or the equivalent of a high school diploma. Students may also apply as transfer candidates if they have a 2.0 GPA and are in good standing at their previous institution.
First-year students should make sure that they take the recommended college preparatory classes that include four years of English, three to four years of math, and a handful of other class requirements. Students should submit the official application online and have their official transcripts and standardized test scores sent to the university. Once the student has submitted the three items, the university will make an admission decision.
Tuition and Financial Aid
Full-time enrollment for undergraduate students in traditional programs is $28,576.00 for the year. Students will also pay $932.00 in fees and a campus center fee of $372.00 each year. The part-time cost for tuition is $953.00 per credit hour, and general fees for the year are $233.00. Costs for housing on campus range from $4,124.00 to $9,146.00. For meal plans, students will pay between $1,506.00 and $4,602.00 per year.
Students in graduate programs will pay a rate based on their class choice. For example, the Master of Arts in Education is $627.00 per credit, and the Master of Business Administration is $648.00 per credit. Students interested in auditing graduate courses may do so at a rate of 67 percent of the total tuition rate. Students who participate in a summer internship will pay $520.00 per credit.
Some of the options students have for paying for college include paying out-of-pocket, applying for financial aid like student loans, or participating in cooperative education opportunities. Students can also apply for and receive scholarships, receive employee reimbursements, or take advantage of military benefits. Students who want to apply for financial aid should submit their Free Application for Federal Student Aid (FAFSA).
There are many scholarships available to students who attend Lakeland University with merit-based awards offered for students in certain majors, cooperative education, and online classes. One of the scholarships students may apply for when they major in science at Lakeland University is the School of Science, Technology & Education scholarship, which ranges from $500 to full tuition.