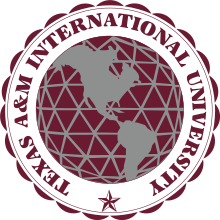 Fast-Growing, Flexible Degree Options at TAMIU
Texas A&M International University appears in our ranking of the Top 50 Great College Deals: Master of Public Administration Online.
Ranked 52nd nationally by Washington Monthly, Texas A&M International University is a public, coed AASCU member on the Mexican border that provides 56 bachelor's, 34 graduate, and 14 certificate programs, including 17 entirely online, at a 20:1 student-teacher ratio. For example, the BS in Systems Engineering follows a 131-credit plan outlined by Dr. Guillermo Dominguez where undergrads can join the DustyTRON Robotics Team, enter the NASA Mining Competition, secure Union Pacific co-ops, and minor in Petroleum Engineering. Directed by Dr. Glenda Walker, the RN-to-BSN Online transfers registered nurses into a 120-credit, ACEN-accredited curriculum of accelerated $843 courses like Global Health and Health Assessment that require 126 practicum hours for 100 percent job placement.
Online on UConnect, the College of Education led by Dr. James O'Meara grants a 36-credit, 12-month MS in Curriculum & Instruction with a Reading Specialization where initially licensed K-12 teachers take seven-week Web courses like Literacy Coaching for 95 percent TExES certificate advancement. Chaired by Dr. Michael Kidd, the MS in Biology builds a 30-credit, thesis-optional Laredo sequence with opportunities to conduct Lamar Bruni Vergara Science Center research, join the Tri-Beta Honor Society, and intern with the Johnston Atoll National Wildlife Refuge.
Other Texas A&M International degrees include the BA in Ethical Leadership, BA in Spanish, BS in Kinesiology, BA in Media Production, MBA in Logistics, MA in History & Political Thought, MS in Public Administration, MS in Mathematics, and MA in Sociology.
About Texas A&M International University
Texas A&M International University first opened in August 1970 for upper-division junior and senior collegiate coursework as the Texas A&I University at Laredo. By the following September, registrar Fred Garcia recorded enrollment of 459 undergrads. In 1975, President Billy Cowart authorized the earliest master's programs. In Fall 1977, its name was changed to Laredo State University. In 1987, it ended its "center" status to become a full-fledged, four-year institution. On September 1, 1989, Laredo State joined the Texas A&M University System placed 171st by Times Higher Education. In 1993, the Texas A&M International University name was adopted. Two years after, bachelor's programs were expanded to serve freshmen and sophomores. In 2006, TAMIU created an Early College for the Laredo Independent School District. On June 3, 2011, TAMIU debuted the Helen Richter Watson Gallery.
Endowed for $41.2 million, Texas A&M International University now enrolls 7,408 Dustdevils from 35 countries online and at a 300-acre Laredo campus along the Rio Grande with 120+ clubs like the Bilingual Education Student Organization for 78 percent retention. In 2018, TAMIU won another Insight Into Diversity Higher Education Excellence Award. In 2019, Texas A&M International received an AVCA Team Academic Achievement Award. The U.S. News & World Report named TAMIU 144th for engineering, 350th for business, and 140th for nursing degrees. On Niche, TAMIU boasts America's 46th best criminal justice program, 177th best dining center, and 194th top faculty. The College Affordability and Transparency Center declared Texas A&M International University the sixth best value. The New York Times picked TAMIU #1 in Texas for equal opportunity. WalletHub positioned TAMIU 339th countrywide.
Texas A&M International University Accreditation Details
On March 17, 2015, Texas A&M International University unveiled its Quality Enhancement Plan for an on-site review by the Southern Association of Colleges and Schools (SACS) to extend the Level V accreditation status through 2024-25 under President Pablo Arenaz, Ph.D., who earned an Imaginarium of South Texas Imagine Award for Educational Leadership. Located 1,112 miles east via Interstate 10 in Georgia's Atlanta Metro, this giant 11-state Gulf Coast Region accreditor is recognized by the Council on Higher Education Accreditation (CHEA) and Texas Higher Education Coordinating Board (THECB). The Office of Institutional Assessment & Research also lists the following accreditations:
Association to Advance Collegiate Schools of Business
National Association of Schools of Public Affairs and Administration
Accreditation Commission for Education in Nursing
Masters in Psychology and Counseling Accreditation Council
Accreditation Board for Engineering and Technology
Texas A&M International University Application Requirements
Enrollment at Texas A&M International University is classified "moderately selective" by Peterson's since only 3,761 of the 7,211 Fall 2018 applicants were chosen for 52 percent success. Freshman Dustdevils must be within two semesters of completing a qualifying high school diploma. General Education Development test scores above 580 would count. The Class of 2022 had an average secondary GPA of 3.64. The middle 50th percentile had SAT scores of 930-1100. Mid-range admitted ACT scores were 16-21. The D.D. Hachar Honors Program requires at least 24 ACT or 1200 SAT marks. Transfers with 24+ credits at 2.5 or better GPAs can forgo standardized tests. One exception is for non-native English speakers who need a minimum 550 TOEFL or 6.5 IELTS score. The Graduate School only selects students who've finished a regionally accredited bachelor's. Upper-level coursework must have a 3.0 or higher GPA. Post-grads must multiply their GPA by 200, add the GRE score, and get over 1300. For the GMAT, the formula must equal 900 and greater.
Texas A&M International University has domestic undergrad deadlines of July 1st for Fall, November 1st for Spring, and April 1st for Summer starts. International undergrads must apply before June 1st, October 1st, and March 1st respectively. The Graduate School set general priority dates of April 30th and November 30th. Incoming MSN cohorts must file before February 28th. The MA in Counseling Psychology only reviews Fall candidates until April 30th. Online programs like the MS in Criminal Justice have deadlines every seven weeks. Accordingly, complete the TAMIU Application online with $35 ($50 if foreign) via credit card. Forward official transcripts to 5201 University Boulevard in Laredo, TX 78041. Testing reports require SAT/GRE code 0359, ACT code 4215, or GMAT code ZDZMB44. Learn further steps by contacting (956) 326-3020 or enroll@tamiu.edu.
Tuition and Financial Aid
For 2019-20, Texas A&M International University is charging full-time Texas undergrads $8,844 annually. Non-resident bachelor's tuition and fees are $23,002 each year. Taking six Summer Session courses costs $1,944 to $4,770. Room and board for the Residential Learning Community adds $8,618 yearly. TAMIU budgets $1,180 for texts, $444 for travel, and $1,404 for miscellaneous expenses. Traditional annual undergrad study equals $20,490 in-state and $34,648 out-of-state. Online RN-to-BSN cohorts pay $281 per credit or $843 by course. Full-time campus graduate programs bill Texans $4,305 and non-residents $10,076 each year. Online master's degrees are priced $335 to $973 per credit, which is $1,007 to $2,469 by course.
According to the NCES College Navigator, the Financial Aid Office in Senator Judith Zaffirini Student Success Center Suite 214 connects 67 percent of full-time TAMIU Dustdevils to tuition assistance averaging $7,289 each for $33.12 million total. University programs include the Emilia Rodriguez Garcia Scholarship, Benavides Zuniga Scholarship, Dr. F.M. Canseco Nursing Scholarship, Alpha Nu Chapter Scholarship, Don Miller Memorial Scholarship, Dr. Ruby South Lowry Scholarship, Laredo Asian Association Scholarship, Robert Noyce Mathematics Teacher Scholarship, and Concurrent Enrollment Scholarship. The Achievement Award gifts $28,000 over four years for freshmen meeting the 1270 SAT or 26 ACT score minimum. The $6,000 Presidential Transfer Scholarship helps new undergrads with 45+ credits and GPAs above 3.75. Federal resources, such as the Supplemental Educational Opportunity Grant and Direct Loan, require FAFSA applications coded 009651. Lone Star State residents also claim the TEXAS Grant, Top 10 Percent Scholarship, Hazlewood Act Exemption, Ashworth Fellowship, and more.
Search through six accredited colleges that deliver 100+ academic offerings placed ninth overall by The Economist at the Texas A&M International University website.