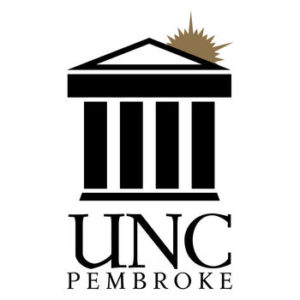 Inexpensive Public Liberal Arts Education at UNCP
The University of North Carolina-Pembroke appears in our ranking of the Top 50 Great College Deals: Master of Public Administration Online.
Named the South's 102nd top school by the U.S. News & World Report, the University of North Carolina-Pembroke is a historically American Indian AASCU member of the Peach Belt that grants 99 bachelor's and 21 master's degrees, including eight entirely online, at a 17:1 student-teacher ratio. For example, the Pre-Licensure Nursing B.S.N. builds a 124-credit, four-year path to 94 percent NCLEX-RN Exam success with Clinical Learning Center simulations, Biology Lab projects, internships like Southeastern Health, and Sigma Theta Tau membership. Chaired by Dr. Bruce DeHeart, the 120-credit History B.A. helps undergrads pursue Secondary 9-12 licensure, intern at the Airborne & Special Operations Museum, join Phi Alpha Theta, exchange to Bangor University, and attend the PURC Symposium.
Online on Canvas since Spring 2018, the Public Administration M.P.A. delivers four 42-credit, part-time concentrations for Criminal Justice, Emergency Management, Public Affairs, and Health Administration with intensive 5000-level courses like Conflict Analysis plus Pi Alpha Alpha inductions. Directed by Dr. Bryan Winters, the Athletic Training M.S. plots a 65-credit, CAATE-accredited plan for 100 percent Board of Certification Exam success after hands-on Division II experience and 200-hour clinical rotations, such as OrthoCarolina.
Other Pembroke degrees include the Botany B.S., Substance Abuse B.I.S., Professional Writing B.A., Music Education B.M., Sociology B.A., Hospitality Administration B.I.S., Finance M.B.A., Mathematics M.A.T., and Clinical Mental Health Counseling M.A.Ed.
About the University of North Carolina-Pembroke
The University of North Carolina-Pembroke originated on March 7, 1887, when the General Assembly voted favorably to create the Croatan Normal School for Native Americans. In 1905, the Normal School awarded its first collegiate-level teaching diploma. In 1909, its campus was moved one mile east to 153 acres in Pembroke. In 1911, the Board renamed it the Indian Normal School of Robeson County. Fifteen years later, it officially became a two-year junior college. In 1941, another name change to the Pembroke State College for Indians was approved. In 1954, it upheld the Supreme Court's desegregation decision to admit all races. In 1969, North Carolina transformed it into Pembroke State University with bachelor's and master's offerings. In 1972, it joined the new 16-campus University of North Carolina system. On July 1, 1996, the University of North Carolina-Pembroke name was given. In 2000, the Esther G. Maynor Honors College was born.
Endowed for $22.7 million, the University of North Carolina-Pembroke now employs 387 faculty teaching 6,069 undergrad and 1,068 post-grad Braves from 19 countries online or at the 43-building Fayetteville Metro campus with 80+ clubs like Enactus. In 2011, UNCP won the John W. Pope Center for Higher Education Policy's Spirit of Inquiry Award. In 2018, the UNCP Eta Epsilon Chapter accepted the Alpha Gamma Upsilon Bronze Cup. The University of North Carolina-Pembroke had a 2017 O. Max Gardner Award recipient too. The U.S. News & World Report placed UNCP 176th for nursing, 235th for public administration, and 226th for online bachelor's programs. On Niche, UNCP boasts America's 336th best professors, 477th most liberal academics, and 676th top residence halls. The Princeton Review featured Pembroke in its "Guide to 399 Green Colleges." College Factual honored UNCP for the 164th best ethnic diversity, 233rd most teacher education value, and 194th most popular chemistry degrees.
University of North Carolina-Pembroke Accreditation Details
In Spring 2020, the Southern Association of Colleges and Schools (SACS) Board of Trustees has scheduled a comprehensive evaluation visit at the University of North Carolina-Pembroke to reaffirm accreditation through 2030 under Provost David Ward, Ph.D., who earned the MUSC Teacher of the Year Award. Based 344 miles southwest via Interstate 20 in Decatur, Georgia, this esteemed 11-state Atlantic Coast accreditor is recognized by the Council on Higher Education Accreditation (CHEA) and North Carolina Department of Education. The Institutional Research Office also lists the following degree accreditations:
Commission on Collegiate Nursing Education
National Association of Schools of Music
Council for the Accreditation of Counseling and Related Educational Programs
American Chemical Society Committee on Professional Training
Commission on Accreditation of Athletic Training Education
Association to Advance Collegiate Schools of Business
Council for the Accreditation of Educator Preparation
National Association of Schools of Art and Design
Council on Social Work Education Office of Accreditation
University of North Carolina-Pembroke Application Requirements
Admission at the University of North Carolina-Pembroke is labeled "moderately selective" by Peterson's since 3,506 of the 4,316 Fall 2017 applicants were chosen for 81 percent acceptance. First-year Braves must exhibit college readiness after a high school or GED diploma. Four units of English and three units of Math, including Algebra II, are prerequisite. The Class of 2021 presented an average secondary GPA of 3.29. The middle 50th percentile had ACT composite scores of 18-21. Mid-range admitted SAT scores were 420-520 for Reading and 420-490 for Math. Adults over age 21 and transfers with 12+ credits graded C or better can forgo testing. Honors College cohorts must reach the 3.5 GPA, 1170 SAT, or 24 ACT minimum. The Graduate School seeks regionally accredited bachelor's degrees with GPAs above 2.8. Online Elementary Education M.A. entrants must verify Class A licensure. Athletic Training M.S. candidates must fulfill prerequisites like Physics, Kinesiology, and Nutrition. The Business Analytics M.B.A. accepts an average 556 GMAT score.
The University of North Carolina-Pembroke has domestic undergrad deadlines of May 1st for Fall and December 1st for Spring enrollment. International students should file by April 15th or November 15th. The Esther G. Maynor Honors College has a February 1st priority date. The Graduate School in Lindsay Hall has several program-specific deadlines. For instance, the Nurse Educator M.S.N. considers entrants until July 31st and December 1st. Professional School Counseling M.A.Ed. cohorts must apply before February 1st. The School Executive M.S.A. stays open through July 1st, November 1st, and April 1st. Prospective Braves should check dates before completing the $45 ($55 if graduate) UNC Application online. Forward official transcripts to 1 University Drive in Pembroke, NC 28372. Select SAT/GRE code 5534 or ACT code 3138 for testing results. Contact (910) 521-6262 or admissions@uncp.edu to learn supplemental steps.
Tuition and Financial Aid
For 2019-20, the University of North Carolina-Pembroke is billing in-state undergrads $3,058 each term or $6,116 annually. Non-resident bachelor's tuition is $5,058 by semester or $10,116 yearly. Mandatory student fees of $1,244 and insurance premiums of $1,313 are included. Residing at the Pembroke campus' housing like Oak Hall adds $2,470 to $5,530 for semester rent. Unlimited seven-day meal plans for Chavis Center are $2,288 extra. UNCP published an annual minimum cost of $15,498 in-state or $19,498 out-of-state. Summer Session courses cost less at $222 to $366 per credit. Online bachelor's education is $53 to $188 per credit. The Graduate School charges North Carolinians $4,698 and non-residents $10,729 each term full-time. Note the Professional M.B.A. tracks add $545 per semester. The Master of Science in Nursing rises the rate by $215 each semester too.
The National Center for Education Statistics reports that the Office of Financial Aid in Lumbee Hall Room 253 connects 73 percent of full-time UNCP Braves to tuition assistance averaging $6,678 each for $26.5 million total. University programs include the Jackie Parker Adams Scholarship, William Lonnie Revels Sr. Scholarship, Beatrice Locklear Brayboy Scholarship, John Green Memorial Scholarship, Brian Freeman Teaching Scholarship, Elinor Foster Newberry Scholarship, Robert Gustafson Memorial Scholarship, Bradley Alford Memorial Scholarship, Angelyn Richardson Poole Scholarship, and Clifton Oxendine History Scholarship. The Compass Scholarship gifts $6,000 annually to 27 first-generation and minority STEM majors from sophomore year on. Since 2017, the $1,000 Graduate School Tuition Scholarship has assisted master's students with minimum 3.5 GPAs. Federal resources, such as the Teach Grant or Supplemental Educational Opportunity Grant, require FAFSA applications coded 002954. North Carolinians also access the Penn Family Scholarship, Veterans' Scholarship, ROTC Scholarship, Criminal Justice Fellows Program, Katherine Baich Scholarship, and more.
Search through seven accredited schools awarding 120+ affordable degrees ranked 229th overall by the Washington Monthly at the University of North Carolina-Pembroke website.