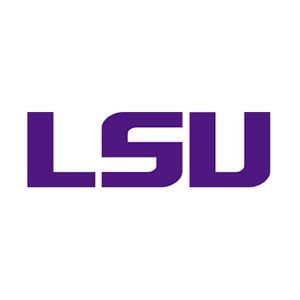 Degrees Available at Louisiana State University
Louisiana State University appears in our ranking of the 15 Best Deals on MBA in Hospitality Management Online Programs.
Louisiana State University offers dozens of majors for undergraduates who apply every year. The university's film and television track is one of its theater programs. It teaches students how to work in small groups behind the scenes and how to act on the stage too. It is one of the concentrations available in the theater major along with design and technology and arts administration. The construction management program includes leadership courses and prepares students for designing and creating projects and making sure that those projects come to fruition. Other majors include finance, education, fitness studies, history, petroleum engineering, textile science, and race and politics.
Through the LSU Graduate School, students can enroll in programs designed for graduate and doctoral students. The agricultural economics and agribusiness major focuses on the economics of the agricultural industry. In the Master of Business Administration (MBA) program, students can choose from tracks designed for full-time study, working professionals, online students and executives. They can graduate in one year through the traditional program or spend up to four years working on a second/dual degree. Other versions of the MBA program take 22 months to complete. Louisiana State University offers majors in landscape architecture, library and information science, physics, veterinary medicine, renewable natural resources, social work and other subjects for graduate and doctoral students.
LSU Online is the division of Louisiana State University that allows students to start and complete their degrees online. Students can earn an Associate of General Studies and then transfer to one of the online or traditional bachelor's programs. The 10 online bachelor's programs include a major in mass communications, which has concentrations available in political communications and public relations. In the leadership and human resource development program, students learn how to work in an HR department and lead small groups as they hire and train employees. Sociology and world religions are some of the other majors available for online undergrads.
Eleven majors and degree programs are available for online graduate students such as a Master of Arts in Education, which includes concentrations in administration and technology. The Master of Education program includes a focus on leadership in the teaching field. In the university's Master of Science in Kinesiology, online students focus on sports management and learn how to operate a sports business. Louisiana State University also offers graduate certificate programs online in analytics, workforce development, teaching in healthcare, construction management, and special education.
About Louisiana State University
Louisiana State University is a public university with the official name of the Louisiana State University and Agricultural and Mechanical College. Established in 1860, it is both the primary university system in the state and the flagship institution in the Louisiana State University System. The Baton Rouge campus uses the nickname LSU and opened in 1926. Before becoming a university, LSU served as a military academy and seminary. LSU students have the chance to do service-learning projects each year such as the cleanup efforts that the university launched after Hurricane Katrina. ARWU ranked LSU as high as number 95 on a list of the best American colleges. It appeared in the rankings released by U.S. News and World Report, Forbes and Washington Monthly too. The university also received recognition for its architecture programs and its business programs, which attract employment recruiters from across the country.
Louisiana State University Accreditation Details
The National Council for Accreditation of Teacher Education (NCATE) is just one of the organizations that awarded LSU accreditation. This is the specialty accreditation that covers the university's education programs. It also has full accreditation for the undergraduate and graduate programs in business and regional accreditation from the Southern Association of Colleges and Schools (SACS). This means that students can use the Free Application for Federal Student Aid (FAFSA) to get financial aid while attending LSU.
Louisiana State University Application Requirements
The application for undergrads at LSU opens every year on the first of August. Students can apply by the priority deadline of December 15 or the regular deadline of April first. LSU will keep accepting applications later in the year but charges a $15 late fee for applications received after the middle of April. Accepted students have until the beginning of May to put down their enrollment deposits. The requirements for prospective undergrads include a standardized test score and an official high school transcript. Accepted students typically graduate within the top 80 percent of their classes and scored a minimum of 23 on the ACT or 1100 on the SAT. Those applying to an online program only need to submit an application, pay a $50 fee and submit their official high school and/or college transcripts.
Most of the graduate programs at LSU require that incoming students have a grade point average of at least 3.0 and a bachelor's degree. They need to pay a $50 application fee and submit the LSU Graduate School application, which asks them to select the program they want to study. In the MBA programs, students need a minimum score of 600 on the GMAT or 315 on the GRE. This program asks for two letters of recommendation, a resume and a personal essay and looks for those who have at least two years of professional experience. Other programs at LSU have similar requirements.
Tuition and Financial Aid
LSU estimates the cost of attendance for undergrads based on whether they live in Louisiana or a different state. Residents pay an average of $11,962 for tuition and fees each year. This cost rises to $28,639 per year for non-residents. They also pay $7,388 each year for one of the housing packages offered by the university and another $4,184 for a plan that gives them 12 meals each week during the two main semesters. Graduate students pay $7,200 per semester as Louisiana residents and $17,600 each semester as nonresidents. Some programs can charge different rates.
Incoming students should submit the FAFSA as soon as they can. This helps graduate students qualify for on-campus jobs, scholarships based on the merit of their applications and unsubsidized student loans. Undergrads who complete this form can also qualify for work-study as well as subsidized loans that help them avoid interest charges until they graduate. There are also different scholarships available from the departments at Louisiana State University that offer degree programs.