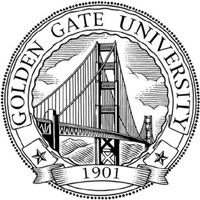 GGU Degree Programs
Golden Gate University appears in our ranking of the Top 50 Great College Deals: Master of Public Administration Online.
Golden Gate University offers more than 60 degree programs at the undergraduate and graduate levels. About 16 undergraduate degrees and 44 graduate degrees are available. Approximately 55 programs can be completed online. The programs are offered through 18 departments. The most popular programs include accounting, business administration, liberal studies, management, and international business.
The Associate of Arts in General Studies provides students with a well-rounded foundation of knowledge in liberal arts with instruction in organizational theory, leadership strategies, and management principles. The program requires the completion of 60 total units. The courses include Gateway to Success, Critical Thinking, Expository Writing, Contemporary Arts and Culture, Examining the Humanities, Intermediate Algebra, Statistics, and American Government in the 21st Century.
The Bachelor of Science in Data Analytics is a technically-oriented program that assists students in establishing a tool-set of data analytics skills. The program provides students with real-world practical training from experienced industry professionals who incorporate data analytics in business and enterprise contexts. A total of 123 units are needed to finish the degree. The data analytics courses include Introduction to Business and Data Analytics, Creating Dashboards and Scorecards, Business Intelligence and Data Mining, Artificial Intelligence in Business, Introduction to Big Data, Introduction to Social Media Data Analytics, and Introduction to Machine Learning and Natural Languages.
The Master of Arts in Counseling Psychology provides students with an in-depth education that encourages the incorporation of theoretical knowledge with clinical practice. Students are prepared to take the examinations for Marriage and Family Therapist and Licensed Professional Clinical Counselors. The program maintains a strategic collaboration with the Psychotherapy Action Network. A total of 60 units are needed to finish the degree. The courses include Career Counseling and Development, Principles of Couple and Family Counseling, Psychological Assessment, Psychopathology, Applied Psychological Research, Legal and Ethical Responsibility for Counseling, Psychodynamic Methods of Counseling, and Therapeutic Communication and Counseling Skills.
The Doctor of Business Administration enables students to gain expertise in the business field and advanced research abilities needed to assess, design, and implement innovative business approaches. It prepares students for leadership positions in the business field. A total of 60 units are needed for completion of the degree. The program is offered on-site in the financial district of San Francisco to provide students with real-world experience. Students must pass a qualifying examination, complete foundation courses, business core courses, electives, and complete dissertation research. The core courses include Economic Theory and Policy, Management and Organizational Theory, Marketing Management, Operations and Technology Systems, Corporate Finance, Business, Government, and Society, and Strategy and International Business.
The Graduate Certificate in Human Resource Management enables students to build skills in specific areas of human resource management, including total compensation, employment, law, ethics, and learning and development. The courses are taught by human resource professionals from organizations in various areas. A total of nine units are needed to complete the program. The courses include: Work and Workplace Trends, HR as a Legal Partner, HR Data and Performance Metrics, Total Compensation, Learning and Development, International HRM, Acquiring and Retaining Human Resources, and Ethics in Managing People at Work.
Some of the excellent online degrees at GGU are the Bachelor of Arts in Psychology, Bachelor of Arts in Management, Executive Master of Public Administration, Master of Accountancy, and many more.
About Golden Gate University
Golden Gate University is a private nonprofit postsecondary institution residing in San Francisco, California. It was founded in 1901 as YMCA Evening College and is California's fourth oldest private unities. It started the first four-year accounting program on the west coast in 1908. It became Golden Gate College in 1923. Graduate programs began in 1950. The college officially became Golden Gate University in 1972. Today, Golden Gate University has an enrollment of about 5,300 students on-campus and online. It functions on the trimester-based academic calendar.
Golden Gate University is committed to helping adults achieve their professional objectives. It focuses on hands-on learning taught by actual practicing professionals. The student to faculty ratio is nine to one. Approximately 66 percent of classes have less than 20 students and the average class size is 15 students.
Golden Gate University Accreditation Details
Golden Gate University is regionally accredited by the WASC Senior Colleges and Universities Commission to grant undergraduate and graduate certificates and associate, bachelor's, master's, and doctoral degrees.
Golden Gate University Application Requirements
Undergraduate
Admission Application
$55 domestic degree or $40 domestic certificate nonrefundable application fee
Official high school transcript
Official transcripts from previously enrolled institutions of higher learning
Optional SAT or ACT scores
Optional personal statement
Graduate
Graduate Admission Application
Nonrefundable $65 application fee
Official transcripts from previously enrolled institutions of higher learning
Official GRE, GMAT, or MAT scores
Optional personal statement
Tuition and Financial Aid
Tuition
Undergraduate
Current students: $600 per unit
Newly admitted students: $462 per unit
Active Duty Military: $250 per unit
GGU Aspire Program: $300 per unit
Graduate
The graduate tuition varies by specific program. In general, the tuition rate is between $1,090 and $1,250 per unit. The certificate tuition rates are between $533 and $750 per unit. The Active Military tuition is $475 per unit.
Financial Aid
Scholarships
Academic Program Scholarships
International President's Scholars
International Dean's Scholars
Financial Planning Association Scholarship
Undergraduate School Grant
Personal Leadership Grant
GGU Community Tuition Assistance Grant
Graduates' Tuition Grant
Graduate Community Leadership Scholarship
Grants
Federal Pell Grant
Federal Supplemental Educational Opportunity Grant (FSEOG)
Loans
Federal Subsidized Direct Loan
Federal Unsubsidized Direct Loan
Federal PLUS Loan
Federal Graduate PLUS Loan
Federal Work-Study
The Federal Work-Study program is a financial aid option funded by the federal government. Students who show financial need have the ability to work part-time to earn money to pay for college. Both campus-based and off-campus jobs are available and the program encourages positions that add to students' academic experience. Students have the ability to work up to 20 hours a week while they are taking classes. The pay varies but is no less than the current federal minimum wage.
The degrees offered at Golden Gate University provide students with the essential knowledge and abilities to lead successful careers, pursue advanced educational opportunities, and maintain learning throughout the lifetime.