There is just as much variation in price among culinary schools as any other college or university. At some prestigious schools, the full program costs over $100,000, which is a lot of money considering that even for graduates of culinary schools, entry-level jobs in fine dining don't pay a lot compared to other professions and trades.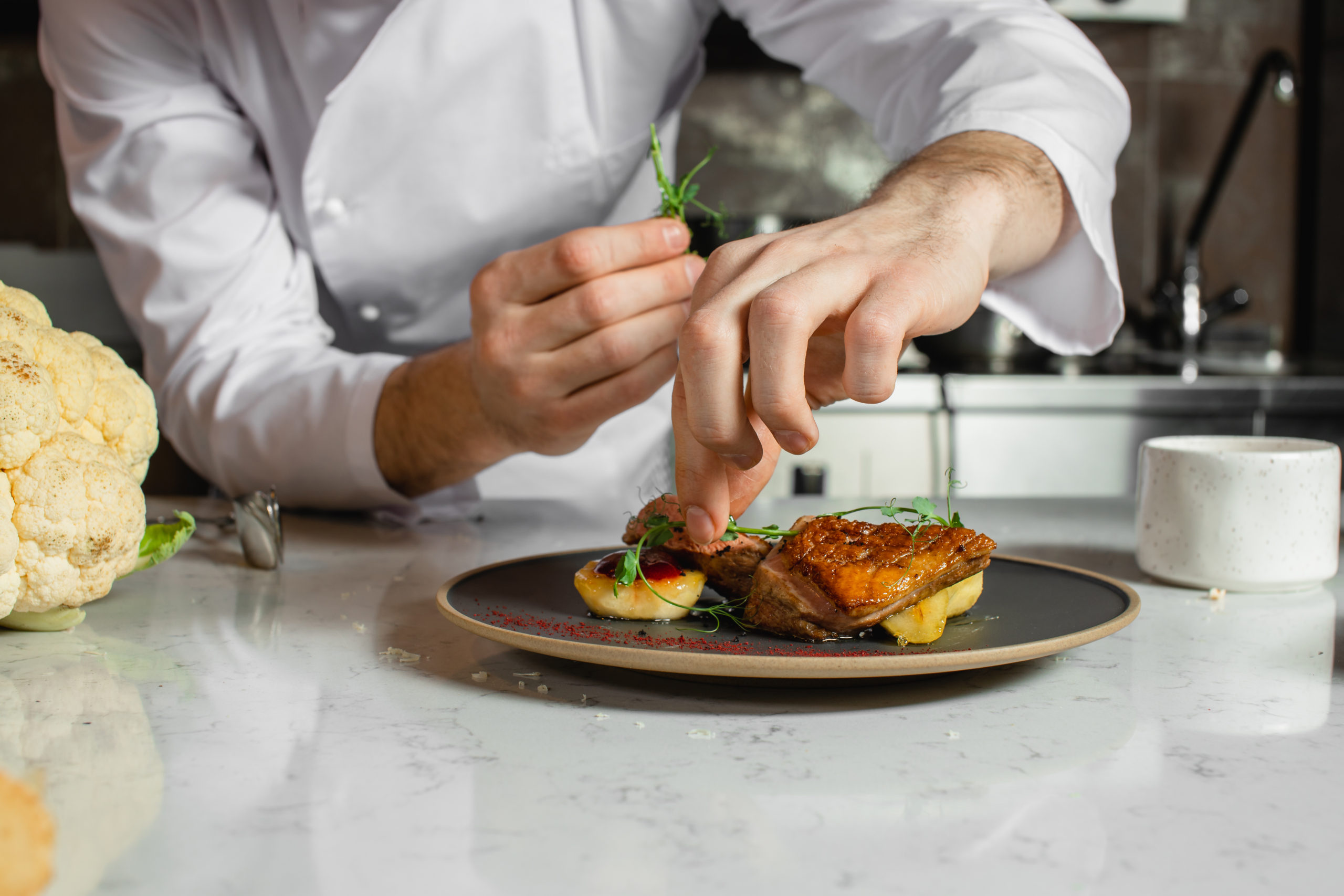 However, there are a number of generous culinary arts scholarships available to culinary students. The following article features ten of the best culinary scholarships. Several even provide a full ride or close to a full ride scholarship. Some are only available as a part of larger programs, so make sure you visit the websites and get all the details. We'll answer some frequently asked questions about culinary school and whether or not it's worth it, and how to afford it at the end of the article.
Ranking the Top 10 Culinary School Scholarships
1. James Beard Foundation Tuition Waiver Partners
This scholarship is at the top of our list of culinary school scholarships. Some of the most prominent culinary schools in the world have partnered with the James Beard Foundation to offer tuition waivers to select qualifying aspiring culinary students. The schools participating in this program are Apicius International School of Hospitality, The Art Institute of Atlanta, Cesar Ritz Colleges Switzerland, Culinary Arts Academy (Switzerland), the Culinary Institute of America, Institute of Culinary Education, International Culinary Center, Johnson and Wales University, and Le Cordon Bleu Mexico. Contact the organization for more information. The waivers can be for one or more full years of training.
Award Amount: Full Tuition Waiver
Application Deadline: Contact Organization
2. C-CAP Scholarships
The Careers through Culinary Arts Program is designed to develop the culinary skills of underserved youth. C-CAP operates many programs in cities throughout the United States including Los Angeles, New York, Hampton Roads, Philadelphia, Chicago and more. Students in this program can qualify for major culinary school scholarships, including full-ride scholarships to schools like the Academy of Culinary Education, Johnson and Wales University, New England Culinary Institute, Paul Smith's College, Chef Eric's Culinary Classroom, Gourmandise School of Sweets and Savories, International Culinary Center, Institute of Culinary Education, and New School of Cooking. While those listed all offer up to full-ride culinary scholarships, there are many more schools that offer great scholarships to C-CAP students.
Award Amount: Up to Full Ride
Application Deadline: N/A
3. Les Dames d'Escoffier
Les Dames d'Escoffier is an organization that supports women working in culinary and hospitality fields. They engage in advocacy against sexual harassment and other problems affecting women in the industry, and also provide financial support to women who aspire to work in the industry. Culinary scholarship recipients have graduated from the Culinary Institute of America, Institute of Culinary Education, International Wine Center, New York University and Cornell University School of Hotel Administration. The average scholarship awarded last year was $5,000.
Award Amount: $5,000 average
Application Deadline: Contact Organization
4. Food Dreams Scholarship
The Food Dreams culinary scholarship is a lot more than just a massive scholarship. Recipients agree to a year of working in a variety of Jean-Georges Vongerichten's restaurants and properties around the world. So right out of culinary school, you are guaranteed jobs in some of the best restaurants around the world for your first year. It's important to know, these jobs will likely be entry-level, and not particularly glamorous. But it's still an incredible opportunity to develop a firm foundation of experience for your culinary career.
Award Amount: Up to $20,000
Application Deadline: Contact Organization
5. American Culinary Federation
The American Culinary Federation offers culinary school scholarships for certificate programs, apprenticeship programs, and post-secondary degree programs. The ACF offers culinary arts scholarships to schools like the Culinary Institute of America, Johnson and Wales University, Hawaii Community College, Art Institute of Atlanta, Austin Community College, and Wake Technical Community College.
Award Amount: $2,500
Application Deadline: Apr. 30 and Oct. 31
6. National Restaurant Association
The National Restaurant Association awards culinary arts scholarships to culinary arts and restaurant management students. Over the years they have given out over $23 million in culinary scholarships. The minimum scholarship is $2,500 and they award hundreds of scholarships every year. Students must be enrolled in an undergraduate-level restaurant, foodservice, or hospitality-related program, must plan to be enrolled for at least two consecutive undergraduate terms, or on track to complete their degree within one term. Applicants must not be related to any employees or family members of the National Restaurant Association Educational Foundation. The application period opens January 15th.
Award Amount: $2,500-$10,000
Application Deadline: Mar. 31st
7. NEWH Scholarships
NEWH, the hospitality industry network, offers scholarships for culinary arts through state chapters. Students in each state can locate their state's chapter on the website and apply for their culinary scholarship through the chapter. Students must have a 3.0 GPA or higher, and be actively enrolled in a 2-year or 4-year program in a hospitality related field (including culinary arts and hospitality management). Students will also submit up to three letters of recommendation and a 500-word essay, the details of which you will find on the website.
Award Amount: $2,600 Average
Application Deadline: Contact State Chapter
8. International Foodservice Editorial Council
This scholarship is for students whose academic and work experience includes food service and communications. The idea is to foster new talent in the world of culinary writing. Students must be planning to pursue careers as writers, editors, public relations practitioners, marketing communicators, or similar within the hospitality industry. This culinary scholarship is perfect for someone who has been working in the culinary world and wants to go back to school in order to transition into a writing career, aspiring food journalists, or business-to-business writers.
Award Amount: $1,500-$6,000
Application Deadline: Mar 15th
9. A. J. Grisanti Memorial Scholarship Fund
The A.J. Grisanti Memorial Scholarship Fund is for students pursuing higher education in restaurant, foodservice, or hospitality majors. While anyone can apply, highest preference is given to students who plan to attend their culinary program in Kentucky; then students at Johnson and Wales University, or Culinary Institute of America; then students at Indiana University Purdue and Bloomington, Indianapolis Vocational Technical College, University of Denver, Wake Technical College, Rochester Institute of Technology, Southeast Community College, Kendall College, or College of DuPage.
Award Amount: $2,500
Application Deadline: Contact Organization
10. Rachel Ray's Yum-O Organization Scholarship
This scholarship gives preference to students attending community college and especially students from schools participating in the Healthy Schools program. The scholarship prioritizes students from diverse backgrounds and geographical areas. However, the preferences stated shouldn't discourage anyone from applying, as the scholarship is open to all people who meet the criteria. This is the last scholarship on our list of scholarships for culinary arts.
Award Amount: $2,500
Application Deadline: Contact Organization
Frequently Asked Questions
Culinary school seems more expensive than I thought. What are some strategies to help me afford it?
Many culinary schools are eligible for federal financial aid. So I would say that's the best place to start. Loans and grants can help cover the cost, though obviously you want to minimize the amount of student debt you acquire along the way. Another option is to look into cheaper options. The bottom line is that, while there are many prestigious culinary schools, there are also a large number of community colleges and universities with very good culinary programs. The techniques you learn are the same, no matter where you learn them. So check out your local community college, or state universities in your state to see if they have programs that meet your needs. They tend to be much cheaper and have great financial aid.
Is culinary school worth it?
Well, that depends. Plenty of famous chefs and food personalities like Anthony Bourdain, Gordon Ramsay, Jeremiah Tower, and Thomas Keller never went to culinary school. Some started from the ground up in the dish pit and developed their skills in top kitchens around the world. Others simply had an affinity for cuisine and fine dining and taught themselves. These legends make people question the value of culinary school. And it's true that you can attain astonishing success as a chef or restauranteur without ever going to culinary school.
However, these people are exceptionally rare. It takes a lot of natural talent, hard work, and a whole lot of luck to make it this way. Chances are, working in restaurants, it will take you longer to develop an understanding of all the techniques used in fine cooking, because not every restaurant serves every style. So you may become proficient in a few techniques quickly. But will not necessarily be as well-rounded a chef. The only way to remedy this in the "ground up" approach is to treat your job as your education and work in a variety of restaurants that use a variety of styles and techniques. Culinary school provides you the focused time to master all the fundamental techniques of a variety of styles in just a couple years. Most culinary programs are two years long at most. Some are only a year long. Culinary school can be intense. But in most cases, if a career as a chef in fine dining is your goal, culinary school is the better way to start.
What is the difference between a community college culinary program and a culinary school?
Well, often, community college programs supplement your culinary training with general education, and sometimes business or management classes. You will usually earn an associate's degree in a community college culinary program. Now, many of the major culinary schools offer both degrees and strictly culinary programs. Some offer only culinary programs. It's important to note, when you're searching for the perfect culinary program, that some culinary schools are not equivalent to colleges and universities. They may offer incredible culinary training, but students there may not have access to the same federal financial aid resources as traditional regionally accredited colleges. So it's important to confirm the status of the school and the financial aid that will be available to you when making your choice.
What is the best strategy for getting a scholarship to culinary school?
Well, first is to do well in your high school classes. A lot of the culinary scholarships do require solid academic performance in order to be eligible. Another thing is to look into specific scholarships you might be interested in and see what they entail. Some might be a competition. Others might be available to youth that are a part of an organization like C-CAP (Careers Through the Culinary Arts Program). Get involved in culinary pursuits while in high school. Start learning techniques and cooking on your own. Get involved in local food programs or a job at a local restaurant. A lot of the scholarships in the culinary world are incredibly niche, so make sure you visit all the websites of the scholarships we recommend in this article and learn what you need to do in order to qualify.
GCD Staff
January 2021
Related:
This concludes our ranking of the top 10 culinary scholarships 2021.