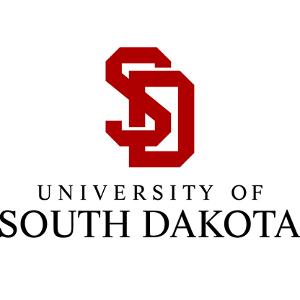 Public, Top-Tier USD Education in Vermillion and Online
The University of South Dakota appears in our ranking of the Top 50 Great College Deals: Master of Public Administration Online.
Ranked the U.S. News & World Report's 226th best, the University of South Dakota has a 16:1 learner-faculty ratio for delivering four associate, 76 bachelor's, 34 master's, 19 doctoral, and 40 certificate programs, including 38 online degrees, with 75 percent retention. For example, the 120-credit B.A. in Psychology lets undergrads research in the Heimstra Human Factors Lab, declare a Disaster Mental Health minor, pledge Psi Chi, and attend the Building Bridges Conference. Chaired by Dr. Michelle Van Maanen, a 2017 Broadcasters Hall of Fame Grant recipient, the B.S. in Media & Journalism has experiential opportunities like publishing The Volante, running KAOR 91.1FM, interning at Nexstar Group, and working on Coyote Creative projects.
Online via Desire2Learn, the M.A. in Addiction Studies builds a 45-credit, two-year curriculum under Dr. Francis Zavadil for aspiring drug abuse counselors to achieve BAPP certification and 95 percent job placement after three-credit internships like Keystone Treatment or Compass Point. The Ph.D. in Biological Sciences develops a tough 72-credit STEM plan specialized in Bioinformatics, Integrative Biology, or Neuroscience tracks with hands-on Missouri River Institute research and Beta Beta Beta membership.
Other South Dakota degrees include the B.A. in Political Science, B.A. in Creative Writing, B.S. in Kinesiology, Executive Master of Public Administration, M.M. in Music Education, M.S. in Physics, M.S. in Criminal Justice Administration, Ph.D. in Counseling, and Ph.D. in Health Sciences.
About the University of South Dakota
The University of South Dakota originated in 1862 when the Dakota Territory's 1st Legislature signed legislation to create the University of Vermillion for the first higher learning degrees. In 1882, an inaugural class of 69 was finally welcomed by President Ephraim Epstein. The next year, the College of Arts & Sciences was established. In 1901, Senator Thomas Sterling opened South Dakota's School of Law. In 1914, the week-long Dakota Days homecoming tradition began. Fully accredited since 1913, it was renamed the State University of South Dakota in 1959. Five years after, the current University of South Dakota title was chosen by the Board of Regents. In 1979, the famed DakotaDome was built atop its 363-acre Vermillion site. In Fall 2003, the Al Neuharth Media Center was dedicated to the USA Today founder too.
Endowed for $214.5 million, the University of South Dakota now employs 437 faculty teaching 10,066 Coyotes from 77 countries online and in Clay County with 150+ clubs like Health Executives Advancing in Leadership (HEAL). Forbes placed South Dakota 497th overall with the 201st most impactful research. On Niche, USD boasts America's 181st top teaching, 193rd best nursing, 212th best accounting, and 231st top communications degrees. The Wall Street Journal included USD among the globe's 800 best institutions. Money Magazine declared USD the 345th top value with a PayScale ROI of $208,000. National Jurist graded the School of Law "A" with the Upper Midwest's lowest debt. Washington Monthly also named the University of South Dakota 191st nationally for social mobility.
University of South Dakota Accreditation Details
On September 14, 2020, the Higher Learning Commission on North Central Association (HLC-NCA) Board of Trustees has scheduled the next comprehensive evaluation of the University of South Dakota to reaffirm the Level VI accreditation through 2030 under its 18th president, Ms. Sheila K. Gestring, MBA, who earned a Vermillion Area Chamber of Commerce Award. Located 519 miles east via Highway 20 in Chicago, Illinois, this giant 19-state Great Plains Region accreditor is recognized by the U.S. Secretary of Education and South Dakota Department of Education. The 2018-19 Catalog also listed the following degree accreditations:
National Association of Schools of Art and Design
Association to Advance Collegiate Schools of Business
Council for the Accreditation of Educator Preparation
American Bar Association Section of Legal Education
Liaison Committee on Medical Education
American Psychological Association Commission on Accreditation
National Addiction Studies Accreditation Commission
Council for Accreditation of Counseling and Related Education Programs
American Dental Association Commission on Accreditation
Council on Accreditation in Audiology and Speech-Language Pathology
Accrediting Council on Education in Journalism and Mass Communications
National Association of Schools of Music
Council on Social Work Education Office of Accreditation
Accreditation Commission for Education in Nursing
Commission on Accreditation in Physical Therapy Education
National Association of Schools of Public Affairs and Administration
University of South Dakota Application Requirements
Starting at the University of South Dakota is classified "moderately difficult" by Peterson's since 3,534 of the 4,199 Fall 2017 applicants were victorious for selective 86 percent acceptance. First-year Coyotes must complete core high school course prerequisites, including four English units, with a C or better. Cumulative GED scores of 2250 and higher are deemed sufficient. Freshmen must rank in the upper 50th percentile or meet a 2.6 GPA. Reaching at least the 21 ACT or 1070 SAT mark is mandated. Grades of 3 and higher on the Smarter Balanced Assessments would even count. Transfers generally need 24+ semester credits at 2.0 GPAs to avoid probation. The Graduate School only seeks post-bachelor's students with GPAs above 2.7. Doctor of Physical Therapy cohorts need 3.2 GPAs plus 50 observation hours. The Master of Professional Accountancy has prerequisites like Statistics and Corporate Finance. The M.S. in Biology demands GRE scores over the 50th percentile. School of Law entrants present a median 147 LSAT mark.
The University of South Dakota conveniently has rolling admission for U.S. residents. However, international learners with a 6.0 IELTS score or equivalent must apply by July 1st for Fall or November 15th for Spring. The B.S. in Dental Hygiene has a specific February 1st deadline. BSN cohorts must file by January 15th or July 15th. The School of Health Sciences considers MSW entrants until December 1st yearly. The M.S. in Chemistry has a priority date of October 15th. Accordingly, check program requirements before submitting the $20 ($35 if graduate) USD Application online. Have official transcripts shipped to 414 East Clark Street in Vermillion, SD 57069. For testing results, select ACT code 3928 or SAT/GRE code 6881. Supplemental materials may include a housing preference form, admission essay, immunization record, teacher/supervisor evaluation(s), current résumé, and immigration document. Contact (877) 269-6837 or admissions@usd.edu with more questions.
Tuition and Financial Aid
For 2019-20, the University of South Dakota is charging full-time Mount Rushmore State undergrads $9,331 annually. Minnesota residents are billed $9,408 each year. Other non-resident tuition jumps to $12,807. International students add a $100 fee per term. Living at the Vermillion campus' dorms like Brookman Hall costs $4,280 for yearly rent. All-access meal plans for Coyote Residential Dining Hall are $3,751 extra. USD estimates $1,200 for books and supplies. Annual bachelor's attendance equals $18,562 in-state, $18,639 in Minnesota, and $22,038 out-of-state. Online undergrad courses are priced $340 per credit. The Graduate School generally bills South Dakotans $379 and non-residents $680 per credit. SD National Guard members pay only $216 per credit. Online master's and doctoral courses are $450 per credit.
According to the NCES College Navigator, the Financial Aid Office at Belbas Center gets 55 percent of full-time USD Coyotes howling with joy for median assistance of $5,115 each or $21.10 million combined. University funds include the Beacom Family Business Scholarship, Al Neuharth Journalism Scholarship, Spearfish Area Scholarship, Sanford School of Medicine Scholarship, Rawlins Scholarship, Ullyot Scholarship, Nolop Institute Medical Biology Scholarship, Dorothy Schieffer Political Science Scholarship, Walter & Lucy Yoshiko Buhler Scholarship, Beverly Behrens Art Education Scholarship, Koch Hazard Architects Scholarship, and Mickelson Scholarship. The Presidential Alumni Scholarship covers full in-state tuition for freshmen meeting 27 ACT or 1280 SAT marks. The $2,000 Phi Theta Kappa Scholarship has an April 1st deadline for transfers with GPAs above 3.0. Completing FAFSA forms coded 003471 determines federal aid, including Stafford Loan, eligibility. State-level programs like the South Dakota Opportunity Scholarship, Dakota Corps Scholarship, and Ardell Bjugstad Scholarship also help.
Explore the 170+ accredited programs of study across eight schools on the University of South Dakota website.