Engineering is known to be a field of study with a high return on investment, and petroleum engineering is among the highest paying engineering specialties. However, good petroleum engineering programs often aren't cheap. This is why we've compiled a list of five high-value petroleum engineering scholarships.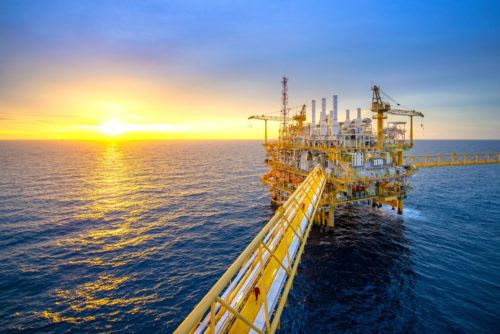 The important thing to note about the scholarships included in our article is that they are specifically for petroleum engineering students and not even open to students of other engineering specialties much less other majors. By focusing on scholarships for petroleum engineering students only, we aim to provide you with options that have a high chance of yielding a positive result. You may have questions about scholarships, strategies for applying for scholarships, and the major itself, so we have included answers to a few frequently asked questions at the end of the article.
Ranking the Top Scholarships for Petroleum Engineering Students
SPE Section Scholarships
The Society of Petroleum Engineers divides itself by sections, each located in one of the organization's regions. The regions are Asia Pacific, Canada, Europe, Russia and Caspian, and the United States. Many sections offer scholarships ranging from $500-$2,500 to students hailing from those regions. You can check out a full list of the sections on the main SPE website by following the link above, where you will find links to each section's available scholarship. This entry alone represents at least 29 different engineering scholarships available to people in various locations around the world. This is one of the available scholarships for petroleum engineering for international students.
Scholarship Amount: $500-$2,500
Scholarship Deadline: Varies by Section
The Desk and Derrick Educational Trust Scholarships
The Desk and Derrick Educational Trust scholarships are available to students who maintain a GPA of 3.2 and above, are taking a full course load, have completed at least two years or are enrolled in their second year of a four year undergraduate program, and are citizens of the United States or Canada. Students must also plan to pursue a career in the petroleum industry or an allied industry.
Scholarship Amount: $1,000-$4,000
Scholarship Deadline: Apr. 1
Joseph King McMahon Scholarship
While strong academic performance is a must for this petroleum engineering scholarship, students must also demonstrate their leadership qualities through involvement in their community and college or university. The goal of the scholarship is not only to cultivate outstanding workers in the petroleum industry, but to identify people who will make substantial contributions to the field as they drive it forward.
Scholarship Amount: $3,000
Scholarship Deadline: Mar 1
Donald G. Russell Scholarship
In order to apply for this petroleum engineering scholarship students must be an SPE student member in good standing, currently enrolled in an undergraduate petroleum engineering degree, and be a United States resident and studying at a university in the United States. The award is only intended to fund undergraduate study and may not be applied for by an undergraduate student intending to use the award for future graduate study.
Scholarship Amount: $4,000
Scholarship Deadline: Apr. 15
Gus Archie Scholarship Program
This merit-based petroleum engineering scholarship is typically awarded to applicants in the top 3% of their graduating class at the least. The scholarship is for students who intend to enroll in a petroleum engineering degree program. Once eligible, recipients must become a member of the Society of Petroleum Engineers. The application for this petroleum engineering scholarship must be submitted by noon, Central Standard Time, on the deadline specified below.
Scholarship Amount: $5,000/year
Scholarship Deadline: Apr. 15
Frequently Asked Questions
Is it even worth applying for scholarships for petroleum engineering students?
Applying for scholarships can seem like a lot of work. And, indeed, it can be a lot of work, which is why it's important to come up with the scholarship application strategy that is right for you. If you're planning to major in petroleum engineering, the scholarships featured here are a great place to start. STEM majors tend to have fewer students than other majors because of the inherent difficulty. Engineering is one of the more difficult STEM disciplines, so it tends to have even fewer majors. Finally, there are a huge number of engineering specialties, and the petroleum engineering scholarships here are only available to petroleum engineering students. This cuts down your possible competition significantly. Combine this with the fact that most students don't apply for private scholarships, and your chances of scoring one of these scholarships for petroleum engineering is actually comparatively high. If you want to apply for more private scholarships than the ones featured here, then that's great! We recommend expanding your search first to engineering scholarships generally, then STEM scholarships if you have exhausted your engineering scholarship options. Prioritizing this way ensures you are always getting the highest return on investment for your time and effort.
Think about applying for scholarships almost as a job. Say it takes you ten hours to get all the information together and the application filled out and sent (often it takes quite a bit less time). And the scholarship is one like the Gus Archie Scholarship Program featured above and awards $5,000 per year for up to four years of college. If you get the scholarship, that's a return of $2,000 per hour of time invested. Now, granted, you won't get every scholarship you apply for. So let's say you apply for ten scholarships, and it takes you ten hours each, and you only get one $5,000 scholarship, and it only lasts one year. That's still $50/hour invested in applying for scholarships. By working hard at school to maintain good grades, and using a smart scholarship application strategy that prioritizes scholarships with limited possible competition, there is a great chance for a fantastic return on investment. So is it worth applying for these scholarships for petroleum engineering students? Absolutely, especially if you use a strategic approach designed to optimize your return on investment.
Is petroleum engineering worth it for someone who will graduate in 2025?
Petroleum overall is an industry that waxes and wanes with the booms and busts of the oil industry. Sometimes there aren't enough petroleum engineers to go around; other times, there is significant underemployment among petroleum engineers. A lot of people are speculating that the oil industry as a whole is on the way out. But when one considers the sheer number of products that use oil in the manufacturing process (it's not just used for fuel) it's unlikely the industry will be irrelevant any time soon. Currently the median salary for petroleum engineers is $137,000 per year according to the Bureau of Labor Statistics and between 2019 and 2029 the demand for petroleum engineers is expected to grow by 3% which is around the average job growth across all industries. As with anything, there are no guarantees. But demographically speaking many petroleum engineers are of the baby boomer generation and are due to retire shortly.
On top of that, an engineering degree is never really wasted. If you find difficulty in the petroleum engineering job market you can likely find work in a related industry, or re-skill and move to another engineering specialty.
What are some tips for mastering the scholarship application process?
First, there are a few things you can do to make your life easier. Most scholarships require you to submit your grades or transcripts so you can make sure you know what that process entails. Some require reference letters so it's not a bad idea for you to ask your references for them ahead of time and keep them handy. Many will want information about your extracurricular activities either at school (student government, sports, clubs) or in your community (volunteering, boy scouts or girl scouts, 4-h, and that sort of activity). So work on getting all that information into one easily accessible place.
Start investigating your target scholarships in the summer before your senior year, or as soon as possible after that. Most scholarship deadlines are between January and June of a given year but there are also outliers that have fall application seasons. Some websites aren't great about updating with information about the new year's application period. Don't be afraid to email them and ask for the most current up to date information. If they haven't set the date yet, make sure you ask them when they expect to have the new application season dates.
Once you get the application seasons for all your scholarships. Enter all of them into a calendar so you can see when you can apply for each scholarship. The earlier you can get your application in the better, so aim to apply to a scholarship in the first half of the application season if possible. Set goals for the day you want to submit the application. Then give yourself some lead time blocked out for working on that application. If you keep all your other obligations in the calendar, this will let you see what windows of time exist during the scholarship application window.
Any other ideas of where to find low-competition scholarships?
Not all scholarships that make themselves available to a wide range of majors are high competition. Many local and regional community organizations offer scholarships. Sometimes to members and sometimes just to people who are part of the community. Your school guidance counselor should have a list of these sorts of scholarships. If you parents are part of any community organizations, ask them if there are any scholarships available through those organizations. Churches also sometimes offer scholarships to members of their congregation. Start at the city/town level and then expand your search to county-wide and multi-county scholarships. Scholarships on these levels are usually offered by organizations without a large internet presence and can be hard to find. So the number of people applying for them is often quite small. Don't worry too much about college-specific scholarships available through individual colleges. You should be considered for these by the financial aid office when you declare your major. If you are concerned you may have been overlooked, feel free to contact your college's financial aid office to inquire about any scholarships potentially available to you.
Should I apply for some of the big name STEM scholarships and those available to any major?
Absolutely! If you have the time we definitely recommend you apply for as many scholarships as you can! Start by prioritizing high value scholarships you have the best chance of receiving and then work out and identify the high value but more general scholarships you want to go for! There's a lot of private money out there for higher education and a lot fewer people going for it than you might think.
GCD Staff
February 2021
Other scholarships to consider:
This completes our coverage of top scholarships in petroleum engineering.