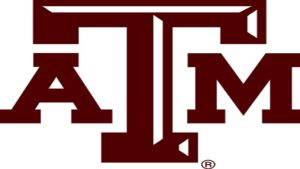 Degrees Offered at Texas A&M University-College Station
Texas A&M University-College Station appears in our ranking of the Top 50 Best Colleges in Texas.
Texas A&M University-College Station is a public research university and flagship member of the Texas A&M University System. It's the second-largest public university in the country, and admissions are competitive. Online students have access to the same learning technology and resources as residential students. Despite the large student body, class sizes at TAMU are small. The university is divided into the following academic colleges:
College of Agriculture and Life Sciences
College of Architecture
Mays Business School
College of Dentistry
College of Education and Human Development
College of Engineering
College of Geosciences
Bush School of Government and Public Service
School of Innovation
School of Law
College of Liberal Arts
College of Medicine
College of Nursing
Irma Lerma Rangel College of Pharmacy
School of Public Health
College of Science
College of Veterinary Medicine and Biological Sciences
TAMU offers a program for students who wish to earn college credit while still in high school. Students can earn up to 40 early college credits before they become ineligible for Team Blinn and Gateway. Team Blinn is a program for students enrolled at the Blinn Community College in College Station. Gateway is a provisional path to enrollment for students who haven't met the minimum requirements. All undergraduate courses are open to high school students who meet the enrollment requirements, but administrators recommend that students enroll only in courses related to their major. Some upper level courses require a major declaration before they become available.
With 17 colleges and hundreds of degree programs, TAMU offers students many opportunities for education and career advancement. Most people know TAMU for its College of Agriculture and Life Sciences. Within this college, there are 14 departments that offer a wide selection of degree options. From agricultural economics to soil and crop science, the agricultural programs are challenging and rewarding. They range from the natural sciences to the social sciences, and many agricultural degree tracks are innovative programs available only at specialized schools like TAMU.
The Department of Animal Science offers two undergraduate degree plans. The BS Animal Science program includes a science track and a production track. The science track is suited to students looking to continue their studies in graduate school while the animal production track is designed for students looking to enter the farming industry directly after college. The science option is more technical and theoretical than the production option. It includes six semesters of natural science courses, such as chemistry, genetics, biology, physics and mathematics. The animal production option covers agronomy, accounting, economics and range science.
Most online programs offered at TAMU are for masters or doctoral degrees. A few bachelor's completion programs are available for online students, including the Bachelor of Science in Nursing (BSN). The College of Education and Human Development offers a large selection of online master's degrees, such as the MEd in Curriculum and Instruction, MEd in Psychology and MS in Health Education. Many distance education programs at TAMU include residency requirements, so students may have to travel to the campus during the semester.
About Texas A&M University-College Station
TAMU was founded in 1876 as a land- and sea-grant college for agricultural and military students. It was the first public university founded in Texas, and it has since grown to occupy 5,500 acres of forested land about 100 miles northwest of Houston. With an endowment of $13.5 billion and a student population of over 65,000, TAMU has the means and incentive to provide a world-class education to students of all education levels, academic disciplines and socioeconomic backgrounds. Notable alumni include the singer Lyle Lovett, actor Rip Torn and former Texas governor Rick Perry.
Texas A&M University-College Station Accreditation Details
TAMU is accredited by the Southern Association of Colleges and Schools Commission on Colleges (SACSCC), a regional agency approved by the US Department of Education to accredit universities throughout the southern US. TAMU is also accredited at the department level by various professional agencies, such as:
Academy of Nutrition and Dietetics
American Psychological Association
American Veterinary Medical Association
National Council for Accreditation of Teacher Education
Academy of Nutrition and Dietetics
Many departments and programs are independently accredited, so this list is only partial. With most programs at TAMU accredited at both the institutional and department level, students can be sure their credits will transfer to universities throughout the world.
Texas A&M University-College Station Application Requirements
The acceptance rate at TAMU is 67 percent, and most students admitted are Texas residents. All students must meet the State of Texas Uniform Admission Policy standards. Incoming freshmen are automatically accepted if they ranked in the top 10 percent of their graduating class. Students who graduated in the top 25 percent but below the top 10 percent have a chance of acceptance if they scored above 1360 on the SAT or received a composite ACT score of at least 30. The high school coursework requirements are as follows:
Four years of English
Four years of math, including algebra and geometry
Four years of natural science, including biology, chemistry or physics
Two years of the same foreign language
Applicants who ranked lower than the top 25 percent of their high school graduating class may be admitted to TAMU by review. In this case, the student's application and essay, test scores, extracurricular activities and letters of recommendation are considered along with his or her graduation ranking.
Tuition and Financial Aid
Tuition at TAMU is about $11,870 per year for Texas residents and $37,495 per year for non-residents. Books, course supplies and living expenses can increase the cost of education by around $12,000 to $15,000 per year. Student aid is available through the Free Application for Federal Student Aid (FAFSA) program, and scholarships, loans and grants are offered by various private groups and donors. Public aid includes grants and low-interest loans that don't need to be repaid while the borrower is a full-time student.
Texas A&M University-College Station is an excellent school for undergraduate, graduate and professional students looking for a stimulating challenge and a profitable career boost.