Shasta Bible College and Graduate School Degree Programs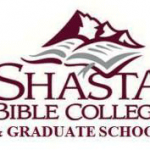 The Shasta Bible College and Graduate School appears in our ranking of the Top 10 Great Deals: Bachelor's in Theology and Christian Studies Degrees Online.
The Shasta Bible College and Graduate School offers degree programs for students who want to study theology and religion at the same time that they work on a full degree. These programs are available at the graduate and undergrad levels, but the college also offers a few certificate programs. The Biblical Studies certificate program is suitable for those who want to learn more about the Bible and those who want to share their experiences with others. Students can also earn a diploma in Biblical Studies. The college designed this program for ministers and requires that they spend at least three years working on their diplomas.  The plentiful Distance Learning options at Shasta make it easy for students to earn their degree while continuing in their current ministries.
Many of the bachelor's programs offered by the college accept transfer credits. Students can usually transfer in up to 60 credits that they earned from any other school. Its online Bachelor of Arts in Christian Professional Studies will accept students who earned an associate degree in the same subject from the college. They can pick a concentration in three areas based on how they want to use their experience and education. The college offers concentrations in Christian Teacher Education, Biblical Studies and Biblical Counseling and Christian Family Life Education. These programs are all available from the college's Department of Bible and Theology.
The college's Department of Education offers three graduate programs, two certificate programs and both an associate and a bachelor's program. Those in the Master of Science in Education: Administration program learn how to lead educators and others in a school system. The college designed this program for future principals and others who want to work in similar positions. Students can get a teacher specialist certificate from the college too, which will help them become licensed teachers in California. The college offers a similar program for those who need to renew their certification too.
One of the college's top programs is its Master of Arts in Biblical Counseling. This program teaches students the fundamentals of working with patients who suffer from mental health disorders and those struggling in their personal and professional lives. Though it does not meet the requirements for those who want to become licensed counselors, it does help students gain the skills they need to work in church counseling groups and centers. They learn how to encourage others to use religious beliefs and teachings to overcome any of the challenges that they face.
A similar graduate program is available with a major in Christian Family Life Education. This is similar to the marriage and family therapy programs offered by other schools. Students learn how to look at the challenges facing families and couples today. They also learn how to help people move beyond issues such as infidelity and use the Bible to recover together. As with the Biblical Counseling program, this program does not meet the requirements in California for those who want their counseling licenses. The Shasta Bible College and Graduate School also offers a Master of Divinity program at the graduate level for ministers and graduate students who want to work as church leaders.
About Shasta Bible College and Graduate School
The Shasta Bible College and Graduate School is a private college affiliated with the Baptist Church that has its own graduate school. Founded in the 1970s, it opened as a branch of a small Bible school in California. The school held classes on the campus of the North Valley Baptist Church. Leaders from several Baptist churches in and around Redding came together to create a program that would allow students to study the Bible more in depth and to talk with other students about their beliefs. This program became so popular that it served as the beginning of the Shasta Bible College. It would later add its own graduate school too.
Also called SBC&GS today, it offers several degree programs in theology and religious studies. The majority of its students are Baptists who attend church services every week in the Redding area. It also offers a teaching program with an emphasis on Christian education. The college has a small number of enrolled students and a low average class size.
Shasta Bible College and Graduate School Accreditation Details
SBC&GS has accreditation from the Transnational Association of Christian Colleges and Schools (TACCS) and its Accreditation Commission. Though the college does not have regional accreditation, it meets some of the requirements necessary to grant students financial aid. All students can use the FAFSA to apply for the financial help that they need.
Shasta Bible College and Graduate School Application Requirements
The college has one application for undergrads and a separate application for those applying to its graduate school. It also has applications for those who want to audit classes and those who come from outside of the United States. Undergrads will complete the SBC&GS application, pay the $50 app fee and submit their transcripts. Graduate students will follow these same steps but will use a different application. Once the college receives all required documents, its admissions committee will go over the application and decide whether to admit the student. Students will then receive decision letters in the mail. Those accepted into a program can then apply for financial aid.
Tuition and Financial Aid
Both undergrads and graduate students attending the college pay $350 per credit hour. The college estimates that undergrads will pay at least $12,000 a year, which includes the cost of full-time tuition and room and board. Students pay $1,200 each semester to live on the SBC&GS campus. Graduate students will pay other fees to live off-campus. All students must pay for any of the textbooks and supplies that they need and their living expenses.
Those who need financial aid must get a Federal Student Aid Identity, which they will use to access the FAFSA website. They will log into the site and fill out the FAFSA with the SBC&GS school code. Once the college receives this form, it will create an aid package and send students information about the aid that they get. Students can qualify for government loans and grants, the work and study program or for some SBC scholarships. The graduate school offers some scholarships too. All students attending the Shasta Bible College and Graduate School may qualify for financial aid as they take classes in any of its degree programs.