The institution of journalism itself is experiencing massive change. The rise of independent journalists and independent news organizations has eaten into even the biggest names in journalism. The good news? Modern journalism programs at colleges and universities are compensating for this by redesigning programs to give students the skills they need to succeed in this new era of journalism. The simplest way to become a journalist is to earn a degree in journalism.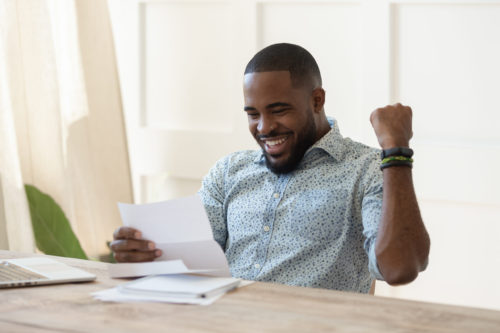 But journalism degrees, like all degrees, tend to be expensive, and right now, journalism doesn't pay that much. This makes journalism scholarships like the ones we feature in this article even more important. Scholarships for journalism majors can play a huge role in helping you to decrease your dependence on student loans and help minimize the student debt you graduate with. The ten journalism scholarships we feature in this article are all high-value journalism scholarships specifically aimed at journalism majors or journalists.
Ranking the Top 10 Scholarships for Journalism 2021
Ed Bradley Scholarship
Ed Bradley worked on the CBS new show 60 Minutes for 26 years and was the first African American White House TV correspondent. Since 1994, the Ed Bradley scholarship has been awarded to 20 aspiring journalists of color who have gone on to work for news outlets like NPR, CNN, Al-Jazeera America. Recipients of this award have worked as reporters, news anchors, media attorneys, Saturday Night Live writers, and White House speechwriters. Applicants must be sophomore, juniors, or seniors pursuing careers in radio, television, or digital journalism.
Scholarship Amount: $10,000
Scholarship Deadline: Mar. 1st
National Press Club Scholarship for Diversity
This scholarship was created to honor Julie Schoo. The scholarship is a $2,000 scholarship that can be renewed for three years for up to $2,500 per year. The first year students also get a $500 book stipend (the Ellen Masin Persina Scholarship). The scholarships are open to high school seniors who have a 3.0 or higher GPA. The scholarship is available to students who will, in becoming journalists, make the journalism field in the United States more diverse. All required information in your submission must be submitted in one single package in triplicate.
Scholarship Amount: $2,500/yr
Scholarship Deadline: Mar 1
AQHA Scholarship Communication and Journalism
The American Quarter Horse Association offers members of one or more years the opportunity to apply for numerous scholarships. One of the scholarships is for students majoring in journalism or communications. This $8,000 4-year scholarship must be applied for by high school seniors or students enrolled as a freshman at an accredited college or university. In order to receive the scholarships for journalism, during each of their four years of college students must maintain a 2.5 GPA.
Scholarship Amount: $8,000
Scholarship Deadline: Request Information from AQHA
Alliance for Women in Media
The Alliance for Women in Media makes $20,000 per year in scholarships for journalism available to its general membership. Additionally there are chapter-specific journalism scholarships tied to the geographic location of specific chapters, or even specific schools. Some of the scholarships for journalism are available only to members, while others are available to all women with media career goals more broadly.
Scholarship Amount: up to $5,000
Scholarship Deadline: Contact Organization
Peter Agris Memorial Journalism Scholarship
This scholarship is for Greek-American students at the undergraduate or graduate level who are majoring in journalism or communications. Students must be active in their school, community, and church organizations and have at least a 3.0 GPA. The scholarship is non-renewable and is presented at The Alpha Omega Council's Annual Lifetime Achievement Award Dinner in June of each year, an event that honors a prominent Greek-American for their contributions to Orthodoxy and Hellenism.
Scholarship Amount: $5,000
Scholarship Deadline: Contact Organization
ACES Scholarships
ACES offers the Bill Walsh scholarship, a top pick among scholarships for journalism, which awards $3,500 plus additional aid specifically to allow the winner to attend the ACES national conference. The ACES Aubespin scholarship awards $2,500 to its winner plus $1,500 to four other applicants and also includes aid to attend the conference. The scholarships are open to juniors, seniors, or graduate students and while there is no required major students must be pursuing a career as a news editor. Students may only win one of the journalism scholarships but may apply for both.
Scholarship Amount: $3,500
Scholarship Deadline: Nov. 15th
JEA Journalist of the Year Scholarship
This is an award for the top high school journalists in the United States. The top prize is a $3,000 scholarship and three runners up receive an $850 scholarship. There are both state-level and national level contests. This is the only scholarship without a requirement for major but we decided to include it because it's specifically for students involved in high school journalism, and therefore among the top journalism scholarships.
Scholarship Amount: $3,000
Scholarship Deadline: Varies by State
American-Arab Anti-Discrimination Committee Scholarship
This scholarship was created to financially support Arab-American students who are juniors, seniors, or in graduate school. In order to be eligible for this journalism scholarship students must be majoring in journalism, television, radio, or film. Students must submit two letters of recommendation from professors of mass communication, copies of their relevant work, and transcripts.
Scholarship Amount: $2,500
Scholarship Deadline: Apr. 12
Leonard M. Perryman Communications Scholarship for Racial/Ethnic Minorities
The United Methodist Church offers this scholarship to students dedicated to pursuing a career in religious journalism. Students must be members of the United Methodist Church, and must demonstrate their journalistic experience and/or talent. Students must also be members of a racial or ethnic minority group to qualify for this journalism scholarship.
Scholarship Amount: $2,500
Scholarship Deadline: Mar. 15
National Press Photographers Foundation Scholarship
The National Press Photographers Foundation offers 12 journalism scholarships per year, each for $2,000. The scholarships for journalism are open to students enrolled in two year or four year programs, though there are additional requirements for 2-year students. In addition to the scholarship, students receive a Sony or Fujifilm digital camera, Saramonic microphone, ThinkTank camera bag, and Litra on-camera light. The scholarships for jounralism are for photographers who are pursuing a career in photojournalism.
Scholarship Amount: $2,000
Scholarship Deadline: Oct. 1
Frequently Asked Questions
What is the difference between Journalism and Mass Communications?
These two fields are often lumped together, so it can be a bit confusing. Even some of the scholarships included in our list are for either journalism or mass communications students. Journalism is essentially a subset of mass communications. Journalists communicate information to mass audiences. However mass communications encompasses a number of different potential professions including public relations, advertising, marketing, corporate communications, and of course journalism. The difference between these professions is the purpose behind the communication. Journalists ideally strive to objectively report the facts of the events they cover. They may also provide commentary or analysis when appropriate.
Is Journalism a good career?
It depends on what you mean by "a good career." It doesn't pay as well as many other mass communications fields. So if you're wondering about the money, there isn't a lot of it in journalism. The journalists that make the most are probably television anchors but even they don't make as much as many people think they do (we cover this more in depth later).
The landscape of journalism as a career is changing rapidly as well. Many journalists work freelance or are independent. Some gravitate toward new-media organizations that can be found on websites like youtube. There are fewer full-time journalism jobs now than there were even a decade ago. Newspapers rely more and more on freelance writers instead of staff journalists. Big, expensive investigative journalism projects are more and more rare these days as well.
More and more journalism is about finding and carving out a niche. On the one hand, this makes for a less stable career. On the other hand, however, it means there is increased freedom in how you go about pursuing your career. The traditional career paths of staff writer for a news outlet or new anchor or television reporter jobs still exist, but are pretty competitive. Most people who become staff writers for newspapers these days have worked for a while as freelance or independent journalists, creating their own content and covering the stories that seem interesting to them. Those that do this and cultivate the trust of the public and demonstrate their reliability and self sufficiency have an easier time finding work as a staff writer, editor, or researcher at a news outlet.
Whether or not journalism is a good career option for you really depends on what you're looking for in a career. It's not an easy career, there is no sure path to success. But it does provide you with some level of freedom to pursue subjects that interest you. One thing is certain. The major changes in the field of journalism are just getting started. Nobody knows exactly what the next era of journalism will look like. But journalism will always be an essential component of a free society.
How much do journalists make?
According to the Bureau of Labor Statistics reporters, correspondents, and broadcast news analysts earn a median income of $46,000 per year. However these types of jobs are expected to decline by 11% between 2019 and 2029. A job change of -5,800 jobs. So it's not easy to find work in this area of the field.
Editors earn a median salary of $61,370 per year. This job can be done with a bachelor's degree and less than five years of experience if you get lucky. But there is also a -7% decline in the job market for editors as well.
Most of the current work for journalists is non-traditional and therefore not tracked by the Bureau of Labor Statistics. Modern independent journalists work as freelancers or in some cases are supported by their audience through crowdfunding. You can still find many successful independent journalists making a name for themselves on youtube and twitter. And there are also independent news and analysis operations being created all the time that are starting to rival even major networks in their significance and popularity.
What skills should I hone in order to become a journalist?
Writing, research, and speech are the most important. A mastery of writing will serve you well as a journalist. Whether you're writing for a publication or creating YouTube content, you must be able to engage your audience and you do this through compelling writing and speaking. Of course, it's not enough just to be a good writer or speaker. If you're going to establish yourself as a trustworthy source of information, you need to make sure you have all your facts straight. Being able to develop an understanding of all sides of a given issue, grounded in verifiable facts, is an incredibly important skill for a journalist.
Interpersonal skills are also important for journalists. As a journalist, you must be able to talk to a variety of people and develop a rapport with them. You may end up interviewing a subject you find personally detestable. You may end up interviewing people who don't speak your language very well, in which case body language and patience are incredibly important to developing a good rapport and representing their point of view. Good interpersonal skills can help you draw out the truth in any number of difficult situations.
There are a lot of scholarships out there and applying for all of them seems overwhelming. Any advice?
Yes! While it's true there are a lot of journalism scholarships and many of them have different application requirements, there are a few ways to streamline the application process. It's also important to approach scholarships with the proper mindset to help motivate you during the application process.
The first thing I want to mention is that it's never too early to start looking into journalism scholarships. Some scholarships for journalism have extracurricular requirements, or require you to submit articles you've written. Some require involvement in community organizations or membership in various professional or community associations. The sooner you start looking into journalism scholarships, the sooner you will be able to get involved in the things that will make you eligible for scholarships. Involvement in local community organizations or professional associations, in addition to making you eligible for certain scholarships for journalism, can provide you with personally enriching experiences that help prepare you both for college and your future career. If possible, start looking into journalism scholarships the beginning of your junior year of high school. Identify your target scholarships early, and make a plan.
When I say "make a plan," what I mean is you should start getting your applications together early. Some applications may require you to submit letters of recommendation. Ask for them early, because you can't control how quickly somebody will be able to write one for you, and you don't want to put them in a position where they feel rushed. Create a calendar with all the application deadlines and then make a plan to submit all your applications a month before the deadline hits. If the deadline for a scholarship isn't posted yet, feel free to contact those organizations by the appropriate means and ask for any information you need. Investigate past winners. Sometimes articles or essays they wrote for the scholarship will be published somewhere. Read those and get a good idea for the kind of content that the judges find compelling.
This might all sound like a lot of work. And it is! Look at applying for scholarships as a part-time job – except with a much better return on investment than a part-time job! Think about it this way. If it takes you 10 hours of work to apply for a $2,500 scholarship, and you get it, that's $250/hr you just made. Now granted, you won't get all the scholarships you apply for, but say you get 1 in 10 scholarships you apply for. If it takes 10 hours to apply for each scholarship on average, and the scholarship you win is a $2,500 scholarship (most of the scholarships on our list are worth even more, so this is a low estimate), you're still making $25.00 per hour! And that's tax free. Everyone needs to come up with their own personal strategy for approaching scholarships – one that works for them. These basic ideas and this mindset can help you build your ideal scholarship strategy.
GCD Staff
February 2021
Related:
This concludes our ranking of the top 10 journalism scholarships 2021.