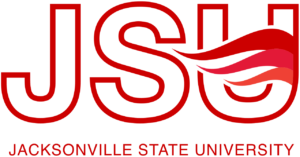 Accredited, Affordable Public Education at JSU
Jacksonville State University appears in our ranking of the Top 50 Great College Deals: Master of Public Administration Online.
Ranked 268th nationally by The Economist, Jacksonville State University is a nonprofit, multi-campus AASCU member in Alabama that offers 71 bachelor's, 45 master's, six specialist, and four doctoral options, including 51 fully online, at a 17:1 student-teacher ratio. For example, the Digital Journalism B.A. builds a 128-credit curriculum for Gamecocks to publish The Chanticleer, secure 350-hour internships like Jacobs Media, join Zeta Phi Eta, and utilize the Adobe Premiere Editing Lab. Chaired by Dr. Brent Cunningham, the Management B.S. offers a 120-credit, AACSB-accredited sequence online with E-Commerce, Human Resources, or Entrepreneurship concentrations for 91 percent job placement success at Warren Averett, RSM, Leidos, McKinsey, Procter & Gamble, and others.
Online on Canvas since Fall 2018, the Department of Curriculum & Instruction delivers a 40-credit, CAEP-accredited Early Childhood Special Education M.S.Ed. with flexible 24/7 access to 500-level courses from Teaching Reading to Behavior Intervention for Alabama's Class A license. Directed by Dr. Lori Hensley, the Biology M.S. follows a 36-credit, thesis-optional track where graduates can pledge Tri-Beta, research in the Martin Hall Herbarium, and intern with the National Institutes of Health. More Jacksonville degrees include the Homeland Security B.S., Applied Electronics Engineering B.S., Economics B.A., Geography B.S., Sociology B.S., Music M.A., Manufacturing Systems Technology M.S., Liberal Studies M.A., English M.A., Teacher Leader Ed.S., and Adult-Gerontology Acute Care D.N.P.
About Jacksonville State University
Jacksonville State University originated on February 22, 1883, when President James C. Ryals Jr. welcomed an inaugural class of 247 to Jacksonville State Normal School for teacher prep. In 1930, it was renamed the Jacksonville State Teachers College by Governor Bibb Graves. In 1935, the Teachers College received initial regional accreditation. In 1946, Jacksonville started its famed International House Program. One decade later, it became Jacksonville State College for broader liberal arts curricula. In 1957, the Master of Science in Elementary Education became its earliest graduate program. On August 2, 1966, the Jacksonville State University name was adopted. In 1967, JSU formed its own Board of Trustees. In 1985, Jacksonville State won its first NCAA Division II national championship. By 2007, JSU broke ground to erect its first 25,000-square-foot satellite campus in Fort Payne.
Generating $336.6 million, Jacksonville State University now employs 1,104 faculty teaching 7,491 undergrad and 1,076 post-grad Gamecocks from 73 countries online, on the 464-acre Calhoun County campus, or at three extension centers with 100+ clubs like the Potter's Guild. In 2019, JSU won nine Council for the Advancement of Schools and Education District III awards. In 2013, Jacksonville State accepted an AASFAA Cecil Padgett Outstanding Achievement Award. Its School of Business & Industry received a 2014 SBDC Alabama Excellence and Innovation Award too. The U.S. News & World Report named Jacksonville 115th for nursing, 216th for public affairs, and 39th for criminal justice degrees. On Niche, JSU has America's 134th best college food, 206th top public education, and 296th best professors. WalletHub honored Jacksonville State University for the 143rd best financial aid and 190th most student selectivity. College Factual applauded JSU for the 232nd best computing and 264th top liberal arts value.
Jacksonville State University Accreditation Details
On February 6, 2015, Jacksonville State University proudly announced that the Southern Association of Colleges and Schools (SACS) Board of Trustees voted to extend the Level VI accreditation status without sanctions through 2024-25 under the 12th president, Dr. John Beehler, who received the Chief Executive Human Resources Champion Award. Headquartered 108 miles southeast via Route 21 in Decatur, Georgia, this giant 11-state Gulf Coast Region accreditor is recognized by the Council on Higher Education Accreditation (CHEA) and Alabama Commission on Higher Education (ACHE). The Division of Academic Affairs also lists these degree accreditations:
Association to Advance Collegiate Schools of Business
National Association of Schools of Music
Association of Technology, Management, and Applied Engineering
National Association of Schools of Theatre
Accrediting Council on Education in Journalism and Mass Communications
Council for the Accreditation of Educator Preparation
American Association of Family and Consumer Sciences
Council for the Accreditation of Counseling and Related Educational Programs
Accreditation Council for Education in Nutrition and Dietetics
Commission on Collegiate Nursing Education
National Association of Public Affairs and Administration
Commission on Accreditation for Respiratory Care
National Association of Schools of Art and Design
Council on Social Work Education Office of Accreditation
Association for Behavior Analysis International Accreditation Board
Jacksonville State University Application Requirements
Enrolling at Jacksonville State University is classified "moderately selective" by Peterson's because only 2,643 of the 4,979 Fall 2017 applicants were chosen for 53.1 percent acceptance. Freshman Gamecocks are evaluated based on academic and extracurricular achievement during secondary or GED completion. The Class of 2021 reported a mean high school GPA of 3.18. The middle 50th percentile had SAT scores of 430-570 for Reading and 440-550 for Math. Mid-range admitted ACT scores were 20-26. The Honors Program requires a minimum 3.5 GPA and 25 ACT mark. Only undergrads with 60+ transfer credits and respiratory therapy certification qualify for the RRT-BS Program. The College of Graduate Studies seeks regionally accredited bachelor's completers with cumulative GPAs above 2.5. Several programs, including the Secondary Education M.S.Ed., demand 3.0 GPAs. Unconditional admission often necessitates GRE scores of 300 and greater. The School of Business & Industry considers GMAT scores over 400 eligible. School of Education cohorts with two years of teaching experience are preferred.
Jacksonville State University keeps undergraduate admission rolling year-round with priority dates of August 10th for Fall and December 15th for Spring. Financial aid offerings, such as the Presidential Transfer Scholarship, close on March 31st. The On 2 JSU Program has a February 15th deadline. Step RN-BSN cohorts must file by December 1st or April 1st. The School of Health Professions & Wellness considers RRT-BS students until June 1st. Post-grad David L. Walters Department of Music entrants should apply by February 1st. The Doctor of Science in Emergency Management enforces a January 31st deadline. Accordingly, check program-specific dates before completing the JSU Application online for $35. Forward official transcripts to 700 Pelham Rd. N in Jacksonville, AL 36265. Directly send testing results via ACT code 0020 or SAT/GRE code 1736. Learn supplemental steps by contacting (256) 782-5781 or info@jsu.edu.
Tuition and Financial Aid
For 2019-20, the JSU Office of Student Accounts published in-state undergrad tuition of $324 per credit in Jacksonville. Non-resident bachelor's pricing is $648 per credit. Summer courses are one exception always costing $324 per credit. Online courses bill everyone $377 per credit. Dual enrollment credits cost $162 to $324 apiece. Undergrads pay the $700 general university fee each semester. The RN-BSN Step Program adds a $400 fee each term. Jacksonville campus housing like Patterson Hall is $1,900 to $2,450 per term. Unlimited meal plans for Jack Hopper Dining Hall are $1,705 extra. Yearly bachelor's study equals about $19,613 in-state and $27,389 out-of-state. General graduate tuition is $400 for Alabamans and $800 for non-residents per credit. The Master of Fine Arts is priced $24,000 total. The MSW has a flat-rate cost of $25,600. Doctor of Nursing Practice cohorts spend $2,917 each semester.
The National Center for Education Statistics reported that the Financial Aid Office in Bibb-Graves Hall Room 107 connects 67 percent of full-time JSU Gamecocks to tuition assistance averaging $7,784 each for $39.06 million combined. University funds include the Almaroad Memorial Scholarship, Margaret Bragg Scholarship, Katie Beth Carter Scholarship, Dr. John Duncan Scholarship, Gadsden Music Company Scholarship, Linda Gail Waldrop Gamble Scholarship, Tim Garner Scholarship, Miriam Higginbotham Scholarship, Lambda Gamma of Kappa Sigma Memorial Scholarship, Charley Pell Scholarship, Harold Shamblin Scholarship, and Major Dwayne Williams Citizenship Award. The Prestige Scholarship gifts $10,000 annually for freshmen meeting the 1390 SAT or 31 ACT minimum. The $4,000 JSU Leadership Scholarship has a March 1st deadline for students with GPAs above 3.0 and two or more club memberships. Federal resources, such as the Teach Grant or Work-Study Award, require FAFSA applications coded 001020. The Alabama Student Assistance Program also provides $300 to $5,000 each year for in-state undergrads.
Search through six student-centered schools granting 125+ flexible degrees placed 456th overall by Forbes at the Jacksonville State University website.