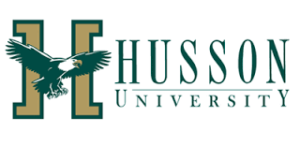 Flexible, First-Class Liberal Arts Education at Husson
Husson University appears in our ranking of the 15 Best Deals on MBA in Hospitality Management Online Programs.
Ranked Washington Monthly's 97th best Northeast value, Husson University is a senior private, nonprofit NAC member in Bangor that offers 35 bachelor's, nine master's, and two doctoral degrees, including 11 entirely online, plus the tuition-free Early College Access Program at a 15:1 student-faculty ratio. For example, the New England School of Communications headed by Dr. Marie Hansen grants a 122-credit B.A. in Journalism where undergrads can publish The Spectator, produce WHSN 89.3FM shows, and practice in Wildey Center Studios. Directed by Dr. Priscilla Young, the B.S. in Nursing has a 122-credit, CCNE-accredited sequence with opportunities to utilize the Clinical Simulation Labs, intern at Eastern Maine Medical Center, serve in Peru, and join the Organization of Student Nurses.
Online on Canvas, the Division of Extended Learning delivers a 36-credit, 12-month MBA in Health Care Management led by Dr. Stephanie Shayne with accelerated seven-week courses from Strategic Marketing to Managerial Accounting for 95 percent job placement at St. Joseph Hospital, Northern Light Medical Center, Bangor VA, and more. Chaired by Dr. Laurie Mouradian, the M.S. in Occupational Therapy has a 98-credit, ACOTE-accredited curriculum where post-grads take courses like Neurorehabilitation, practice in the Dahl Anatomy Lab, and finish two 12-week practica for 97 percent certification success.
Other Husson degrees include the B.S. in Audio Engineering, B.S. in Forensic Science, B.S. in Elementary Education, B.A. in English, M.S. in Human Relations, and an MBA in Data Analytics.
About Husson University
Husson University originated in 1898 when the Shaw School of Business welcomed its inaugural all-male class of 27 to Downtown Bangor for entrepreneurial education. After World War II, Shaw became the Maine School of Commerce in 1945 to serve returning GI Bill veterans. In 1953, the Legislature passed legislation to allow new bachelor's degrees. That Fall, Husson College was established as an independent four-year institution. In 1981, Husson College partnered with Eastern Maine Medical Center to start its School of Health. In 1997, Husson acquired the New England School of Communications to train media practitioners. In 2003, Husson College joined the North Atlantic Conference for NCAA Division III athletics. On October 11, 2008, the Husson University name was adopted as master's degrees debuted. In June 2010, the HU School of Pharmacy earned candidacy accreditation status. In 2012, Husson University constructed the Edward & Mary Ellen Darling Learning Center.
Endowed for $18.6 million, Husson University now has 416 faculty teaching 2,910 undergrad and 851 post-grad Eagles from 28 countries online, on its 208-acre "Queen City of the East" campus, or at two Maine satellites with 40+ clubs like Habitat for Humanity for 75 percent retention. In 2019, Husson had the Bangor Arthur Comstock Professional Service Award winner. In 2020, HU received Victory Media's Military Friendly Silver School Award. Husson University won the 2019 Maine Association of Broadcasters Best Self Promotion Award too. The U.S. News & World Report named Husson in the top 381 universities with the 70th best social mobility. On Niche, HU boasts Maine's third-best college food, fourth-best location, and sixth safest environment. College Factual crowned Husson the 290th top value with the 156th best hospitality and 57th best rehabilitation therapy programs. The Chronicle of Higher Education calculated the 553rd highest graduation rate at Husson University.
Husson University Accreditation Details
On July 10, 2018, Husson University satisfactorily submitted a Periodic Review Report to the New England Commission on Higher Education (NECHE) to keep its Level V accreditation current until the next 2022-23 evaluation visit under Provost Lynne Coy-Ogan, EdD, who earned National Distinguished Principal Award. Located 235 miles down Interstate 95 in Burlington, Massachusetts, this superb six-state Northeast Region accreditor is recognized by the Council on Higher Education Accreditation (CHEA) and Maine Department of Education (DOE). The Office of Academic Affairs also lists the following degree accreditations:
Commission on Collegiate Nursing Education
Accreditation Council for Pharmacy Education
Council for Accreditation of Counseling and Related Educational Programs
Accreditation Council for Occupational Therapy Education
Commission on Accreditation in Physical Therapy Education
International Accreditation Council for Business Education
Husson University Application Requirements
Getting into Husson University is classified as "moderately difficult" by Peterson's since 2,136 of the 2,476 Fall 2018 applicants were triumphant for an 86.3 percent acceptance rate. First-year Eagles need to verify a secondary diploma or GED/HiSET equivalency certificate. The Early College Access Program only admits high school juniors and seniors with cumulative averages above 80. Degree-seeking freshmen must have achieved a 3.0 or higher GPA. The Class of 2022 had a median GPA range of 3.0-3.65. The middle 50th percentile had SAT scores of 430-530 for reading and 430-540 for math. Mid-range ACT scores were 17-23. The College of Health & Pharmacy mandates at least 1030 SAT or 20 ACT scores. Eligible transfers typically have 12-90 accredited credits with 2.40 or greater GPAs. International learners should exceed the 75 TOEFL internet or 6.0 IELTS mark. The Graduate & Professional Admissions Office seeks four-year bachelor's completion with a minimum 3.0 GPA. Certain programs, such as the M.S. in Clinical Mental Health Counseling, require 402 MAT or 300 GRE composite scores. Master of Science in Nursing cohorts also need valid RN licensure for Maine.
Husson University considers prospective undergrads on a rolling basis. Applying at least two weeks before current start dates of September 3rd, January 21st, and May 11th is suggested. International students must file by January 31st. The M.S. in Occupational Therapy closes on May 1st. Doctor of Pharmacy cohorts are reviewed until August 1st. The Doctor of Physical Therapy has an admission period of July 3rd to January 1st. The MSN program has a priority date of January 15th. Accordingly, complete the HU or Common Application online for $40 ($50 if graduate). Send official transcripts to 130 Peabody Hall at One College Circle in Bangor, ME 04401. Forward test results using ACT code 1646 or SAT/GRE code 3440. Contact (800) 448-7766 or admit@husson.edu about further steps.
Tuition and Financial Aid
For 2019-20, Husson University is billing regular undergrads $590 per credit or $18,290 each year full-time. Summer School tuition drops to $530 per credit. Comprehensive fees are $325 per term or $650 annually. International student services fees are $1,000. Freshmen pay a one-time orientation fee of $125. The NESCom Lab fee incurs $425 each semester. Residing at the Bangor campus housing like Hart Hall adds $5,148 for yearly rent. Base dining plans for Dickerman Dining Center are $5,075 extra. Annual bachelor's attendance averages $31,150 on-site or $21,270 at home. The Division of Extended Learning charges $360 per online bachelor's credit. Graduate programs typically cost $618 per credit. However, the M.S. in Criminal Justice Administration is $497 per credit. Doctor of Physical Therapy cohorts spend $684 per credit. The Doctor of Pharmacy requires $1,037 per credit.
According to the NCES College Navigator, the Office of Financial Aid in O'Donnell Commons Room 130 connects 99 percent of incoming full-time HU Eagles to median tuition assistance of $11,033 each for $6.12 million combined. Institutional awards include the Edmond LeBrun Scholarship, Arthur Fuller Scholarship, Andrea Karen Lockhart Scholarship, George Carlisle Scholarship, Lloyd Willey Canteen Service Scholarship, Robert Haskell Scholarship, Katheryn Ann Hainer Memorial Scholarship, G. Pierce Webber Nursing Scholarship, William Read Scholarship, and Roger Castonguay Scholarship. The Trustee's Scholar Award gifts $20,000 total to outstanding freshmen with minimum 26 ACT or 1250 SAT scores. The $3,000 Transfer Scholarship has an April 1st deadline for Phi Theta Kappa members with collegiate GPAs above 3.5. Federal resources, such as the Pell Grant or Direct Subsidized Loan, require FAFSA applications coded 002043. Mainers might also pursue the George Mitchell Scholarship, Horatio Alger Scholarship, Foster Care to Success Scholarship, Island Institute Scholarship, and more.
Search through four accredited colleges conferring 45+ engaged, value-added degrees placed 698th overall by Money magazine at the Husson University website.