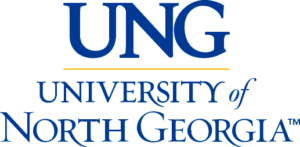 Accredited, Affordable Military Education at UNG
The University of North Georgia appears in our ranking of the Top 50 Great College Deals: Master of Public Administration Online.
Named the United States' 216th best value by Forbes, the University of North Georgia is a public, coed USG member in Dahlonega that grants 43 associate, 74 bachelor's, 17 master's, and four doctoral degrees, including 15 fully online, at a 19:1 learner-faculty ratio. For example, the Mike Cottrell College of Business led by Dr. Mary Gowan has a 120-credit B.B.A. in Marketing where undergrads can engage in the BB&T Center for Ethical Leadership, join the AMA Chapter, add the London Experience, and enter the Marketing Strategy Competition. Boasting 98 percent job placement, the B.S. in Nursing follows a 58-credit, ACEN-accredited track for associate-level registered nurses to finish online courses like Biology of Aging, complete practica like Chestatee Regional Hospital, and join GANS.
Online on D2L Brightspace, the M.Ed. in Middle Grades Math and Science Education builds a 36-credit, CAEP-accredited curriculum with four semesters of flexible 7000-level courses from Teaching Algebra to Natural History for Georgia PSC certification upgrades after field practicum. Founded in 1992, the Doctor of Physical Therapy starts cohorts of 30 each Fall in a 143-credit, nine-semester Dahlonega program directed by Dr. Susan Klappa with 34 weeks of full-time internships at 350+ partners, such as Emory Healthcare, and STAR Clinic practice for 100 percent licensure success.
Other North Georgia degrees include the A.S. in Agriculture, A.A.S. in Paralegal, A.A. in Journalism, B.S. in Computer Science, B.S. in Chemistry, B.A. in Modern Languages, B.A. in Art, M.S. in Criminal Justice, Master of Public Administration, Master of Accountancy, M.A. in History, M.S. in Kinesiology, and Ed.D. in Higher Education Leadership.
About the University of North Georgia
The University of North Georgia originated in 1873 when Congressman William Pierce Price used Morrill Land-Grant Act funds to establish the North Georgia Agricultural College. That Fall, Georgia's first coeducational institution welcomed an inaugural class of 177 to the former Dahlonega Gold Mint building. In 1879, Price Memorial Hall became the first educational building erected on its permanent Lumpkin County campus. In 1916, NGAC formed the Reserve Officers' Training Corps. In 1929, its agricultural department was disbanded to become North Georgia College. In 1933, President Jonathan Clark Rogers organized it into a junior college. During World War II, NGC established its Army Specialized Training Program in 1943. Given senior status in 1947, it grew rapidly from GI Bill veteran enrollment as one of six U.S. military colleges. By 1996, it was called North Georgia College & State University. In 2013, it merged with Gainesville State College to become the University of North Georgia.
Endowed for $55.6 million, the University of North Georgia now employs 1,038 faculty teaching 19,041 undergrad and 681 post-grad Nighthawks from 96 countries online, on the 212-acre Dahlonega campus, or at the four extensions with 100+ clubs like the Debate Team. In 2017, the UNG Omicron Delta Kappa Chapter won a Circle of Distinction Award. In 2009, UNG accepted the Georgia Association of School Facility Administrators' Innovation Award. The University of North Georgia received the 2017 NCAA Division II Award of Excellence too. The U.S. News & World Report declared UNG the 58th best Southern college and 40th most veteran-friendly campus. On Niche, UNG boasts America's 326th top public education and 389th best location. College Consensus picked North Georgia as the 24th most inexpensive institution. Washington Monthly placed UNG 210th among master's colleges.
University of North Georgia Accreditation Details
On December 4, 2016, the Southern Association of Colleges and Schools Commission on Colleges (SACSCOC) Board of Trustees voted favorably to renew the Level VI accreditation at the University of North Georgia through 2025-26 under the 17th president, Dr. Bonita Jacobs, who earned the Atlanta Business Chronicle's Top Education Leader Award. Located 68 miles down Route 19 in Decatur, this esteemed 11-state Deep South Region accreditor is recognized by the Council on Higher Education Accreditation (CHEA) and Georgia Department of Education. The Office of Institutional Effectiveness also lists the following accreditations:
Accreditation Commission for Education in Nursing
Council for Accreditation of Counseling and Related Educational Programs
National Association of Schools of Music
Council for Standards in Human Service Education
National Association of Schools of Art and Design
Council for the Accreditation of Educator Preparation
Association to Advance Collegiate Schools of Business
Commission on Accreditation in Physical Therapy Education
American Bar Association Committee on Paralegals
Commission on Accreditation of Athletic Training Education
University of North Georgia Application Requirements
Getting into the University of North Georgia is classified "moderately difficult" by Peterson's since only 2,377 of the 4,226 Fall 2017 applicants were triumphant for 56 percent acceptance. First-year Nighthawks must be age 16 or older with a high school diploma or GED equivalent. Non-accredited home school graduates must have at least 17 required curriculum credits. The Office of Admissions uses a Freshman Index (FI) to calculate eligibility. Multiplying one's GPA by 500 and adding each Old SAT subject score must equal 2,500 or higher. Associate programs may accept index scores as low as 1,830 though. Multiplying the GPA by 500 and ACT score by 42 before adding 88 would also work. Competitive transfers will have 30+ non-remedial college credits and cumulative GPAs above 2.25. International students taking the TOEFL need at least 523 pBT or 69 iBT marks. The Graduate School only admits accredited, four-year bachelor's completers with 3.0 or better GPAs. Most programs seek a minimum 290 GRE or 400 MAT score. Mike Cottrell College cohorts need GMAT scores of 500.
The University of North Georgia set freshman deadlines of November 15th for Early Action and February 15th for Regular Decision. Undergrad transfers can apply through November 1st for Spring, April 1st for Summer, and July 1st for Fall. The Graduate Admissions Office has diverse program-specific dates. The Doctor of Physical Therapy closes on October 1st each year. Online M.A. in International Affairs cohorts must file by August 1st, December 1st, or May 1st. The M.S. in Nursing Education has a February 28th deadline. The Cottrell MBA extended admissions to June 30th. M.S. in Athletic Training candidates are considered until March 1st. Prospective Nighthawks must check requirements before completing the $30 ($40 if graduate) GAFutures Application online. Forward official transcripts to PO Box 1358 in Gainesville, GA 30503. Send standardized test scores via ACT code 0848 or SAT/GRE code 5497. Contact (706) 864-1800 or admissions-dah@ung.edu to learn supplemental steps.
Tuition and Financial Aid
For 2019-20, the University of North Georgia is charging full-time Peach State undergrads $5,596 annually. Non-resident associate/bachelor's tuition is $19,754 each year. Students pay mandatory service fees of $1,876 yearly. Residing at the Dahlonega campus' dorms like Donovan Hall adds $11,140 for room and board. UNG budgets $1,440 for books, $1,160 for transportation, and $2,370 for indirect expenses. Traditional annual undergrad attendance equals $23,582 in-state and $37,740 out-of-state. Associate online courses cost $126 per credit. Online bachelor's majors spend $203 per credit. The Graduate School generally bills Georgians $230 and non-residents $916 per credit. However, the Doctor of Physical Therapy costs $5,253 to $13,295 each term. M.S. in Mental Health Counseling cohorts cover $284 to $916 per credit. Cottrell MBA students also pay $525 to $1,765 per credit.
According to the NCES College Navigator, the Financial Aid Office in Stewart Center Room 308 connects 69 percent of full-time UNG Nighthawks to tuition assistance averaging $4,969 each for $62.03 million combined. Institutional funds include the Lewis Slaton Scholarship, Marian Prior Couch Scholarship, Barbara Buice Coleman Scholarship, John Word West Scholarship, Claude Williams Jr. Cadet Scholarship, Nathaniel Hansford Leadership Scholarship, Tom Wilheit Scholarship, Healan-Thomason Scholarship, and Gloria Shott Fine Arts Scholarship. The Presidential Tuition Waivers can save up to $50,000 over four years for out-of-state or international undergrads. The Choate Family Presidential Scholarship gifts $1,000 annually to Honors Program students maintaining a minimum 3.2 GPA in Dahlonega. FAFSA applications coded 001585 determine federal aid, including Pell Grant and Work-Study Grant, eligibility. Georgians also access the Zell Miller Scholarship, HOPE Grant, Lettie Pate Whitehead Scholarship, Watson-Brown Foundation Scholarship, Greenhouse Scholars Program, and more.
Search through six innovative schools conferring 135+ value-added degrees ranked 221st nationally by The Economist at the University of North Georgia website.