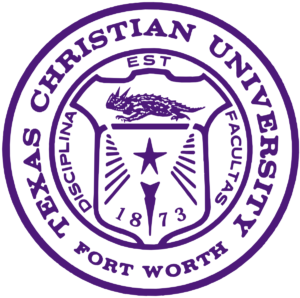 Degrees Offered at Texas Christian University
Texas Christian University appears in our ranking of the Top 50 Best Colleges in Texas.
Texas Christian University is a private, R2 research university in Fort Worth, Texas. It offers students a number of popular majors, including journalism, communication, marketing, business, management, social sciences, psychology and health professions. The Economist ranks the school's MBA faculty first in the world.
The university offers numerous degree types, including bachelor's, master's and doctoral degrees. In all, the university offers 117 undergraduate degrees and 103 graduate degrees.
Coursework is delivered in person and online. Some of the online degrees that the university offers include a Master of Science in Criminal Justice and Criminology, a Master of Science Nursing in Nursing Administration and Leadership and a Master of Liberal Arts in Liberal Arts. TCU also offers online certificates in subjects like oncology, nursing, and nursing education.
The university is experimenting with a pilot program that may eventually allow undergraduates to earn degrees online.
About Texas Christian University
TCU is located in Fort Worth, Texas and is a private Christian university. The school is a Protestant college that's affiliated with the Disciples of Christ. US News and World Report ranks it 97th on its National Universities list, 89th on its Best Value Schools list and 63rd on its Best Colleges for Veterans list. It has a 299-acre suburban campus.
Although the school is affiliated with the Disciples of Christ, students of any faith can and do apply and attend. More than 20 religious organizations find a home on the school's campus, as do as many as 200 other clubs and organizations. The student body is service- and community-oriented, and students enjoy volunteering in their free time. Spring break service trips are a big draw in this regard.
Students who want to belong to a community on campus can join a fraternity or sorority. There are more than 30 of those at TCU. Underclassmen, that is freshmen and sophomores, must live on campus. The school will overlook this requirement if the student either lives at home or is 21 or over.
Those looking for an adventure can take part in one of the school's specialty study abroad programs. These programs put students in cities, like London and Florence, and countries, like Spain and Italy.
Texas Christian University Accreditation
TCU receives its accreditation from the Southern Association of Colleges and Schools Commission on Colleges. This accreditation permits the university to offer bachelor's, master's and doctoral degrees.
Texas Christian University Application Requirements
Texas Christian University has quite a few requirements for applicants. In light of this, it would be best for prospective students to gather all of the materials they need to submit to the school before they start their applications.
That said, TCU has very similar expectations for all applicants. The following checklist should serve most undergraduate applicants, whether they be incoming freshmen or international students.
Fill out the application: TCU application or the Common Application
Transcripts: High school, other colleges, GED
Test scores: SAT, ACT, English proficiency
$50 application fee
Counselor recommendation/ evaluation
Teach recommendation/ evaluation
Portfolio/ poem/ artwork (optional)
300- to 500-word essay
Early decision agreement
Financial statement (international students)
Good disciplinary standing form (transfer & military students)
International students will need to send in a translation of their school transcripts if those are not written in English.
Some students can get a waiver for the application fee. Students who are the first in their family to attend college, as well as those who qualify for reduced or free lunch, may qualify for a fee waiver. The waiver also includes students who have experienced natural disasters.
Texas Christian University allows students to sidestep some of the expense of school. It's possible for students to do this through advanced placement tests, dual enrollment agreements or International Baccalaureate coursework.
Basic training counts toward the credits that military veterans can receive. It's good for four credits.
All graduate students have a similar application process, though interested students should check with the department they're applying to. There could be additional requirements to apply aside from the ones outlined below. In general, grad students must have earned a bachelor's degree from an accredited college or university. They'll also be asked to submit test scores, like GMAT or the GRE. Applying costs $60 for graduate students.
Tuition and Financial Aid
TCU is a private university, which means that out-of-state residents pay the same amount in tuition as Texas residents. Undergraduate tuition at Texas Christian University is $51,570. Books, supplies, room, board, and fees account for another $15,000 or so.
Graduate students are charged $32,220 for tuition for a year. Other costs, like room and board, as well as books and fees, come to about $18,000 for the year.
Texas Christian University has a number of generous scholarships and other financial aid helps that allow students to afford their education. There are scholarships, like the Chancellor's Scholarship, which pays full tuition for four years, or the Dean's Scholarship, which is good for $23,000 a year.
The scholarships above represent just a small sampling of financial aid that the university offers. Actually, about 80% of TCU students get some kind of financial aid and not all of it is in the form of scholarships.
The key to qualifying for financial aid is to fill out the FAFSA and the CSS profile. Once students submit this information, the school will make a financial aid determination based on the student's financial profile.
In addition to scholarships, students can also receive grants, work-study, and loans. While loans have to be paid back, grants and work-study monies do not. Many of the grants are provided by the federal government, like the Pell or the Federal Supplemental Education Opportunity Grant (SEOG). However, there are other grants, including grants that TCU provides for students.
Check out the degrees at Texas Christian University.