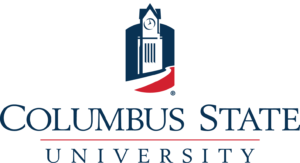 Flexible, Forward-Thinking Public Education at CSU
Columbus State University appears in our ranking of the Top 50 Great College Deals: Master of Public Administration Online.
Named the South's 19th most innovative by the U.S. News & World Report, Columbus State University maintains an 18:1 student-teacher ratio to provide six associate, 75 bachelor's, and 67 graduate options, including 30 fully online degrees, each 15-week semester. For example, the B.S. in Earth & Space Science builds a 123-credit Jordan Hall curriculum led by Dr. Clinton Darineau with hands-on WestRock Observatory projects, Chattahoochee River Warden internships, and AIPG membership. Chaired by Dr. Danna Gibson, the 123-credit B.A. in Communication Studies lets on-campus or online undergrads broadcast WCUG Radio, publish The Saber, and attend the Georgia Film Academy.
Online via CougarVIEW D2L, the College of Education & Health Professions delivers a 44-credit, two-year M.S.N. Family Nurse Practitioner coordinated by Dr. Aimee Vael for advanced APRN certification after 6000-level courses like Pharmacology and 765 clinical rotation hours. The M.S. in Clinical Mental Health Counseling shapes a 60-credit, CACREP-accredited plan outlined by Dr. Stella Makri-Michael with 700-hour internships, such as Thriveworks or St. Francis Hospital, for becoming Georgia Licensed Professional Counselors. Other Columbus degrees include the B.A. in Liberal Arts, B.S. in Sociology, B.M. in Choral Music, B.B.A. in Marketing, B.S. in Kinesiology, M.S. in Cybersecurity Management, M.Ed. in Early Childhood Education, M.P.A. in Criminal Justice, and M.S. in Leader Development.
About Columbus State University
Columbus State University originated in May 1958 when the Muscogee County School Board voted to donate the former hosiery mill to build a two-year junior college. In 1962, President Thomas Y. Whitley relocated Columbus College to a permanent 132-acre campus. In Fall 1963, Columbus College admitted the first African-American student. During the late 1960s, Columbus added programs at Fort Benning 10 miles south for Vietnam War Era training. In 1970, the inaugural class of four-year Bachelor of Arts/Science students graduated. By 1996, the Georgia Board of Regents authorized President Frank D. Brown's request for university status. That Fall, Columbus State University was welcomed into the USG System with the first master's. In 2003, CSU purchased the Spencer House in Oxford, England, for studying abroad. In 2009, the EdD in Curriculum & Leadership became Columbus State's earliest doctorate.
Budgeting $124.07 million a year, Columbus State University now employs 300 full-time faculty teaching 7,348 Cougars from 28 countries online, at Fort Benning, and on the 150-acre River Park campus with 100+ clubs like the GLBT Alliance. In 2014, CSU won the Senator Paul Simon Award for Campus Internationalization. In 2019, Columbus State accepted an Achieving the Dream Award for Improved Student Success. CSU earned the 2017 United Soccer Coaches College Team Academic Award too. The U.S. News & World Report placed CSU 51st for online business and 174th for online teaching degrees. On Niche, CSU boasts America's 208th most conservative students, 469th most diversity, and 497th best athletics. College Factual honored Columbus State for the 275th best theatre, 312th top geology, and 178th best special education degrees. Forbes declared Columbus the 196th best place for careers.
Columbus State University Accreditation Details
On December 4, 2016, the Southern Association of Colleges and Schools Commission on Colleges (SACSCOC) Board of Trustees announced the full reaffirmation of Level V accreditation at Columbus State University through 2026 under its fifth president, Dr. Chris L. Markwood, one of Georgia Trend Magazine's 100 most influential leaders. Located 110 miles up Interstate 85 in Decatur, this giant 11-state Gulf South Region accreditor is recognized by the Council on Higher Education Accreditation (CHEA) and Georgia Department of Education. The 2018-19 CSU Academic Catalog also lists the following programmatic accreditations:
National Association of Schools of Art and Design
Commission on Collegiate Nursing Education
National Council for Accreditation of Teacher Education
Council for Accreditation of Counseling and Related Education Programs
National Association of Schools of Theatre
Association to Advance Collegiate Schools of Business
National Association of Schools of Music
American Chemical Society Committee on Professional Training
International Association for Continuing Education
Columbus State University Application Requirements
Enrolling at Columbus State University is classified "moderately difficult" by Peterson's because only 1,860 of the 3,483 Fall 2017 applicants were chosen for 53 percent acceptance. First-year Cougars must exceed Georgia or out-of-state high school graduation requirements. Achieving 580 or better GED test scores would qualify. Freshmen need at least 2.5 GPAs in core academic subjects. Minimum ACT scores of 17 English and 17 Math are mandated. SAT marks above 440 Reading and 410 Math are acceptable. Admission becomes test-optional for college transfers with 30+ credits and 2.0 GPAs. The Honors College requires 3.5 GPAs, 26 ACT scores, and top decile class rankings. Online RN-BSN cohorts must hold unencumbered nursing licensure, 2.5 GPAs, and science prerequisites like Biochemistry. The Graduate School seeks four-year bachelor's grads with program-specific GPA minimums of 2.5-3.0. Online M.S. in Applied Computer Science entrants need GRE General Test scores over 290 total.
Columbus State University set priority undergrad deadlines of April 15th for Fall, September 15th for Spring, and March 15th for Summer. The Honors College closes on January 31st each year. The Graduate School has general deadlines of June 30th, November 30th, and April 15th, but dates vary. For instance, M.M. in Performance cohorts must file before March 1st. The M.P.A. in Government Administration considers entrants until June 30th and November 30th. Online M.Ed. in School Counseling students apply through May 1st. Accordingly, complete the CSU Application online for $40 ($50 if graduate). Forward official transcripts to 4225 University Avenue in Columbus, GA 31907. Submit testing reports via SAT/GRE code 5123, GMAT code R64-XW-20, or ACT code 0807. Learn supplemental steps by contacting (866) 264-2035 or esc@columbusstate.edu.
Tuition and Financial Aid
For 2019-20, Columbus State University is charging full-time Georgia undergrads $2,732 each semester. Non-resident bachelor's tuition is $9,641 by term. Mandatory student fees totaling $935 each term are added. Living at the Muscogee County campus' dorms like Clearview Hall costs $$2,915 for housing. All access meal plans to Cougar Café are $2,025 extra. CSU budgets $1,350 for books and $3,500 for miscellaneous. Annual undergrad attendance equals $21,746 in-state and $32,532 out-of-state. Online bachelor's courses are $210 per credit. The RN-BSN Online is priced $199 per credit. The Graduate School bills Georgians $3,446 and non-residents $10,736 each semester. WebMBA programs are $739 per credit. Ed.D. in Curriculum & Leadership cohorts pay $450 per credit. Other online master's tuition is $301 per credit.
According to the NCES College Navigator, the Office of Financial Aid on University Hall's 1st Floor helps 67 percent of full-time CSU Cougars receive tuition assistance averaging $5,507 each for $25.16 million combined. University funds include the Mario Mion Political Science Scholarship, Bebe Smith Art Scholarship, Howell Hollis Memorial Scholarship, Billy & Olivia Blanchard Scholarship, Linda Hadley Scholarship, Witt Family Scholarship, Virginia Pekor Culpepper Scholarship, Norman Illges Memorial Scholarship, Rithia McGlaun Scholarship, Alfonso Biggs Scholarship, Lenora Jordan Garrad Music Scholarship, and Angermuller Award. The $2,500 Servant Leadership Scholarship has a January 31st deadline for a 500-word essay competition. The Presidential Scholarship gifts $5,000 annually to freshmen entering the Honors College with minimum 3.5 GPAs. Federal resources, such as the Supplemental Educational Opportunity Grant and Stafford Loan, require FAFSA forms coded 001561. Georgians also pursue the Hope Grant, Zell Miller Scholarship, Dual Enrollment Grant, and ROTC Grant.
Search through four accredited colleges conferring 140+ public degrees ranked 334th overall by Washington Monthly at the Columbus State University website.