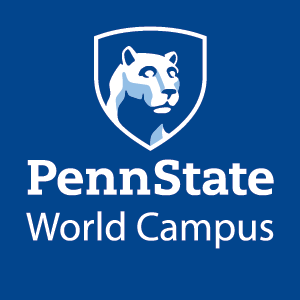 Pennsylvania State University-World Campus: A Degree For Anyone, Anywhere. Find Yours.
Pennsylvania State University-World Campus appears in our ranking of the Top 50 Great College Deals: Master of Public Administration Online.
Pennslyvania State University-World Campus offers more than 150 different online degrees and certificates with 201 various programs to choose from. Penn State-World Campus offers bachelor, associate, master, and doctoral degrees as well as undergraduate and graduate certificates. Minors at the undergraduate and graduate levels are available to pursue. The programs on campus are plentiful. Students seeking bachelor's degrees, associate's degrees and undergraduate certificates can choose from 62 different focuses.
B.S. in Accounting
B.S. in Agribusiness Management
B.S. in Biobehavioral Health
B.S. in Business
B.S. Criminal Justice
Undergraduate Certificate in Digital Arts
Undergraduate Certificate in Adult Development and Aging Services
Undergraduate Certificate in Children, Youth, and Family Services
Undergraduate Certificate in Financial Planning
Undergraduate Certificate in Information Sciences and Technology
Associate in Science in Business Administration
Associate in Science in Letters, Arts, and Sciences
Associate in Sciece in Turfgrass Science and Management
Associate in Science in Human Development and Family Studies
And much more…
Most of the undergraduate programs are available for further advancement at a master's and doctoral level. Students can include similar courses of study as a minor to their undergraduate careers. With 139 options to choose from at the highest levels, the perfect combination is bound to be created. Penn State-World Campus has had significant success in agriculture, business, education, and finance studies.
About Pennsylvania State University-World Campus
Hosting more than 20,000 students at a time, Penn State World Campus is officially ranked #1 for the best online college and is the second most populated virtual university in the Pennsylvania State University union. Granting students the luxury and freedom to educate themselves online, Penn State World Campus offers an experience that exceeds tradition. Penn State is recognized as one of the best colleges for Military Personnel. Since 1998, Penn State World Campus has been providing advanced virtual education. With a unique atmosphere, all those in attendance are able to creatively express themselves and experience university life in such a way that enables and encourages success.
Penn State students of the past, present, and future are dispersed far and wide around the country. They are active leaders in a plethora of organizations and workplaces. Penn State World Campus personnel work hard to create an environment that is engaging and interactive. With one of the world's most extensive alumni networks, students have access to a wealth of information provided by the online community.
Learning online might be intimidating at first, but doing so with Penn State World Campus is both dynamic and intricate. Every last course has been designed with you in mind. Each step taken towards an official degree is equivalent to earning one at a brick and mortar campus location. Student orientation is hosted on Canvas, which is Penn State's primary virtual system for courses. Everything you need is available on Canvas, from classmates and instructors to discussion boards and email addresses. Penn State knows that life is busy and full of events both expected and unexpected, that's why each schedule is flexible and entirely unique to you. Assignments, exams, and other student responsibilities can operate on your schedule, at your pace.
Students can expect to spend eight to 12 hours each week on assignments for a course that is 3 credits. Extra time will be necessary when taking exams, submitting projects and other research assignments. Courses at advanced levels will require more attention and hours per week. Regardless of how quickly or slowly each course takes to complete, the Penn State-World Campus faculty will be present until the very end!
Pennsylvania State University-World Campus Accreditation Details
Pennsylvania State World Campus is accredited by two different associations. The first is a regional accreditation by the Middle States Association of Colleges and Schools. The second is exclusively for the Smeal College of Business by the Association for the Advancement of Collegiate Business Schools.
Pennsylvania State University-World Campus Application Requirements
The "Apply Tool" provides specific details for formal application processes for both undergraduate and graduate programs. Simply select your level of education and then choose your field of study for concrete information, requirements and necessary paperwork for your field. For domestic and international first-year students, the following are required for submission:
An SAT/ACT score of 1,170 or 24
Self-reported academic records
High school transcripts
An application fee of $65
Advanced Placement credits accepted (if applicable)
Supplemental materials for domestic students
Supplemental materials for international students
Pennsylvania State University-World Campus Tuition and Financial Aid
Since Penn State has a vast selection of majors, minors and certificates to choose from, using the tuition estimator tool is best. Depending on the number of credits taken per year, prices can fluctuate. Undergraduate students taking more than 12 credits per semester can expect to pay a flat rate of $6,994 or $576 per credit if enrolled in less than 12 credits. The price increases slightly for students enrolled in 60 credits or more. A semester with fewer than 12 credits will cost $617 per semester or a flat rate of $7,549 for more than 12 credit hours. Technology fees and course materials are an additional cost.
Both full-time and part-time students can apply for financial aid and scholarships from Penn State-World Campus. Transfer students are eligible as well, but an additional application step must be taken in order to qualify. Book vouchers are not offered at Penn State World Campus, but students can use financial aid refunds for purchasing necessary materials. 15% of first-year students receive private scholarships. Award amounts range between $1,500 and $7,000 for each academic year.
If an online degree sounds ideal to you, visit Penn State World Campus for further information. Your virtual classroom awaits!