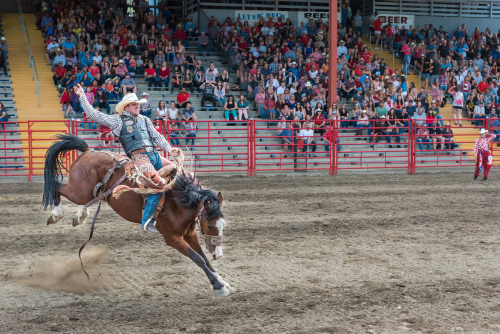 In the western United States, especially in Texas, rodeo scholarships are some of the most common types of scholarships you can find. Massive rodeos and livestock shows like those in Austin, San Antonio, and Houston have awarded hundreds of millions of dollars in scholarships throughout their history. Even smaller rodeos tend to offer some significant scholarships for local students, participants, competitors, and enthusiasts.
Here, we feature the top ten rodeo scholarships you'll find in the United States. In some cases, the rodeo offers so many scholarships that we couldn't pick just one scholarship to feature. There are all sorts of scholarships offered by the rodeos and rodeo organizations featured here. There are some scholarships for competing and some for just attending, being part of the rodeo, and having good grades. Some scholarships are for people who want to compete in rodeo in college, and others are for people who want to become veterinarians, go into agriculture, or work in business. Even if you don't compete in rodeo, check out these scholarships, especially if you live in a region where rodeos are a big thing. You just might find a great scholarship for yourself!
Reviewing the Top 10 Rodeo Scholarships of 2021
Texas High School Rodeo Association
The THSRA awards a variety of scholarships, ranging in value between $250 and $10,000, for various achievements. Scholarships take into account multiple factors, including scholastic ability, leadership, character, and rodeo participation with either THSRA or other rodeo associations. Students must have a minimum GPA of 2.5 and be ranked in the top half of their class or submit SAT, ACT, or TSI scores.
Scholarship Amount: $250-$10,000
Scholarship Deadline: Apr. 1st
Rodeo Austin Scholarships
In 2019, Rodeo Austin awarded 28 scholarships to students attending community and 4-year universities in Texas. The 4-year university scholarships were each for $16,000, and the community college scholarships were for $4,000. For students paying in-state prices, these scholarships likely covered the majority of a year's college tuition. Rodeo Austin works with education partners like Texas A&M, the University of Texas, Texas Tech University, the Austin Community College Foundation, and more.
Scholarship Amount: $4,000-$16,000
Scholarship Deadline: Contact Organization
Heart of Texas Fair & Rodeo
The Heart of Texas Fair & Rodeo awarded over $155,000 in scholarships to 43 Texas students last year. Since the scholarship program was established, the HoT Fair & Rodeo has awarded over $3.25 million in scholarships to students. The scholarship judges evaluate applications based on leadership, financial need, citizenship, academic performance, and an essay. Applicants will provide information about the activities, clubs, and organizations they are part of; leadership experiences; volunteer and community service; and their Heart of Texas Fair & Rodeo Participation.
Scholarship Amount: Varies
Scholarship Deadline: Mar. 12th
California Rodeo Salinas
California Rodeo Salinas offers two scholarships. One is in partnership with Hartnell College, and another is a more general scholarship. For the Hartnell scholarship, preference will be given to students from Monterey County who have a history of volunteering with the Salinas Rodeo. The community foundation scholarship is available only to committee members and their families. Applicants must be planning to attend a 2-year, 4-year, or graduate program full time and have at least a 2.5 GPA.
Scholarship Amount: Not Available
Scholarship Deadline: Hartnell Mar 2, Community Foundation Mar 15
San Antonio Stock Show & Rodeo
The San Antonio Stock Show has awarded $223 million to Texas students since 1984. 40% of the scholarship awards are given as prizes through the livestock, horse show, and junior contests. Applicants for other scholarships can apply through Texas colleges, universities, and organizations like FFA or 4-H. Transcript submission deadlines are September 30, February 1, and June 30.
Scholarship Amount: Varies
Scholarship Deadline: Sept. 30, Feb. 1, Jun. 30
Reno Rodeo Foundation
The Reno Rodeo Foundation awards scholarships to students who engage in the art and culture of the western United States. There are scholarships for artists who make western themed artwork; ones for students who plan to major in veterinary medicine; and more general scholarships open to students who plan to enroll in a Nevada System of Higher Education college, university, or vocational school.
Scholarship Amount: $2,500-$5,000
Scholarship Deadline: Feb. 10
Brazos Valley Fair & Rodeo
Brazos Valley Fair & Rodeo awards three $1,500 general scholarships every year, and another $1,000 scholarship called the Texas Star scholarship. Additionally, there are scholarships offered through the livestock department to students exhibiting in the Junior Livestock Shows during the fair. Since 2012, the rodeo has awarded over $100,750 in scholarships.
Scholarship Amount: Varies
Scholarship Deadline: Mar. 31
Houston Livestock Show & Rodeo Scholarships
The Houston Livestock Show & Rodeo offers more than 800 scholarships, amounting to over $14 million in awards, every year. More than 2,300 students attending over 80 Texas colleges are currently benefiting from one of these rodeo scholarships. Almost 19,000 Houston rodeo scholarships, totaling over $230 million, have been awarded since 1957. 634 of these rodeo scholarships awarded each year are for $20,000. The top five majors for rodeo scholarship recipients are biology, animal science, nursing, business, and mechanical engineering.
Scholarship Amount: Up to $20,000
Scholarship Deadline: Feb. 26
National Little Britches Rodeo Association Scholarships
The National Little Britches Rodeo Association awards several scholarships in different categories each year. These scholarships range in value from $500 to $2,000. Each scholarship has its own requirements, but all of them are available only to members of the NLBRA. The three main scholarships are the Wrangler Scholarship, the Age Out Scholarship, and the Rainwater Scholarship.
Scholarship Amount: $500-2,000
Scholarship Deadline: May 31
National Intercollegiate Rodeo Association Scholarships
Organizations like the NIRA are committed to providing the organizational structure for rodeo competition at the collegiate level. NIRA was founded in 1948, and it sanctions over 100 rodeos with 3,400 student members nationwide. The scholarship fund provides scholarships for students maintain a 3.0 or greater GPA and can demonstrate financial need, through qualification for state financial aid and/or other means.
Scholarship Amount: Not Available
Scholarship Deadline: Not Available
Frequently Asked Questions
Are there rodeo scholarships that aren't on this list?
Yes! Rodeos are pretty regional in nature, so they might provide scholarships to only people who live in a certain county. Bigger rodeos can provide scholarships for students all over the state. There are often regional requirements as well. Often, you might have to live in Texas and go to a Texas university to be eligible. However, rodeos are common all over the American west, so if you have a local or state rodeo where you are, definitely check it out! They probably have a scholarship program.
Do I have to compete in a rodeo to get a rodeo scholarship?
For certain scholarships, yes. Some of the best scholarships are for people who compete in the various competitions at the rodeo, but it's not all bucking broncos and livestock shows. Some of the rodeos offer scholarships for people who celebrate Western culture through art, volunteer at the rodeo, work the rodeo, or just enjoy going to the rodeo. Even if you're not a competitor, check it out and see if there are scholarships you can apply for.
Any more general advice on applying for scholarships?
Yes! First, it doesn't hurt to start looking for your target scholarships in your sophomore or junior year of high school. This spreads the work out and lets you get a head start. If you know what requirements or expectations a scholarship has, you are in a better position to target that scholarship and gain the experiences or extracurricular activities that they want to see. Doing your research early can help you maximize your scholarship application efficiency. Even if you're already approaching your senior year, you can search for great scholarships to apply for, especially if you already know what subject you want to study in college.
Once you figure out what scholarships you want to apply for, you can make your plan. Start gathering all the information for the scholarships early so that it's ready when the application period opens. Then, make sure you get any required essays written, and make sure you ask for your letters of recommendation early, as you never know how long it will take for those to get written. Once you have all the required information, essays, letters of recommendation, and anything else gathered, it's just a matter of submitting the applications when the application periods for each scholarship open!
How can I minimize the cost of college?
Well, you're already on the right track by trying to pick up some scholarships. Another good strategy is to attend a public college in your state. Public colleges are cheaper than private ones, on average. They also tend to be incredibly cheap for residents of their home state. The affordability isn't because of inferior quality, it's because they're subsidized by the state and federal government to provide affordable options for higher education. The reason choosing a state college or university is a good strategy is because free money is limited. Grants, institutional scholarships, financial aid, and work study all add up to only so much, no matter where you go to college. The difference often has to be made up for with student loans. However, student loans are rough, and should be the last place you turn for funding. If you want to keep your student debt down, state colleges and universities are the way to go. And the thing is, many of the best colleges and universities in the United States are public. For instance, the University of Texas at Austin is ranked #42 among the best national universities, but it only costs $11,000 in tuition for students in the state. Private schools in that same slot all have tuition over $50,000 per year. There are a huge number of state colleges and universities in the top 200 nationwide, and that's out of over 5,500 colleges and universities in the country. Therefore, it's almost guaranteed that at least one state university from every state will be in the top 5% of colleges and universities in the United States, and they are all way cheaper than same-ranked private colleges and universities.
Related:
GCD Staff
April 2021
This concludes our list of the top 10 rodeo scholarships of 2021.