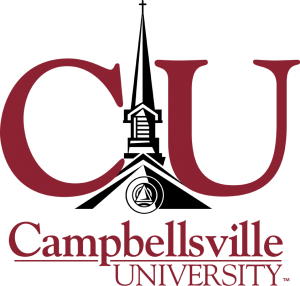 Campbellsville University Degree Programs
Campbellsville University appears in our ranking of the Top 10 Great Deals: Bachelor's in Theology and Christian Studies Degrees Online.
Between its online, certificate and degree programs, Campbellsville University offers more than 100 options for students. It is one of the few colleges to offer both associate and bachelor programs for undergrads. An Associate of Science is available in accounting and business information for those who want to work in the business industry. The Christian Studies AS program allows students to learn more about Christian beliefs and institutions. An Associates Degree in Nursing (ADN) qualifies students to work as practical nurses too.
Bachelor of Science, Arts and Music programs are also available from the university. Its Bachelor of Music Education helps students meet some of the requirements to work as a licensed music teacher and also allows students to gain some performance experience. Both a Bachelor of Science and a Bachelor of Arts in Psychology will help students learn more about human behavior and thought. The university offers a sociology and a social studies program that focuses on society as a whole. Many of the students in these programs will select a minor in social work.
Campbellsville University offers a Bachelor of Social Work and a Master of Social Work too. The MSW program includes practicums and internships that students will do at different agencies around the campus. They can work with child abuse victims, the homeless, victims of domestic abuse and drug and alcohol addicts. Though the university does not offer a large number of graduate programs, it does have a business administration program for grad students. This program includes courses in economics, information systems, management and business ethics. Graduate programs are also available in computer science, educational administration, special education, school counseling and justice studies.
Students can also earn certificates from Campbellsville University. These programs include options for both undergrads and graduate students as well as those at the post-graduate level. A barbering certificate provides students with the training needed to work as barbers, while its medical billing and coding certificate program helps students prepare to work as billing specialists. Certificates at the post-graduate level are available in working with students who have moderate to severe disabilities, working with gifted and talented students and environmental education. Some of the majors available for online students include Christian ministry, business administration, criminal justice administration, education, theology, sports management, and nursing.
About Campbellsville University
Campbellsville University is a private university that previously had an affiliation with the Kentucky Baptist Convention. Established in 1906 as Russell Creek Academy, the small school offered classes for young males. The Russell Creek Baptist Association helped fund the academy and offered support as it transitioned to a four-year college. This eventually led to the college becoming the Campbellsville University Junior College and then Campbellsville University. During its junior college years, the school offered degree programs designed to educate future workers who would help improve the economy of the region. It became Campbellsville University after receiving full accreditation. Though the university later separated from the Kentucky Baptist Convention, it agreed to continue using the beliefs of that organization.
The university now divides itself into the School of Music, School of Education and School of Art. Students can now take classes from other departments to earn degrees in business and other fields. Close to 50% of its students live on-campus, but the university also sees hundreds of students enrolling in its online programs every year. Enrollment at Campbellsville now includes more than 3,400 undergrads and close to 900 graduate students. This does not include online students or those who enroll in its associate and certificate programs.
Campbellsville University Accreditation Details
Also called CU, the university has accreditation from the National Association of Schools of Music (NASM) for all its music programs and from the National Council for Accreditation of Teacher Education (NCATE) for all its education and teaching programs. The International Assembly for Collegiate Business Accreditation (IACBA) and the Council for Social Work Education (CSWE) also granted accreditation to Campbellsville. CU now has regional accreditation from the Southern Association of Colleges and Schools (SACS) too.
Campbellsville University Application Requirements
CU offers three ways for prospective students to learn more about its degree programs and campus. Students can attend a preview day and spend four hours touring the campus and all its resources. They can also watch games and attend special events on those days. The university also allows students to take a virtual campus tour online or to sign up for an in-person tour of the main campus. Those programs help students decide if the university is a good fit for them.
The process of applying to the university starts when the student chooses the right application. It offers different applications for those attending its main campus or a regional center and for those applying to an online program. There is a separate application for grad students too. Students will choose the appropriate application, complete it and submit it online. They are then responsible for sending other information, which can include an official transcript and a test score. CU may ask for letters of recommendation, a resume, essay responses or writing samples and other documents from graduate students.
Tuition and Financial Aid
Part-time undergrads taking up to 11 credit hours of classes on the CU main campus pay $1,038 per credit hour. Full-time students taking 12 to 18 credits pay $12,450 each semester. They also pay an overload charge of $500 per credit hour for any courses taken over the 18 credit limit. Technology and student activity fees add $125 to $250 per semester to their costs each semester too. Undergrads will also pay at least $4,000 a semester for housing on the CU campus. Graduate students will pay at least $399 per credit hour, but this rate can rise to $479 per credit hour. Certificate students and those taking classes on regional campuses will pay similar rates.
More than 90% of CU undergrads receive financial aid from the university, and a large number of grad students receive aid too. The university will not award aid to any student until it receives a full and complete FAFSA. Students can work for the university and get loans and grants from both Kentucky and the federal government. Campbellsville University offers financial aid packages for all types of students who enroll in any of its academic programs.