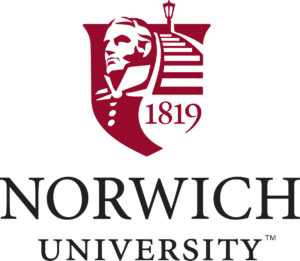 Norwich University Programs & Degree Opportunities
Norwich University appears in our ranking of the Top 50 Great College Deals: Master of Public Administration Online.
Students interested in attending Norwich University may do so at the university's Vermont campus, or they may enroll in Norwich University Online. The university offers more than 50 degree programs in various formats and levels. Some of the most popular majors at Norwich University include military science, leadership & operational art, homeland security, law enforcement, and firefighting.
Other popular programs include those in business, engineering, and the social sciences. The school's overall student-to-faculty ratio is 14:1, and about half of the university's classes feature fewer than 20 students enrolled. The university's average freshman retention rate is 77 percent.
Students who choose to enroll in one of the on-campus programs at Norwich University may choose from programs like accounting, biochemistry, Chinese, engineering, geology, history, management, nursing, or sociology. Other on-campus programs include Spanish, psychology, political science, international studies, geology, cybersecurity, and construction management.
Prospective students who don't live in Vermont and want to attend Norwich University online may choose from several bachelor's degrees, master's degrees, and online certificates. Online bachelor's degrees include those in strategic studies & defense analysis, management studies, cybersecurity, criminal justice, interdisciplinary studies, and national security studies. Students can also enroll in an RN to BSN program online.
For graduate students, online opportunities include those in business administration, criminal justice, history, international relations, military history, public administration, and strategic studies. Other graduate programs include nursing, leadership, information security & assurance, diplomacy, and civil engineering.
The university also offers professional development classes through its Norwich Pro program, which features online certificates and courses. Areas of emphasis include military history, corporate compliance, leadership, public works, strategic communications, supply chain, and project management. The university also offers a preparatory course for the PMP/CAPM exam.
Some of the programs offered by the university also offer students the opportunity to add a concentration to their studies. For example, the Bachelor of Science in Cyber Security allows students to choose Computer Forensics and Vulnerability Management or Information Warfare and Security Management as their focus.
Similarly, the Bachelor of Science in Management features concentrations like Leadership Studies, Procurement & Contract Management, Cyber Security Management, and Human Resource Management. Students can benefit from the 100 percent online delivery of many programs, as well as the brief completion timelines that help students complete their bachelor's degrees in as few as 18 months.
About Norwich University
The full name of Norwich University is Norwich University – The Military College of Vermont, and the university is a private institution located in the state of Vermont. Its 1,200-acre campus is in the community of Northfield, and it has operated since 1819. With a founding date of August 6, 1819, the university is the private oldest military college in the country. The university was once known as the American, Literary, Scientific and Military Academy.
Today, the school has around 3,400 students attending classes. Its official colors are gold and maroon, and its students participate in NCAA Division III games as the Cadets. The school's mascot is a cadet, and there are 18 varsity teams at the university. The university is also known as the first location of the Reserve Officers' Training Corps operation.
Norwich University Accreditation Details
The New England Commission of Higher Education, which was recently known as the New England Association of Schools and Colleges, has regionally accredited the university. Students with questions about the university's accreditation status can contact the commission directly at its headquarters in Burlington, Massachusetts, or they may speak with a representative from Norwich University. Various programs and schools are also accredited throughout the university.
For example, programs offered by the David Crawford School of Engineering are accredited by the Engineering Accreditation Commission of the Accreditation Board for Engineering and Technology. Accredited programs include those in engineering, mechanical engineering, electrical engineering, and computer engineering. Similarly, the Accreditation Council for Business Schools and Programs has accredited the Bachelor of Science in Accounting, as well as the major in management.
Norwich University Application Requirements
Application requirements for future students of Norwich University include the completed application and secondary school transcripts. International students must submit evidence of English language proficiency. Students are also encouraged to submit letters of recommendation, an essay, and standardized test scores. These additional items aren't required, but the school strongly encourages their submission. Students interested in the nursing degree program are required to submit standardized test scores.
Admission to the university's graduate degree programs requires similar materials. In addition to the completed application form, students must submit a resume, official transcript from the student's undergraduate program, a letter of intent, a letter of recommendation, and any additional program-specific requirements. The letter of recommendation should come from a professional or academic contact.
Tuition and Financial Aid
Tuition for the year for students at Norwich University is $39,234, and the university also charges basic fees for items like technology, student activities, and health care that amount to $2,262. Students who live on campus will also pay $14,352 for room & board, as well as an admissions deposit of $250. The university also expects students to spend around $1,500 on books, about $1,200 on transportation, and $1,500 on miscellaneous costs throughout the year.
Students who enroll in online programs will pay tuition based on the program they choose. For example, the certificate program in information security & assurance is $842 per credit with an additional $300 technology fee and $75 library fee per term. Overall tuition for that program is estimated at $5,427. Active military students may receive reduced tuition rates and should inquire with the university about their expected costs.
Students are eligible for financial aid at Norwich University since the institution is regionally accredited. All full-time students who attend the university are evaluated for possible inclusion in the university's scholarship programs. Students are encouraged to submit their FAFSA form to see if they qualify for loans through the federal student loan program. The university also offers federal work-study opportunities to eligible students.
Some of the scholarships and awards offered to students at Norwich University include the Presidential Scholarship, which awards up to $27,000 per year, the Provost Scholarship, which offers up to $25,000 per year, and the Trustee Scholarship, which awards up to $22,000 per year toward the cost of tuition. Scholarships at Norwich University generally have GPA requirements that students must meet.