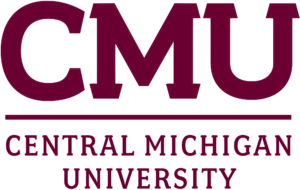 Top-Tier, Transformative Public Education at CMU
Central Michigan University appears in our ranking of the Top 50 Great College Deals: Master of Public Administration Online.
Ranked 205th nationally by the U.S. News & World Report, Central Michigan University is a large, land-grant AASCU member in Mount Pleasant that confers 104 bachelor's, 43 master's, and 17 doctoral degrees, including 32 fully online, at a 21:1 student-teacher ratio. For instance, the B.S. in Fashion Merchandising & Design crafts a 124-credit, four-year Web curriculum with a Product Development or Visual Merchandising emphasis for 89 percent job placement at Target, Kohl's, Whirlpool, Wal-Mart, and more. Chaired by Dr. Elizabeth Kirby, the B.S. in Elementary Education shapes a 124-credit, CAEP-accredited sequence toward Grades 1-6 certification with Summer Reading Clinic practice, 16-week internships like the Ganiard School, Kappa Delta Pi membership, and a Santo Domingo trip.
Online on Blackboard Learn, the Global Campus delivers an M.S. in Information Systems with 36-credit, AACSB-accredited Enterprise Systems, Cybersecurity, and Project Management tracks that require one two-week SAP Boot Camp atop courses like App Development for $130,000 median pay. Directed by Dr. Lawrence Lemke, the Ph.D. in Earth & Ecosystem Science follows a 96-credit, five-year path where post-grads can contribute to Project CMU Storm, investigate in the Institute for Great Lakes Research, and travel to Costa Rica.
Other Central Michigan options include the B.S. in Community Development, B.S. in Nursing, B.S. in Biochemistry, B.A. in French, M.B.A. in Marketing, M.S. in Public Administration, M.S.A. in Homeland Security, Ed.D. in Educational Technology, and Ph.D. in Clinical Psychology.
About Central Michigan University
Central Michigan University originated on September 13, 1892, when the Central Michigan Normal School & Business Institute welcomed an inaugural class of 31 on Main Street. In 1893, it became the Central Michigan Normal School for two-year teaching diplomas. Two years later, the Michigan State Board of Education acquired control over its leadership. In 1910, Central State Normal School opened its earliest Psychology Clinic. Initially accredited in 1915, it awarded the first Bachelor of Arts degree in 1918. During World War II, it transitioned to the Central Michigan College of Education in 1941. Eight years after, Central Mich debuted a Master of Education program. On June 1, 1959, the Central Michigan University name was finally adopted. During the 1960s, CMU built the valuable Biological Station on Beaver Island. In 1994, the Global Campus was inaugurated for high-tech online learning.
Endowed for $156.4 million, Central Michigan University now employs 1,017 faculty teaching 23,335 Chippewas from 54 countries online, on an 871-acre Mount Pleasant campus, and at 36 off-site locations from Detroit to Fort Riley with 400+ clubs like Project Mind Grow. Since 2008, CMU has won the Mid-American Conference's prestigious Cartwright Award twice. In 2019, Central Michigan accepted a CASE District V Circle of Excellence Award. Its Center for Excellence in Teaching & Learning earned the 2019 AAUA Exemplary Models Award too. Forbes named Central Michigan University 614th overall with the 242nd most impactful research. On Niche, CMU boasts America's 113th best Greek life, 133rd best teaching degrees, and 183rd top accounting programs. Money magazine picked Central Mich for the 603rd best value. WalletHub noticed CMU for the 37th safest campus and 200th best financial aid.
Central Michigan University Accreditation Details
On August 19, 2016, the Higher Learning Commission on North Central Association (HLC-NCA) sent an Institutional Status Report to Central Michigan University that extended the Level VI accreditation through 2025-26 under the 15th president, Dr. Robert Davies, who received the UB Distinguished Alumni Award. Located 259 miles west via Interstate 94 in Chicago, this giant 19-state Great Lakes Region accreditor is recognized by the Council on Higher Education Accreditation (CHEA) and Michigan Department of Education (MDE). The Office of the Provost also lists the following accreditations:
Accreditation Review Commission on Education for Physician Assistants
Commission on Accreditation in Physical Therapy Education
Accreditation Board for Engineering and Technology
Commission on Accreditation of Athletic Training Education
Liaison Committee on Medical Education
Accrediting Council on Education in Journalism and Mass Communications
Commission on Accreditation for Dietetics Education
American Psychological Association Commission on Accreditation
National Association of Schools of Art and Design
Council on Social Work Education Office of Accreditation
National Association of Industrial Technology
Association to Advance Collegiate Schools of Business
Council on Accreditation of Educator Preparation
National Association of Schools of Music
Accreditation Commission for Audiology Education
Council for Interior Design Accreditation
Central Michigan University Application Requirements
Enrolling at Central Michigan University is classified "moderately difficult" by Peterson's since 12,293 of the 17,858 Fall 2018 applicants were triumphant for 69 percent acceptance. First-year Chippewas must have a solid academic background with a high school diploma or GED. The President's Council strongly suggests taking four years each of English, math, and science. The Class of 2022 had a cumulative secondary GPA of 3.41. The middle 50th percentile had ACT scores of 20-25. Mid-range admitted SAT scores were 1010-1220. Competitive transfers will have 30+ non-remedial credits from accredited institutions with GPAs above 2.75. Unless exempt, international students need at least 79 TOEFL iBT or 6.5 IELTS scores. The College of Graduate Studies only selects ambitious students with four-year bachelor's. Unconditional enrollment requires a 2.7 overall or 3.0 upper-division GPA. The Doctor of Physical Therapy requires 50 career exploration hours and eight prerequisites like Anatomy. Doctor of Medicine cohorts must exceed the 498 MCAT minimum.
Central Michigan University has rolling admission with priority deadlines of December 1st for freshmen and April 1st for transfers. Note College of Education & Human Services entrants must file before March 1st or October 1st. The College of Graduate Studies has wide-ranging program dates though. For example, the Ph.D. in Neuroscience closes on December 15th. The M.A. in Mathematics considers candidates until February 15th. Joint M.A./Ph.D. in History cohorts must apply before January 3rd. M.A. in Counseling students apply through September 1st and February 1st. Submit the $35 ($60 if graduate) CMU or Common Application online. Forward official transcripts to 802 Industrial Drive in Mount Pleasant, MI 48858. Send test results with SAT/GRE code 1106 or ACT code 1972. Contact (989) 774-4444 or apply@cmich.edu to learn supplemental steps.
Tuition and Financial Aid
For 2019-20, Central Michigan University is charging lower-level bachelor's majors $417 per credit or $6,255 each semester. Juniors and seniors pay $434 per credit or $6,510 by term. Annual undergrad tuition is $12,510 to $13,020 for all U.S. residents. The active-duty military rate is $299 per credit. The student services fee adds $225 each semester. Living at the Mount Pleasant campus' 22 dorms like Emmons Hall costs $10,328 for room and board. CMU budgets $1,000 for books and $1,380 for travel or miscellaneous. Yearly baccalaureate attendance equals about $25,668 on-site or $14,813 at home. Standard graduate courses are $637 per credit. The M.B.A. and M.S. in Information Systems bills $662 per credit. The Online Doctor of Health Administration is priced $850 per credit. Doctor of Education cohorts spend $726 per credit.
According to the NCES College Navigator, the Office of Financial Aid in Warriner Hall Room 202 connects 66 percent of full-time CMU Chippewas with tuition assistance averaging $7,631 apiece for $90.33 million combined. Institutional funds include the Lillian Winsor Memorial Scholarship, Lawrence Abbott Scholarship, Clarke Student Journalist Scholarship, Freddie Link Simonds Scholarship, Doris Andersen Moore Scholarship, Reed Phillips Athletic Training Scholarship, Minelli Family Scholarship, Walter Nickell Memorial Scholarship, James & Catherine Steinmetz Graduate Scholarship, and Karolak Computer Science Scholarship. The Centralis Scholar Award covers full tuition for exemplary freshmen meeting the 1260 SAT or 27 ACT score minimum. The $5,000 Transfer Honors Scholarship assists undergrads with 56+ college-level credits at GPAs above 3.5. Federal resources, such as the Pell Grant or Iraq and Afghanistan Service Grant, require FAFSA forms coded 002243. Michiganders could also claim the Competitive Scholarship, Tuition Grant, Children of Veterans Grant, Fostering Futures Scholarship, and more.
Search through seven student-centered colleges with 160+ innovative degrees placed 197th overall by Washington Monthly at the Central Michigan University website.