Film scholarships apply specifically to those students who choose to study media in college. Scholarships for film students may be more difficult to find as many scholarships focus on other areas. Luckily, video scholarships, cinematography scholarships, and other similar scholarships for film students are available if you know where to look. We have compiled a list of 30 film student scholarships that you can apply for today.
The Alliance for Women in Media provides one $5,000 scholarship each year to a female student who is studying film, television, or radio. The student must attend a university in or around Austin, Texas. Those students who graduated from an Austin area high school but attend college elsewhere will also be considered. In order to be eligible students must have at 60 college credit hours, an overall GPA of 3.25, and be currently enrolled as a full-time student. The application requires an official transcript and two letters of reference. Students must attend the Trailblazer Awards Gala to accept the scholarship.
The National Academy of Television Arts & Sciences – Upper Midwest Foundation awards annual scholarships to students in Iowa, Minnesota, North Dakota, South Dakota, and Wisconsin. The amount of the scholarship, which can be used for tuition or books, varies from year to year.
This film student scholarship is open to women who are currently enrolled as undergraduate or graduate students at an accredited university. Eight applicants each year receive $1,000 that can be used toward tuition. Applicants must have a minimum 2.75 GPA. They must be a U.S. citizen or legal permanent resident. Only those applicants who can prove financial need will be considered for these scholarships. It is only open to female students who are majoring in public relations, communication, media studies, marketing, or journalism. In addition, applicants must show a desire to work in the entertainment or sports industry.
The Charles & Lucille King Family Foundation offers a variety of film school scholarships. The King Family Foundation Undergraduate Scholarship Program provides up to $7000 for college juniors and seniors. Applicants must major in film or television. They must also demonstrate financial need. In addition to this scholarship, the foundation offers a $10,000 award called the NYU Heinemann Award for seniors at New York University. The USC Michael King Award is another $10,000 scholarship for seniors at the University of Southern California. Graduate film students at the University of Southern California or NYU may apply to the UCLA Post Production Award or the NYU Roger King Award, respectively.
Open only to Arab-American students, the Jack G. Shaheen Mass Communications Scholarship is a $2,500 award. The scholarship is available to students majoring in journalism, radio, television, or film. Applicants must provide two letters of recommendation from communications professors. They must provide official college transcripts showing a GPA of at least 3.0. They will need to provide copies of their work and a one-page statement about the influence of Jack G. Shaheen. This scholarship is available only to college juniors and seniors or to graduate students. All applicants must provide proof that they are U.S. citizens.
The Lyon Fellowship/Scholarship is a $2,500 award available to any graduate film student enrolled in an accredited university in the United States or Canada. Along with the scholarship application, students must provide a sample of their work and a transcript. The scholarship is sponsored by the Phi Delta Theta fraternity. However, applicants do not need to be a part of this fraternity in order to be considered for the award.
The Congressional Black Caucus offers two film student scholarships each year. The CBC Spouses Performing Arts Scholarship is a $3,000 award created in honor of the late Curtis Mayfield. Up to 10 students majoring in performing or visual arts will receive this scholarship. Performing arts majors may include theater, drama, comedy, music, dance, opera, marching bands, or other performative arts. Visual arts majors can be architecture, ceramics, drawing, fashion, graphic design, illustration, interior design, painting, photography, and other related fields. These scholarships are not renewable but recipients may reapply in consecutive years. Any person wishing to apply must live in a Congressional Black Caucus member's district.
The World Nomad Scholarship is one of the more unique video scholarships available. This award provides the winner with a 10- to 14-day mentorship with a professional filmmaker. The winner is taken to a different location each year on an all-expenses-paid trip. In previous years the winning students have traveled to Tanzania, India, Vietnam, Ecuador, Mexico, and New Orleans. Winners receive free flights and travel clothing. Students must submit films to be reviewed in order to be considered for the award. This is not a typical scholarship in that it does not apply to tuition at film school.
High school students can apply for the NHSS Film and Video Production Scholarship. The winner will receive $2,000. Students can apply by creating a short film no longer than five minutes. They must also provide a headshot, an educator recommendation, and a summary of the work itself. Film categories can include animation, documentary, film narrative, or a musical performance. Entries are judged based on expression, quality, creativity, originality, editing and, storyline and script, if applicable.
Against the Grain Productions offers a $1,000 scholarship that can be applied toward tuition and fees at an accredited university in the United States. Students must be legal residents or citizens of the United States who are at least 25 percent Asian or Pacific Islander. High school seniors and current college students are welcome to apply. Applicants must have a minimum 3.0 GPA. Students should submit an application, essay, and letters of recommendation. They must also complete an interview either in-person or via telephone. Scholarships are paid directly to the student's higher education institution.
Arts for Life welcomes any Florida high school student who plans to major in visual arts to apply for this scholarship. Film students should pay special attention to the guidelines for submission. Films must be suitable for all audiences. They must be entirely created by the applicant with no outside or professional help. Films may be either scripted or candid. They can be live-action, animated, claymation, or a combination. Applicants must also complete a personal essay and the application along with the film. Each scholarship is worth $1,000. Twenty-five student filmmakers are chosen for the awards.
Film students attending an accredited university in the United States can apply to the Fashion Umbrella Foundation Scholarship. This scholarship is open to a wide range of students that includes fine arts, business, and STEM. Students must have a minimum 3.0 GPA. They must be enrolled full-time with the goal of achieving an undergraduate degree. Scholarships range in amounts from $200 to $1,000.
The Teen Drive 365 Annual Video Challenge is an awards program for students who can make a film that resonates with their peers about a given subject each year. The program is sponsored by a cooperation between Toyota and Discovery Education. Up to 55 winners are given monetary and other prizes. The first place winner receives $15,000 and the opportunity to work with Discovery Education to create a PSA. Second place receives an award of $10,000. Third place receives $7,500. A People's Choice prize winner is given $5,000. Student winners ranked fourth through tenth each receive $2,500. State merit prize packages are given out to the top applicant in each state and Washington D.C.
Students in Ohio can apply for the Zinggia Ohio Art Scholarship. This scholarship is awarded to a high school student who has the goal of attending college to study in any art-related field. Applicants must complete the three-page application, provide transcripts that include high school GPA, attach art samples, and include a teacher recommendation. One scholarship worth $2,000 is awarded each year.
Any middle school or high school student age 11 to 18 can apply to the Ocean Awareness Contest. Film students will create a film that is narrative, live-action, animated, documentary, experimental, or dance. The film must follow the annual theme put forth by Bow Seat. All films must be between two and four minutes long. An artist's statement of 250 words must accompany the film. Cash awards are given in two categories: junior division and senior division. Awards in the junior division range from $100 for honorable mention to $1,000 for the gold award. Awards in the senior division range from $250 for honorable mention to $1,500 for the gold award.
The Troublemaker Scholarship includes a $1,500 cash award and a mentorship program. Unlike many other scholarships, students do not need to be enrolled in a higher education institution in order to accept the cash prize. The scholarship is open to Asian Americans who are using their art to draw attention to social issues in a unique and out-of-the-box way. The more unconventional the better!
The NoRA Excellence in Art Activism Scholarship is awarded to a high school senior or currently enrolled undergraduate student. Films or other works of art must be created to show how art can be used for gun violence prevention. The scholarship is a one-time, non-renewable award of $5,000. Students must include transcripts and two letters of recommendation along with the digital link to their film or portfolio. It is recommended that films be no longer than 20 minutes. Any student with a film that is longer than 20 minutes must submit an excerpt of the film rather than the piece in its entirety.
The Thea Foundation offers a $2,500 scholarship in each of its four categories. The foundation offers screenwriting, editing, directing, and cinematography scholarships. Students are eligible for awards in any of these categories regardless of the major they are pursuing. GPA and test scores are not considered when judging the talent for these awards. Applicants must be graduating high school seniors. The scholarships can be used at any institution. However, students who choose to attend a Thea Foundation partner school may receive matched funds.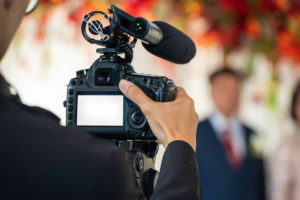 A one-time, $500 scholarship is offered by Wedding Photography and Films to a graduate or undergraduate student at an accredited university in the United States. Students must have already completed their freshmen year of college to qualify. A GPA of 2.5 or higher is required. Students must be majoring in visual arts, fine arts, journalism, film, photography, or multimedia creation. Along with the completion of the application, students must provide a letter of recommendation from a professor or academic advisor. Applicants may use photographs or film to apply for this scholarship.
Sub Pop Records supplies three scholarships per year to students living in Washington or Oregon. The applicants must be graduating high school seniors or current college students. Awards are given in the amounts of $7,000, $5,000, and $3,000. Applicants must write an essay on a topic provided by Soda Pop Records. They should also send links to any films they have created as well as other works of art. Some of the essay prompts include:
What are you doing in the arts/music field in your community?
Discuss a special attribute or accomplishment that sets you apart.
How has your family or community background affected the way you see the world?
Pursuit provides four scholarships to undergraduate students and incoming freshmen each year. The scholarships are based on a video or essay submitted by the applicant. Students must choose from topics provided by Pursuit as their video or essay inspiration. Winners receive $1,000 each. Runners-up receive $500. Scholarships from Pursuit are not renewable.
The Hunter Garner Scholarship Project Yellow Light encourages safe driving among young people. The scholarship competition asks high school and college students to create films that convey the importance of safe driving. A first-place winner is chosen in the high school and college categories. Each first-place winner receives $8,000. Students can also apply in billboard and radio categories. These scholarships are awarded at $2,000 each. These scholarships are not renewable from year-to-year. Students can apply to the scholarships for multiple years as long as they are still in high school or college.
The Deuceman Strong Memorial Scholarship is offered to graduating high school seniors in the Detroit, Michigan area. Students must have lived in the Detroit area and attended school for at least four years. These scholarships are only awarded to those students who do not qualify for other awards due to average grades. The amount of the award varies, but the maximum amount is $1,000. This scholarship is renewable from year-to-year. Applicants must complete the online application. They must state their preference to study in an art field in college. They must provide two examples of art and two letters of recommendation. Applicants are expected to an A or B average in current art classes and a 3.0 GPA overall.
The David A. Hicks Scholarship is a one-time, non-renewable $1,000 award. The award may be applied to tuition or books at an accredited college, university or vocation school. This scholarship may not be used for room and board. The award is given to a student with a minimum 2.5 GPA who is pursuing a bachelor's degree in visual, performance, or graphic arts. All applicants must complete the Free Application for Federal Student Aid (FAFSA) to prove need. They must also supply three letters of recommendation. One letter must be from a teacher, one from a community member, and one from a personal friend or family member. Students must also supply an essay, SAT transcript, and a sample of the student's film or artwork.
Courageous Persuaders is a competition for high school students. They must create a 30-second commercial that warns others about the dangers of texting and/or drinking while driving. The program was founded by the Detroit Auto Dealers Association, but it is open to students throughout the United States. Award amounts vary but can equal up to $30,000. The grand prize winner receives a $3,000 award. The State Farm Fan Favorite receives a $1,000 award and an additional $2,500 award that is given to their school. The Dangers of Texting While Driving Award, the Dangers of Drinking While Driving Award, the Adcraft Detroit Award, the Detroit Auto Dealers Association Executive Award, and the First Place Award each receive $2,000. Other scholarships are prized at $1,500, $1,000, $500 and $250 each.
CINTAS offers an annual scholarship for students of visual arts who are Cuban citizens or who have a parent or grandparent that is/was Cuban. This may include photography, film, art, sculpture, or media arts. Film students may supply films of any type, including documentary, narrative, experimental, and animation. Students do not have to create a new project for this scholarship application. Media arts applicants may submit two pieces that are each a maximum of six minutes long. Students may not use any film that was used as an advertisement or otherwise directed by a different individual. Students must provide a completed application, letters of recommendation, and an artist's statement about the submitted work. The scholarship is awarded at $20,000. Students may not be awarded this scholarship more than twice.
The ConnectHER Film Festival offers awards to young women who create films on a range of subjects. Let Girls Learn, a $1,000 scholarship, is given to a film that focuses on the education of females in the developing world. Green IS, sponsored by the Ian Somerhalder Foundation, is a $2,500 scholarship recognizing a film that inspires women to positively impact the environment. The Global Impact scholarship recognizes a film that seeks to solve an issue facing women around the globe. This scholarship is awarded at $2,500. Other scholarships include Honest Beauty, Stand Up Men, People's Choice, Judge's Choice, and My Hero at $2,500; and Ending Violence Against Women, Best Film Production, and GEMS' Choice at $1,000 each.
Applicants vie for one of four scholarships worth $2,500 each. These scholarships are awarded to students who create short videos of no more than 90 seconds on a prompt given by the BBB Educational Foundation. Scholarship awards are given directly to the higher education institution that the student is attending or will be attending in the fall. Only Students attending nationally accredited colleges, universities, and trade schools are eligible to receive these awards. Students do not need to provide transcripts or letters of recommendation to qualify. They must complete a statement of need and sign a release form to avoid elimination.
The Barbara Caras Memorial Scholarship for Film Students is open only to residents of Sarasota or Manatee County, Florida. Applicants must have completed a minimum of one year of education at a Florida college or university. Students must have a minimum of 2.75 GPA. They must also be majoring in computer animation, film, motion design, creative writing, or illustration. Students must supply at least one sample of their work. They must also complete the scholarship application and requested essays. In addition, the Sarasota Film Society asks for a brief biography from each applicant. Five awards of $2,000 each are given each year. The scholarships are renewable, but students must reapply in order to have their award renewed.
The Foundation of the National Academy of Television Arts & Sciences provides a number of scholarships to students seeking education and a future career in film. The Randy Falco Scholarship is an award given to a Hispanic or Latinx student. The Jim McKay Memorial Scholarship is given only to students interested in sports television. The Mike Wallace Memorial Scholarship is given to students interested in television journalism. The Douglas W. Mummert Scholarship is awarded to students who can show they have positively impacted their community. This award, as well as the NATAS Trustees' Linda Giannecchini Scholarship, may be given to a student who is interested in a career in television at any level. All of these scholarships are awarded at $10,000 each.
It is never too early or too late to consider applying for film school scholarships. Each of these film scholarships put you one step closer to completing your education and achieving your dreams.
Click here to see more of our scholarship listings.
Recommended Rankings: