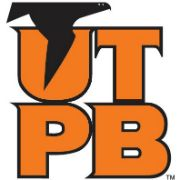 Flexible, Affordable Hispanic-Serving Education at UTPB
The University of Texas at the Permian Basin appears in our ranking of the Top 50 Great College Deals: Master of Public Administration Online.
Divided into five colleges with a 27:1 student-faculty ratio, the University of Texas at the Permian Basin confers 41 bachelor's and 20 master's majors in Odessa plus 29 online programs on Canvas in seven- or 16-week semester formats.
For example, the 120-credit Drama BFA utilizes Charles A. Sorber Studio to prepare creative actors for productions at the 1,800-seat Wagner Noel Performing Arts Center. Chaired by Dr. Gregg Hammon, the Criminology and Criminal Justice BS uniquely follows a 63-credit 2+2 transfer track online with a Peace Officer Tuition Exemption for courses like Juvenile Delinquency.
Since Fall 2018, the Computer Science MS has integrated the five-course Cyber Security Certification and ACM membership into its 36 credits for median graduate pay of $85,210. The Special Education MA starts its 36-credit, CAEP-accredited plan six times yearly with a built-in Autism Certificate and capstone internship, such as Midland Independent School District.
Other opportunities include the Accountancy BBA, Clinical Laboratory Science BS, Humanities BA, Industrial Technology BAAS, Leadership Studies BA, Mathematics BS, Petroleum Engineering BS, Spanish BA, Counseling MA, Kinesiology MS, Geology MS, and the online Public Administration MPA.
About the University of Texas at the Permian Basin
The University of Texas at the Permian Basin originated in 1969 when the Texas Legislature passed legislation funding oil magnate Bill and Ellen Witwer Noel's request for an upper-level Odessa campus. Initially blocked by a lawsuit, it was given the go-ahead by the Supreme Court in Spring 1972. On September 4, 1973, President Armstead welcomed an inaugural class of 1,011 to its temporary property. By August 1991, Permian Basin was authorized for lower-division freshmen and sophomores too. In 2000, UTPB's 19-building Ector County campus took shape with J. Conrad Dunagan Library and a Stonehenge replica. The 70,000-square-foot Science & Technology Complex was erected in 2008. Another Midland location was built in 2009 with the Center for Energy & Economic Diversification. Budgeting $98.1 million, the University of Texas at the Permian Basin now teaches 7,628 Falcons from 107 countries online and on-site with 40+ clubs like the American Nuclear Society. The U.S. News & World Report ranked UTPB the West's 88th top college with the 144th best engineering, 150th top online MBA, and 234th best online bachelor's degrees nationally.
The University of Texas at the Permian Basin Accreditation Details
On June 15, 2010, the University of Texas at the Permian Basin was satisfactorily reaffirmed by the Southern Association of Colleges and Schools Commission on Colleges (SACSCOC) Board of Trustees on the Quality Enhancement Plan pathway for Level III accreditation good through 2020 under its sixth president, Dr. Sandra Woodley, an AASCU Senior Fellow. Located 1,137 miles east via Interstate 20 in Decatur, Georgia, this expansive 11-state Southeast Region accreditor is authorized by the Council on Higher Education Accreditation (CHEA) and Texas Higher Education Coordinating Board. The Academic Affairs Office also lists the following accreditations:
 Commission on Accreditation of Athletic Training Education
 Association to Advance Collegiate Schools of Business
 Accreditation Board for Engineering and Technology
 National Association of Schools of Music
 Council on Social Work Education
 National Association of Schools of Art and Design
 Council for Accreditation of Educator Preparation
 Commission on Collegiate Nursing Education
University of Texas at the Permian Basin Application Requirements
Picking the University of Texas at the Permian Basin is classified "moderately difficult" by Peterson's since 768 of the 940 Fall 2017 applicants conquered the 82 percent acceptance rate. First-year Falcons should culminate the Texas Distinguished High School Graduation Plan or its out-of-state equivalent. Four credits of English, Math, and Science are encouraged. Ranking in the top 10th percentile makes admission test-optional. Otherwise, freshmen need a minimum 2.0 GPA, 980 SAT, and 19 ACT mark. Online programs like the Psychology BA mandate 24-90 accredited transfer credits graded "C" or better. The Nursing BSN ups the cumulative GPA to 2.5 with passing NCLEX-RN licensing exam scores. School of Graduate Studies entrants typically need GPAs above 3.0 in upper-level bachelor's coursework. The Online MBA uses an index that must equal 1000 after multiplying GPA by 200 and adding GMAT marks. Cumulative averages of at least 3.25 qualify for testing waivers. The Public Administration MPA seeks three years of relevant full-time experience or 295+ GRE General Test scores. Educational Leadership MA hopefuls need Texas certification and 12 months of teaching practice. The Biology MS has prerequisites in Calculus, Chemistry, Microbiology, and Genetics too.
The University of Texas at the Permian Basin set a priority freshmen deadline of March 1st. Domestic and non-U.S. undergrads apply until July 15th for Fall or November 15th for Spring though. The School of Graduate Studies currently has general deadlines of March 7th, May 2nd, June 27th, and August 22nd. Accordingly, use the ApplyTexas portal to submit the UTPB Application electronically with a $40 non-refundable fee. Official transcripts are mailed to 4901 East University Avenue in Odessa, TX 79762. Select institutional codes 0448 (SAT) or 4225 (ACT) for test reporting. Supplemental items could include the TSI Assessment, GMAT waiver, professional résumé, two recommendation letters, one-page essay, and English exams. Only online students are exempt from the Bacterial Meningitis Vaccination form. Please contact (866) 552-8872 or admissions@utpb.edu with further inquiries.
Tuition and Financial Aid
For 2018-19, the University of Texas at the Permian Basin has charged in-state undergrads $3,867 per term or $7,734 annually full-time. Non-resident undergrads pay $4,287 by semester or $8,574 each year. Tuition totals include the $116 technology fee, $75 library fee, $318 athletics fee, $245 services fee, and $150 Student Union fee. Insurance premiums are $1,036 each term unless waived. Living at the Odessa campus' dorms like Falcon's Nest adds $3,038 to $5,650. Meal plans for the Parker Ranch House are $4,906 extra. Annual bachelor's attendance equals $21,394 in-state and $22,234 out-of-state. Online undergrad programs cost $303 per credit or $911 by course. The School of Graduate Studies raises rates to $326 per credit and $980 each course. Campus-based master's education averages $4,529 to $5,369.
According to the NCES College Navigator, the Office of Financial Aid in Mesa Building gifts $18.27 million combined in average $6,737 packages for 47 percent of UTPB Falcons. University funds include the Freshman Achievement Scholarship, Falcon 500 Scholarship, Transfer Excellence Scholarship, Activity Scholarship, Athletic Scholarship, Earn-in Scholarship, Brian Craig Memorial Scholarship, Gary Watkins Memorial Scholarship, Osadchuk Music Scholarship, Nancy Fyfe Cardozier Scholarship, Edwin Kurtz Scholarship, and Cathryn Smith Social Work Scholarship. The Presidential Plus Scholars Program awards $40,900 over four years for freshmen in the top 5th percentile. Families earning $45,000 or less qualify for free tuition under The Falcon Promise. FAFSA applications coded 009930 considers Federal Pell Grant, SEOG Grant, Work-Study, and Direct Loan eligibility. The Toward Excellence, Access & Success Grant lasts for up to 150 credits with GPAs over 2.5. Texans also pursue the Public Educational Grant, Fifth Year Accounting Scholarship, and Armed Services Scholarship.
Learn more about the University of Texas at the Permian Basin at the Academic Affairs Office website.