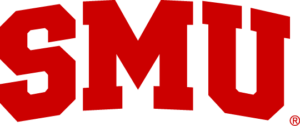 Degrees from Southern Methodist University
Southern Methodist University appears in our ranking of the Top 50 Best Colleges in Texas.
Southern Methodist University is a university in Dallas, Texas with a wealth of programs at the bachelor's through the doctoral level. There are several schools and colleges within Southern Methodist University that offer degrees on topics as varied as engineering, the law, the humanities, and theology. Divisions include the Cox School of Business, the Dedman School of Law, the Meadows School of the Arts, and the Simmons School of Education & Human Development.
Other divisions include the Perkins School of Theology, the Lyle School of Engineering, and the Dedman College of Humanities and Sciences. The student-faculty ratio at the university is a low 11:1, and the university enjoys a high freshman retention rate of 91 percent. More than 58 percent of its classes are offered with fewer than 20 students in attendance.
Some of the most popular majors at the university are those in business, management, and marketing, as well as those in the social sciences and engineering. Other popular subjects for study include communication, journalism, and visual and performing arts. Some of the most interesting degrees offered at Southern Methodist University include those in creative computing, biophysical sciences, arts entrepreneurship, and digital game development.
For students who enroll in programs from the university's popular School of Business, standard options like accounting, finance, and business administration are available, and the university also offers interesting degrees in unusual areas like business energy management, real estate finance, risk management, and financial consulting.
The arts is another popular and diverse area for students with programs in dance performance, film & media arts, music, and journalism. Students may also major in music composition, songwriting, or the history of visual and performing arts, as well as pursue educational degrees like those in music therapy or music education.
Students may be able to qualify for concurrent enrollment at Southern Methodist University, which means they will take college classes at SMU before they officially graduate from high school. Concurrent enrollment classes allow advanced students to earn college credits at the same time as they earn high school credits. There are some prerequisites for enrolling in college classes that applicants must meet before gaining eligibility for the program.
About Southern Methodist University
Southern Methodist University was founded in 1911 by a group of prominent citizens in Dallas and the church that would eventually become the United Methodist Church. Although the university has ties to the Methodist Church, it's nonsectarian and welcomes students of all religious backgrounds to attend. The school is both a private institution and a research university. Nearly 12,000 students attend the university, which is located in University Park, Texas.
The students who are part of the university's sports teams play as the Mustangs, and their official colors are red and blue. There are 17 varsity sports teams that play at the university, and they play in NCAA Division I games. The university has an endowment of more than $1.6 billion and operates additional campuses beyond Dallas in the city of Plano, as well as near Fort Burgwin, which is just outside Taos, New Mexico.
Southern Methodist University Accreditation Details
Accreditation for Southern Methodist University has been granted by the Commission on Colleges of the Southern Association of Colleges and Schools, and this approval allows the institution to award college degrees. Southern Methodist University offers students bachelor's, master's, doctoral, and professional degrees. Accreditation status can be confirmed by contacting the commission's Georgia offices. There are some individual academic programs that have been further accredited at the university.
Some of the associations that have approved programs at Southern Methodist University include the Association to Advance Collegiate Schools of Business International, which has accredited the programs offered by the Edwin L. Cox School of Business, as well as the American Bar Association, which has approved the School of Law. The Perkins School of Theology has received accreditation from the Commission on Accrediting of the Association of Theological Schools.
Southern Methodist University Application Requirements
Southern Methodist University suggests that it weighs several factors during the admission process that include the student's GPA, SAT scores, and whether the student has completed the minimum high school course requirements in a foreign language, science, math, and English. Students who want to apply to one of the theater, music, or dance programs at the university must audition as part of the admissions process. A portfolio is required for undergraduate students pursuing degrees in film & media arts or studio art.
At the start of the application process, students may submit self-reported test scores but must submit official test scores before enrolling for classes. The university also offers four different application options that include the MyCoalition Application, the Common Application, the application at ApplyTexas, and the official online application from Southern Methodist University. The application fee is $60 and is non-refundable.
Tuition and Financial Aid
The estimated cost for tuition at Southern Methodist University for undergraduate students is $58,540.00, which includes $51,598.00 in tuition and a further $6,582.00 in general student fees. Students who elect to live on campus in a dorm room will pay a further $17,110.00 per year for a double occupancy room and a dining plan. Books and supplies, transportation, and miscellaneous costs may add another $3,476.00 per year.
The undergraduate tuition rate assumes that students will take 12 to 18 credits each term. For graduate students, tuition is based on the school that offers the student's chosen program. For example, the Master of Business Administration program is charged at a flat rate of $23,487.50 per year. The accelerated MBA program is charged at a flat rate of $20,335.00 per trimester.
Each year, Southern Methodist University offers several million dollars worth of scholarships and grants to students who attend Southern Methodist University. In all, the university has more than $135 million at its disposal to offer students, which includes academic-based scholarships of more than $78 million, athletic scholarships of more than $17 million, and need-based awards of more than $27 million.
Around 74 percent of first-year students at Southern Methodist University receive some type of scholarship, and more than 20 percent of students receive a need-based loan. Student employment opportunities are offered to 13 percent of first-year students, and those awards vary from $117 to $6,000 per year. Students can contact the Office of Undergraduate Admission at Southern Methodist University with financial aid questions.