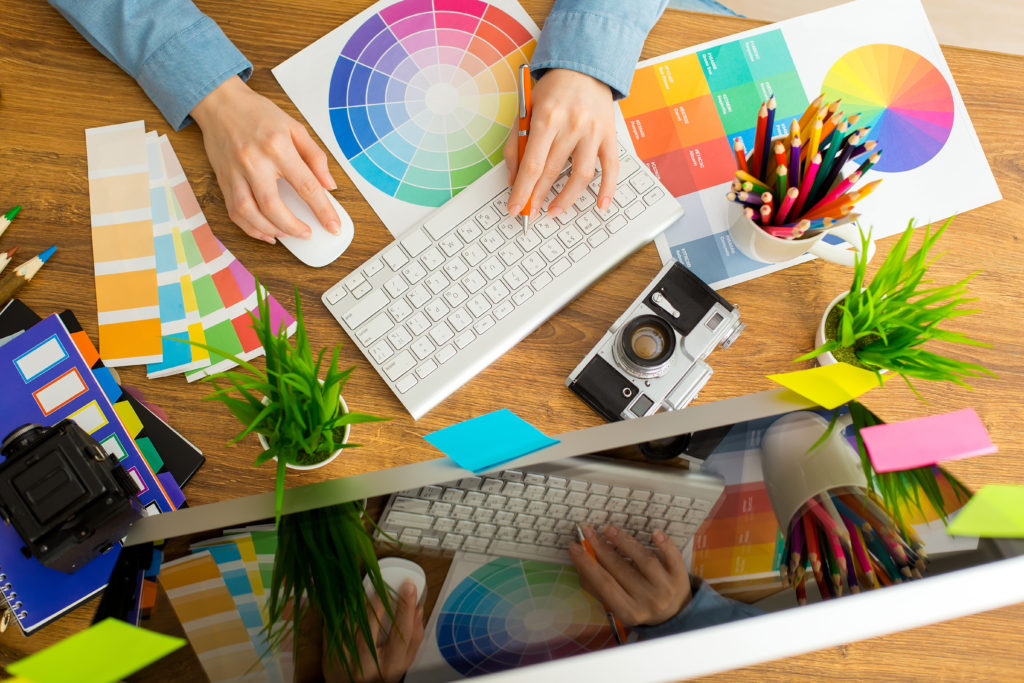 Graphic design scholarships are financial aid programs to help afford big college tuition bills. These free monetary resources help reduce the cost of a graphic design associate, bachelor's, or master's degree. Scholarships for graphic design reward artistic talent with postsecondary funding to further a visual communications career. Studying graphic design trains recipients to create powerful photos, illustrations, icons, logos, and animations. Graphic design is an in-demand computer systems design industry that's poised for 24 percent growth. The Bureau of Labor Statistics (BLS) predicts there will be 8,800 new graphic design jobs with an average pay of $54,680 by 2028. Here are 30 great scholarships for graphic design majors to display their creativity and win hundreds to thousands of dollars.
1. Graphic Communications Scholarships
Established in 2003, the Graphic Communications Scholarship Foundation (GCSF) is a New York-based nonprofit that offers multiple college scholarships for $1,000 to $5,000 each. Qualified applicants will be graduating high school seniors who pursue graphic design majors. Students must exhibit an artistic talent for printing, publishing, advertising, and digital media careers. Future graphic designers must live in New York City or the surrounding Tri-State area. Recipients can attend any accredited, two- or four-year U.S. institution though. Funding is renewable if a GPAs above 3.25 is maintained. Applications must arrive by May 9th with a 500-word essay and five original designs.
2. Doodle for Google National Scholarships
Developed by Sergey Brin and Lawrence E. Page, Google has had a "doodle" logo on its homepage since 1998. Talented young graphic designers can create their own Doodle for Google and win college scholarships of $3,000 to $30,000. National winners also receive a $50,000 technology package for their U.S. high school. Students in grades 10-12 can submit their creative design in JPEG or PNG format until March 20th. Entry forms must include a brief artist's statement and a maximum 10-word Doodle title. Judges evaluate designs based on creativity, artistic merit, and theme communication.
3. LogoMaker Design Scholarship Program
Founded in 2004, LogoMaker runs its Design Scholarship Program each Summer to award $1,500 graphic design scholarships to current U.S. undergraduate students. Eligible applicants will be enrolled full-time at accredited colleges with minimum 2.5 GPAs. Entrants need at least sophomore status with 30+ credits of courses in graphic design, product design, marketing, or branding majors. The application deadline is June 30th for sending three original, creative logo designs. One logo is required for three distinct sectors: food or beverage, technology or IT, and retail or fashion. Winning designs become templates on LogoMaker's popular website.
4. NEDMA Foundation Scholarships
Directed by Beth Drysdale, the New England Direct Marketing Association (NEDMA) Foundation provides $3,000 scholarships for college students to pay tuition. Recipients also earn a paid internship and free NEDMA Conference attendance. Funding is reserved for upperclassmen who've finished at least their sophomore year. Juniors and seniors must attend an accredited college in one of the New England states of Maine, Massachusetts, Vermont, Rhode Island, Connecticut, or New Hampshire. Undergrads need minimum 3.0 GPAs in marketing, advertising, and communications majors, including graphic design. Send online applications with a professor's recommendation form, transcript, and personal essay before January 17th.
5. Gravure Education Endowment Scholarships
Sponsored by the Gravure Association of the Americas (GAA) for over $9 million, the Gravure Education Endowment Scholarships are awarded by the Print and Graphics Scholarship Foundation. Scholarships present $1,000 to $5,000 annually to talented youth who attend accredited U.S. print or graphic design programs. Enrolling full-time with 12+ semester credits and 3.0 or greater GPAs is mandatory. Qualified candidates will demonstrate promise for graphic communications careers. Applications are processed from November 1st to May 1st with transcript copies and two recommendations. Keeping a "B" average is required for up to four scholarship renewals.
6. Ann Arbor Graphic Arts Memorial Foundation Scholarship
Started by Raymond G. Schmidt in 1981, the Ann Arbor Graphic Arts Memorial Foundation (AAGAMF) is a Michigan-based nonprofit that delivers $2,500 college scholarships each Spring. Eligible entrants will declare graphic design, communication, or technology majors to pursue printing industry careers. Generic BFA programs in fine arts aren't considered. Graduating high school seniors need 2.0 or better GPAs and acceptance at an accredited Michigan college. Both Michiganders and out-of-state students who apply by March 1st have equal opportunity. Applications are incomplete without a transcript, the applicant appraisal form, and a brief personal statement.
7. Woodward Scholarship
Since 1983, the Iowa Newspaper Association (INA) Foundation in Des Moines has awarded multiple college scholarships, including the $500 Woodward Scholarship. Sponsored by Woodward Communications Inc., this annual award funds tuition at an accredited Iowa, Illinois, or Wisconsin college. Qualified candidates will be pursuing bachelor's degrees in media-related majors, such as graphic design and visual communications. Applications are accepted until February 14th to make May decisions. Future newspaper industry leaders with minimum 3.0 GPAs must submit a transcript, personal essay, journalistic resume, and reference letter.
8. Influence Graphics Award for Design Excellence
Named to Printing News' top 100, Influence Graphics is a leading NYC-based commercial printer that offers a $1,500 Award for Design Excellence each year. The company seeks original, digital designs from U.S. citizens and legal residents. Graphic design majors can showcase their visual communication skills with animation, illustration, typography, 3D design, and more. Qualified entrants will be enrolling full-time at accredited, two- or four-year colleges with cumulative GPAs better than 2.75. By December 31st, students must upload their creative, high-resolution artwork and email a 300-word personalized description.
9. Dr. Charles Stryker Scholarship
To honor the Venture Development Center LLC founder in 1996, Marketing EDGE awards the Dr. Charles Stryker Scholarship for up to $7,000 annually. Current undergrads who are pursuing marketing or related majors, including graphic design, full-time can apply. Applicants need a minimum 3.0 GPA and relevant marketing experience to qualify. Having participated in a Marketing EDGE event, such as the Student Career Forum or Collegiate Summit, is mandatory. Individuals have until April 15th to submit the application with a resume, transcript, and essay response. Students are automatically considered for other awards, such as the Robert Delay Scholarship and Mike Buoncristiano Memorial Scholarship.
10. FOARE Creative Arts/Design Scholarship
Launched in 2001, the Foundation for Outdoor Advertising Research & Education (FOARE) has bestowed more than $300,000 to 90+ college students entering this $8 billion U.S. market. The $5,000 Creative Arts/Design Scholarship specifically empowers students pursuing graphic design studies at accredited institutions. Eligible candidates can be taking graphic design courses from the Associate of Arts to the Doctor of Philosophy level. Individuals must have a direct connection to the out-of-home advertising industry. Before the June 30th deadline, submit a portfolio with two work samples, a one-page goals essay, and an unofficial transcript.
11. PGSF T-Shirt Design Competition Prize
Contributing more than $150,000 yearly, the Print and Graphics Scholarship Foundation (PGSF) is a Warrendale-based nonprofit that has run scholarship contests since 1956. The T-Shirt Design Competition gives first-place winners a $2,000 prize, a free Printing United Show trip, and the Ryonet Semi-Pro 4 Color Screen Printing Kit. Talented designers must be enrolled full-time as high school seniors or current undergrads at accredited U.S. institutions. These fun scholarships for graphic design involve creating colorful, meaningful T-shirt graphics. Shirts should clearly convey a design theme message of graphic communications in today's world. Designs for the 13×18 shirt space are due April 10th.
12. AIGA WorldStudio Scholarship Program
Celebrating its 25th year, the American Institute of Graphic Arts (AIGA) WorldStudio Scholarship Program raised $50,000 to present $2,500 awards to 20 diverse minority students. Qualifying individuals will have declared majors in graphic design, game design, illustration, photography, animation, or visual communication. Majors like fashion design, architecture, and industrial design won't count. Entrants must be matriculated full-time at accredited U.S. colleges and carry minimum 2.0 GPAs. FAFSA forms must be filed by January 15th, but the WorldStudio Scholarship deadline is April 15th. Underrepresented minority students must send the transcript, two letters of recommendation, and portfolio of original artworks.
13. BOWEN Web Design Scholarships
Founded by CEO Dan Bowen in 2003, BOWEN is a full-service digital media agency on Long Island that grants the $1,500 Web Design Scholarships semi-annually. Students attend United States colleges full-time can apply twice for the July 15th and December 15th deadlines. Applicants must have declared majors in web design, web development, graphic design, or software development. Regardless of GPA, students must demonstrate an ability to create visually appealing web designs for good user experience. Entry forms ask for an uploaded transcript, the PDF portfolio of original web designs, and an electronic signature.
14. Carthage Graphic Design Scholarship
Chaired by Dr. Lynn Brownson, the Communication & Digital Media Department at Carthage College in Kenosha offers the Graphic Design Scholarship each Fall. Students must be pursuing the Bachelor of Arts in Graphic Design full-time with a minimum 2.25 GPA. For consideration, B.A. majors must present a printed or digital portfolio of 10-12 outstanding design pieces. Included projects can be photography, studio art, website, or time-based media artworks. Each portfolio must feature a current resume, "list of works" descriptions, and process work like sketches. Carthage College freshmen with at least 25 ACT scores and 3.0 GPAs could receive the full-tuition Lincoln Scholarship instead.
15. CBC Spouses Visual Arts Scholarship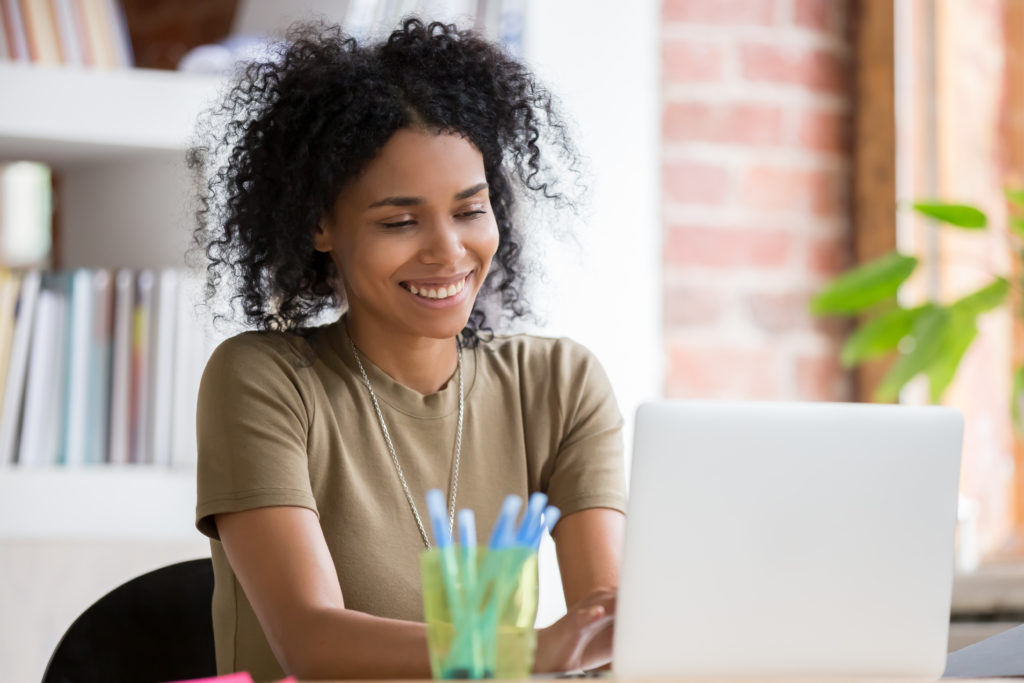 Worth $3,000, the CBC Spouses Visual Arts Scholarship was established by the Congressional Black Caucus Foundation in 2006 to support youth who enter creative professions. Eligible applicants will be African-American U.S. citizens or legal residents who reside in a CBC member's district. Students of color must declare visual arts majors, including graphic design and web design, at accredited universities. Maintaining a 2.5 or higher GPA and active community service record is also required. Interested Black artists must submit five original designs using Google Drive or DropBox by April 30th. Official transcripts, one-page resumes, recent portraits, and two electronic recommendations are supplemental.
16. Frame My Future Contest Scholarships
From October 16th to April 1st, Church Hill Classics runs the Frame My Future Contest to provide three college scholarships for graphic design funding of $500 to $5,000. Legal U.S. residents who take 12+ semester credits in any major at any accredited American college can compete. Submissions must include a JPEG or PNG file under 2MB that visually conveys how students will frame their future. Self-portrait designs must exhibit how undergrads foresee their career with a 250-word, typo-free written description. After 24 finalists are selected, designs will be made public for a voting period.
17. GraphicSprings Design Scholarship
Opened in July 2014, GraphicSprings is a Scottsdale-based logo maker app company that offers one $2,000 Design Scholarship to support the industry's next generation. Eligible applicants will be current U.S. students at accredited, two- or four-year colleges. Undergrads must be at least sophomores who've completed one year or 30 credits of collegiate credits. Individuals must maintain a 3.0 or higher GPA in a relevant major, such as graphic design or public relations. Online applications are collected by email until July 31st. Entries are incomplete without an autobiographical introduction letter, a recent transcript, and five creative logo design samples.
18. Adobe Design Circle Scholarships
Funded by a leading design software creator worth $20.76 billion, the Institute of International Education Inc. (IIE) administers 10 Adobe Design Circle Scholarships each year. Recipients can renew the $25,000 prize for four years and earn up to $100,000 in total. Qualified candidates must be accepted to or currently enrolled in accredited U.S. university studies. Students from every country and major who plan design-related careers can apply until March 12th regardless of GPA. Preference is given to ethnic minority, female, LGBTQ+, disabled, and first-generation students. Applications require a 500-word written or three-minute video essay, two reference letters, a transcript, and three design examples.
19. Lounge Lizard Web Design Scholarships
Critiqued by Chief Creative Officer Ken Braun, entries for the $1,000 Lounge Lizard Web Design Scholarships are welcome twice yearly until October 4th and February 20th. The NYC-based digital marketing and SEO company only considers applicants who attend accredited U.S. colleges. Incoming freshmen who plan to enroll full-time within the next six months qualify. Declaring a web design or graphic design major isn't required, yet it's preferred. The online application requests an uploaded PDF portfolio or live website URL for viewing design samples. Submitted material can't be obscene, offensive, defamatory, or restricted by exclusive rights licenses.
20. Bob & Renee Stein Notre Vue Art Scholarship
Sitting atop 350 Sonoma County acres in Windsor, the Notre Vue Estate Winery has used its success as one of the North Bay's best vineyards since 1992 to create a scholarship. The Bob & Renee Stein Notre Vue Art Scholarship gifts $2,000 to college students majoring in any visual medium, including graphic design. Hopeful applicants must be U.S. citizens or green card holders who legally reside in California. Acceptance letters are requested to prove full-time enrollment at accredited, in-state art programs. Unofficial transcripts that show minimum 3.0 GPAs are acceptable. By May 15th, individuals must also submit an artistic portfolio and original wine bottle design.
21. NSHSS Visual Arts Scholarship
Established in 2002, the National Society of High School Scholars (NSHSS) has over 1.7 million inducted members across 170+ countries who can compete for scholarship money. The Visual Arts Scholarship awards $2,000 to top finalists in two categories: photography or digital media and design. Graduating high school seniors who intend to pursue a full-time graphic design major at accredited U.S. institutions should apply. Online submissions are processed from March 15th to May 15th each year. Upload a unique, digital design with a title and 200-word description. Other attachments include a color headshot and the educator recommendation form.
22. OuterBox Scholarship for Digital Marketing Excellence
Conferred the 2013 NEO Success Award, OuterBox is a fast-growing, Akron-based SEO business and Google partner that develops e-commerce websites. Each year, OuterBox provides the $2,000 Scholarship for Digital Marketing Excellence to assist college students with tuition. Qualified candidates will be legal U.S. residents who attend accredited high schools or colleges in the 50 states, Washington DC, or Puerto Rico. Students must have good academic standing and a passionate, innovative sense of creativity. Before October 31st, individuals must email a 500-word biography about how their design work will impact the e-commerce industry.
23. Grace Towers Scholarship for the Arts
Named for an esteemed San Francisco drag queen committed to equality, the Queens of Castro presents the $2,000 Grace Towers Scholarship for the Arts each summer. Funding empowers California young adults between ages 16-25 who intend to pursue art careers. Lesbian, gay, bisexual, transgender, and queer students who work to raise LGBTQ+ issues through creative means qualify. Recipients can utilize scholarship money for post-high school tuition or community projects. Any visual or performing arts medium, including graphic design, will be acceptable. Eligible entrants must submit an online application, one recommendation letter, and an artistic repertoire before June 30th.
24. SCAD Challenge Scholarships
Ranked America's 40th best design college by Niche, the Savannah College of Art & Design in Georgia hosts the SCAD Challenge annually for high schoolers joining the 12,969 Bees. Current juniors and seniors can receive scholarships of $2,000 to $4,000 to enroll after graduation. Talented teens may pursue any of Savannah's bachelor's degrees, including the Bachelor of Arts or Bachelor of Fine Arts in Graphic Design. Prizes are renewable for four years if GPAs above 3.0 are kept. Future undergrads must create a SlideRoom portfolio of sample pieces in the nine categories like graphic design or animation and game design.
25. TLMI Scholarship Programs
Headquartered in Milford, Ohio, the Tag & Label Manufacturers Institute Inc. (TLMI) is a trade association founded by Frank H. Baxter in 1933 for product tag designers. As of 2020, there are three TLMI Scholarship Programs that provide $1,000 to $5,000 for college students or full-time employees of member companies. Eligible applicants must be majoring in fields related to package printing, such as graphic design or graphic communications. Students must carry cumulative GPAs over 3.0 at accredited U.S. community colleges, universities, or graduate schools. Online applications must arrive with supporting documents, including three work samples and a resume, by April 10th.
26. Trevor Coopersmith Urban Art Scholarship
Started by a University of California Santa Barbara alumnus in 2016, the Trevor Coopersmith Urban Art Scholarship provides $350 to assist creative students in their artistic endeavors. Each year, about 40-60 applicants vie for funding to hone their visual art skills in any medium from sculpture to graphic design. Interested students must write a maximum 500-word personal essay about their aspirations for improving society through artwork. Entrants upload digital portfolios with up to five professional images in JPEG or PNG format. From March 1st to December 31st, urban artists must also manually or electronically sign the PDF scholarship contract.
27. Victor Agnoni Visual Arts Foundation Scholarship
Given 501(c)(3) status in 2018, the Victor Agnoni Visual Arts Foundation is a Florida-based nonprofit founded by Nicholas Agnoni in remembrance of his father's loving support. It's intended to provide college scholarships of varying amounts up to $1,500 for lesbian, gay, bisexual, transgender, and queer students. Graduating seniors must be actively involved in their high school art departments. LGBTQ+ teens must be accepted into a college or trade school for any major, including graphic design, with a minimum 3.0 GPA. The application deadline is currently April 24th. Recipients are selected based on academic merit, a personal essay, an art teacher's recommendation, and the portfolio strength.
28. L. Ron Hubbard Illustrators of the Future Contest
Initiated by the Sci-Fi legend who published 324 stories before his 1986 death, the L. Ron Hubbard Illustrators of the Future Contest invites global amateur fantasy artists to enter. Each quarter, three scholarship prizes of $500 apiece or $1,500 in total are available. One outstanding finalist will receive an additional $5,000 Golden Brush Award of Excellence. Entry deadlines are June 30th, September 30th, December 31st, and March 31st. Interested graphic design students can submit color or black-and-white illustrations depicting a science fiction theme. Submissions must be mailed to Los Angeles with a publication history letter.
29. Native Hawaiian Visual Arts Scholarship
Formed in 2001 by Kamehameha Schools, the Pauahi Foundation is a Honolulu-based nonprofit that runs 100+ endowed funds like the Native Hawaiian Visual Arts Scholarship. This $2,600 award assists two "Aloha State" residents who are enrolling full-time at the University of Hawaii- Manoa this Fall. Qualified entrants can pursue a bachelor's or master's in any artistic major, including graphic design, printmaking, digital media, and photography. Undergrad and graduate students must display outstanding academic achievement with 3.2 or greater GPAs. February 7th is the deadline for submitting the online application, personal statement, official transcript, recommendation letters, Student Aid Report (SAR), and art portfolio.
30. Dr. Kenneth Gordon Memorial Scholarship
Tracing back to 1953, the Society for Technical Communication (STC) in Fairfax grants the Dr. Kenneth Gordon Memorial Scholarship for $1,000 with complimentary student membership. Eligible applicants are full-time undergrads who've taken at least courses related to technical communication with minimum "B" averages. Students can declare any related certificate or degree major, including graphic design and technical illustration. Proof of enrollment at an accredited Northern California college or university is necessary. Applications are due June 30th with official collegiate transcripts, at least one recommendation, the one-page personal statement, and three work samples.
These 30 scholarships for graphic design certainly aren't the only contenders. Let your imagination run wild when creating artworks for more college funding opportunities. Other graphic design scholarships include the EDSF Board of Directors Scholarship, Microsoft Imagine Cup Scholarship, Chelsy Tomashoff Memorial Scholarship, Krylon Clear Choice Art Scholarship, Korea Arts Foundation of America Scholarship, HonorsGradU Design Scholarship, Jeanie Ruedy Scholarship, Phil Hamilton Scholarship, Harlan Bloomer Scholarship, and Sam D. Mays BFA Scholarship.
Recommended rankings:
Source: Bureau of Labor Statistics
To see more of our scholarships, click here.