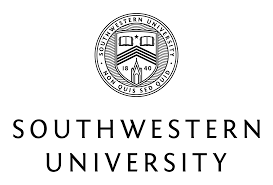 Degrees Offered at Southwestern University
Southwestern University appears in our ranking of the Top 50 Best Colleges in Texas.
Southwestern University in Texas is a small private school about 30 miles from Austin, Texas. The school offers a number of majors and minors, about 70+ total. It's a more selective school. It accepts about 45% of the students who apply. Its 85% freshman retention rate is a good indication of how satisfied new students are with their experience at the school. The school's most popular majors include marketing and management, journalism, biology, business, and communication.
Additionally, its Sarofim School of Fine Arts is a separate arts school within the university system, making it among the handful of colleges that have a separate arts school. Students can earn a Bachelor of Arts in Studio Art, Music, Art History and Theatre, as well as a Bachelor of Fine Arts in Studio Art.
Other interesting courses of study include minors like Chinese, design thinking, data science, exercise and sports studies, and race and ethnicity studies. Students are additionally given the opportunity to study a number of foreign languages, like French, German, Greek, Latin, and Spanish. Given that about half of the school's students study abroad, these majors prepare them for these experiences.
About Southwestern University
Southwestern University, a private university in Georgetown, Texas, is the Lone Star State's first university. It dates back to 1840 and is affiliated with the United Methodist Church. The school has around 40 bachelor's degrees, as well as pre-professional and interdisciplinary programs. It also offers 36 minors.
The US News and World Report gives it a number of nods. The school ranks 59th on its Best Value Schools list, 63rd on its Top Performers on Social Mobility list, and 92nd on its National Liberal Arts Colleges list.
Some 1,400 students attend college at Southwestern University. The school requires new students to take a two-credit class in the fall of their first year, which acquaints new students with the school's resources. The class also covers the school's expectations of its students. All students who have four or fewer semesters of college under their belts are required to live on campus.
The school's 90 student organizations and clubs allow students to take an active part in student life. These organizations include the College Democrats, the Jewish Student Association, Amnesty International, German Club and Habitat for Humanity. The school also has Greek life on campus, with Kappa Alpha Order, Phi Delta Theta, Alpha Delta Pi and Zeta Tau Alpha being some of the Greek organizations represented on campus.
Additionally, a good number of students at the school study abroad – about half of them. These trips provide students with an opportunity to participate in service opportunities, as well as academic pursuits. Study abroad programs are in places, like Jamaica and Germany. It's also worth noting that volunteering and civic engagement play a big roll in campus life.
Southwestern University has a number of notable alumni. Major League Baseball player Harry Ables, state senator Joan Bray, Author J. Frank Dobie, actor Jerry Hardin, US Congressman Pete Sessions, and musician Jack O'Brien are just a few of the school's alumni.
Southwestern University Accreditation
Accreditation for Southwestern University's bachelor's degree programs comes from the Southern Association of Colleges and Schools Commission on Colleges.
Southwestern University Application Requirements
Southwestern University levels the field for prospective applicants by offering students a number of application options. These options make the application process streamlined and equitable. The instructions in this section cover not only what undergraduates need to do during the application process, but also what graduate students need to do in order to apply.
Incoming freshmen, transfer students, and international students are asked to complete the following:
Fill out the application
Write an essay
Submit transcripts from college or high school
Ask a school counselor to submit a recommendation form (high school students)
Take SATs or ACTs and submit them to the university
Take the TOEFL and send it to the school (international students only)
Prospective first-year students have four options for the application. They can use the Southwestern University application, the Common Application, the ApplyTexas application or the Coalition Application. These separate applications all have different requirements and knowing which application to complete comes down to knowing what students' goals are. If they are certain they want to attend Southwestern University and Southwestern only, then filling out the school's application makes sense.
Other applications give students access to more colleges. The ApplyTexas application allows students to apply to a number of colleges and universities in Texas, using one application. Once the application is filled out, then the student can direct his or her application to the participating Texas schools.
There is no need to fill the application out more than one time. One application is good for all the Texas schools that use ApplyTexas. The Common Application and the Coalition Application work in a similar manner as the ApplyTexas application, except that the schools aren't just in Texas.
Transfer students can apply to the school using the ApplyTexas application or the Common Application. The school requires transfer students to have completed a minimum of 12 college credits before they apply as transfer students. The university will evaluate transfer students' credits after the student applies. Finally, the school has no recommended GPA per se. However, most applicants hold at least a 3.0 GPA on a 4.0 scale.
International students are required to fill out the school's certification of finances form. They must attach bank statements to the form when they turn it into the admissions office.
No incoming students are required to pay an application fee.
The school has no graduate programs.
Tuition and Financial Aid
Tuition for full-time undergraduate students taking between 12 and 19 credits per semester is $45,120 per year (as of 2020). Room and board will cost between $11,000 and $12,000 for the year. Students will pay an additional $1,300 for books and another $1,400 for personal and transportation costs.
Students can apply for financial aid if they need help paying for their schooling. In order to receive this aid, students must first fill out the FAFSA form. This allows them to access federal financial aid, like student loans, grants, scholarships, and work-study.
Incoming students can also apply for private scholarships to help them pay for their schooling. Parents of incoming students, as well as the students themselves, may be asked to pay for some of these expenses.
Apply to Southwestern University today.