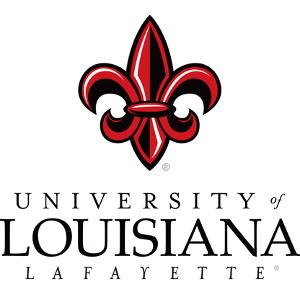 Degrees Offered at the University of Louisiana-Lafayette
The University of Louisiana-Lafayette appears in our ranking of the 15 Best Deals on MBA in Hospitality Management Online Programs.
The University of Louisiana-Lafayette offers more than 70 degree programs that include both traditional and online options for graduate students and undergrads. A Bachelor of Fine Arts (BFA) in Visual Arts is available that includes concentrations in art history, sculpture, photography, ceramics and other types of studio art. Each concentration requires that students showcase their work through events on-campus. Music majors can choose between Bachelor of Arts and Bachelor of Music programs with concentrations in music business, traditional music, music media, and music composition.
One of the university's top online programs is a Bachelor of Science in Nursing (BSN). Students spend two years taking general education classes and some nursing courses. They spend another two years taking the classes that help them become registered nurses after passing the national licensing exam. Those classes include Fundamentals of Caregiving, Health Care and Diverse Populations, Bridge to Professional Practice and Nutrition and Clinical Diet Therapy. The university's mass communications program is also popular with students because it includes concentrations in media advertising, journalism, and broadcasting. Students will do internships in their senior years and use their experiences to create a capstone.
At the graduate level, the University of Louisiana-Lafayette offers a Master of Business Administration (MBA) with online and offline tracks. In the executive MBA program, the university helps students design a curriculum that meets their needs and makes use of their professional experiences. The traditional version of the MBA includes nine concentrations such as hospitality management, health care administration and sales leadership. Students take foundation and core classes that include Foundations of Finance, Survey of Economics, Data Analysis, Policy Formation, Strategy and Administration and Advanced Financial Management and Policy.
Also available from the University of Louisiana-Lafayette is a Master of Arts in Teaching (MAT) program with concentrations in elementary education and secondary education. Both programs include an emphasis on special education and working with students in 1-5 or 6-12 settings. In the elementary education program, students can also choose a French language option that helps them work with bilingual children. The university offers an elementary education major for undergrads too that includes a one-year internship.
About the University of Louisiana-Lafayette
The University of Louisiana-Lafayette is a public university and that largest campus in the University of Louisiana System. Founded in 1898 as the Southwestern Louisiana Industrial Institute or SLII, it added four-year degree options for students in 1920 and became the Southwestern Louisiana Institute of Liberal and Technical Institute the following year. It also operated as the University of Southwestern Louisiana from 1960 to 1999 before becoming the University of Louisiana-Lafayette. Some of the nicknames it adopted over the years include UL Lafayette and UL. In addition to a 145-acre main campus in Lafayette, the university also operates study centers and labs in other parts of the state. The Princeton Review ranks UL as one of the nation's best colleges and for having one of the country's top business schools. UL Lafayette also ranked as a top university by Forbes and Washington Monthly.
University of Louisiana-Lafayette Accreditation Details
UL Lafayette has regional accreditation for both its online programs and all the programs available on-campus from the Southern Association of Colleges and Schools (SACS). Any student attending the university can get financial aid because of this accreditation if they demonstrate need on the Free Application for Federal Student Aid (FAFSA). Seventy of the university's degree programs have accreditation too from organizations that include the International Association to Advance Collegiate Schools of Business (AACSB International), Accrediting Council on Education in Journalism and Mass Communications (ACEJMC) and National Council for Accreditation of Teacher Education (NCATE).
University of Louisiana-Lafayette Application Requirements
Incoming UL freshmen need a good score on the ACT or SAT and a transcript that shows they completed the Louisiana Core for high school graduates. This core includes four units of social studies, science, math and English classes, two units of a foreign elective and one unit of art. They will use the online application that determines whether they qualify for in-state or nonresident tuition rates and pay the application fee of $25. UL asks for a high school or college transcript, an official SAT or ACT score and the student's immunization records. Those taking only online classes do not need to provide a medical record.
The university's MBA program accepts students with a college grade point average of 3.0 if they do not have any business experience and a GPA of 2.75 if they have a minimum of three years of professional experience. Students who have five or more years of experience can apply with a GPA as low as 2.5. UL will also waive the required GMAT score for students who have five or more years of experience but will ask for an official score from any student with less experience. It will also accept a GRE score. Other graduate programs have similar requirements but may also ask for letters of recommendation, personal essays or other information on top of the university's application and application fee.
Tuition and Financial Aid
Undergrads at UL Lafayette pay $10,334 every year for their tuition and fees if they qualify for the in-state rate that only goes to residents who lived in Louisiana for at least one year. Nonresidents will need to add an extra $13,728 to their annual costs to cover their tuition. Students who do not have home addresses close to the campus will need to live on-site during their freshmen years and pay for their room and board costs. UL graduate students pay $5,541 per semester and can take 12 credits. If they do not live full-time in Louisiana and resided there before enrolling, they'll pay $12,425 per semester.
Financial aid packages help students pay their costs and reduce what they owe to UL each year. Both undergrads and graduate students can access the FAFSA and submit it online with the university's code. Work-study is available through this form for all students and lets them find on-campus jobs and positions away from the campus that pay more than minimum wage. They can also get scholarships, grants, and loans from the university and the government through the FAFSA. All of the degree programs offered by the University of Louisiana-Lafayette accept federal and state aid from the government.