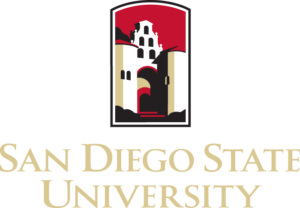 Degrees Available at San Diego State University
San Diego State University appears in our ranking of the Top 50 Great College Deals: Master of Public Administration Online.
The degree programs offered by San Diego State University allow students to earn more than 90 bachelor's degrees and 100 different graduate and doctoral degrees every year. Rather than offering pre-professional degree programs, the university allows students to study a pre-professional field while they work on finishing a bachelor's degree in a related field. It offers one program for future lawyers and another for those who want to work in veterinary and other areas of medicine. The pre-professional programs also allow students to interact with other students who have the same goals.
With more than 90 majors available, undergrads at San Diego State University can choose from traditional programs and more unique offerings. Several cultural programs are available for those who want to work with specific groups, including American Indians and African groups. The child and family development program looks at how families grow and thrive over time and how children develop in those homes. A popular major is in environmental studies, which is also available with a focus on sustainability studies. Both programs look at the impact that humans have on the world and the environments around them. Other majors at San Diego State University include liberal studies, nutrition, real estate, nursing, education and television, film and new media.
Nearly 80 majors are available for graduate students on the university's main campus too. The applied mathematics program includes a general track and two tracks in dynamical systems and theory of communication systems. In the astronomy program, students can earn a Master of Science and do research projects on the sky and space. The university also offers a Master of Business Administration (MBA) as a full program or with a concentration in accounting. Another version of the program allows students to work on their law degrees at the same time. Education, computer science, film and television studies, and physics are some of the other majors available for graduate students at San Diego State University.
Through the college of extended studies, students can earn an undergraduate degree in business administration or a graduate degree in educational leadership, meeting and event management, hospitality and tourism, public administration, public health, regulatory affairs, or rehabilitation counseling (hybrid program).
About San Diego State University
San Diego State University is a large public university that is part of the California State University System. Established in 1897 as the San Diego State Normal School, it became the San Diego State Teachers College in 1923 and San Diego State College in 1935. After joining the state's school system in the 1970s, it became California State University, San Diego, a name it held for just two years before adopting the San Diego State University name. Most refer to the university as either San Diego State or SDSU. U.S. News and World Report ranks SDSU as one of the nation's and world's best colleges and ranked some of its programs as well, including those in education, business and nursing. SDSU now offers more than 100 degree programs for its students and has an enrollment of more than 30,000 undergrads and more than 4,600 post-graduate students.
San Diego State University Accreditation Details
Students who earned college credits in high school and those who attended another college can transfer their credits to SDSU because it has regional accreditation from the Western Association of Schools and Colleges (WASC). This is the same accreditation that allows students to access and use the Free Application for Federal Student Aid (FAFSA) to get any of the financial aid offered by the university and the government. Some of the other accreditation held by this state university applies to its programs in dietetics, physical therapy, public health, nursing, and other areas.
San Diego State University Application Requirements
Though SDSU is a public university, it has strict admissions requirements and only accepts around 35% of those who apply. Incoming freshmen must use the Cal State website and submit the application found on that site. They need their unofficial transcripts to submit the application, but they also need a social security number or resident alien number, some information about their parents and a credit card. Unless students qualify for one of the university's fee waivers, they will need to use a credit card to pay the $55 application fee. Students have until the end of November to submit their applications and any other required information. SDSU asks for both their transcripts and an official score from the ACT or SAT.
The final deadline for applications to an SDSU graduate program is March second, but the university gives students until the first of April to submit all their documents. Some programs have a deadline before or after this date, which is why students need to check with the department before finishing an application. SDSU asks that students apply to its graduate school and also apply to a specific program. They also have the option of applying to more than one graduate program. The minimum requirements for admission to a graduate program include a bachelor's degree from a college with regional accreditation and a satisfactory score on the GRE or GMAT. Students need to submit their scores and transcripts after using the SDSU application. Some programs may ask for an interview, writing samples or letters of recommendation too.
Tuition and Financial Aid
California undergrads attending SDSU pay just $7,510 per year for full-time enrollment. Nonresidents pay the same amount plus a non-resident fee that brings their totals to more than $18,000 a year. The average amount that undergrads pay for room and board on the San Diego campus come to $17,752 per year. Graduate students at the university pay $8,944 per year as a California resident and more than $16,000 a year as a nonresident. The university will use these average costs to determine how much students need after it looks at their FAFSA forms and their family contributions.
The three more common types of financial aid granted to students through the FAFSA include work-study, federal loans, and Pell grants. Incoming SDSU freshmen can borrow $5,500, but students can borrow more in loans as they make satisfactory progress towards finishing a degree or reach the graduate level. There is a program that awards residents a Cal Grant if they apply and submit the FAFSA by March second. A number of scholarships are also available for students from California and other states. San Diego State University has unique financial aid packages available for each individual student based on his or her academic status and other factors.