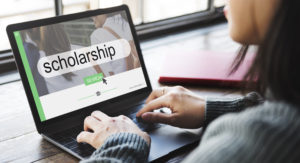 Searching for free financial aid on the best scholarship websites can make your college career less costly. A scholarship is any merit- or need-based award that reduces college tuition. Scholarships reward incoming or current college students for their talents, hard work, and determination against adversity. Unlike student loans, scholarships never incur interest or need to be repaid. Scholarship money can be sent directly to the bursar's office to cut tuition bills. That's especially helpful today since tuition rates soared 25 percent from 2009 to 2019. CNBC calculated average attendance costs of $21,370 at public and $48,510 at private colleges. Growing tuition and fees plus room and board costs shouldn't keep anyone from their academic goals though.
Top scholarship websites are searchable databases to find tuition relief fast. Scholarship websites put thousands of dollars at one's fingertips to make college more affordable. Most scholarships range from $500 to $25,000 each year. According to Sallie Mae, the average student pays for 31 percent of his or her tuition with scholarships and grants. Full-ride scholarships that make tuition and fees $0 are also available. Full-tuition scholarships are the most competitive and only given to 0.1 percent of learners. Students who aren't given a full-ride can stack multiple scholarships to significantly shrink their expenses though.
Here are the 30 best scholarship websites that line up funding opportunities and keep college within reach.
1. College Scholarships.org
Launched in 1999 by Kimberly Klein, College Scholarships.org is a helpful scholarship website that indexes free information on nearly 23,500 programs. Users easily input their search terms into an ad-free, open-access scholarship database. Top results include the $25,000 Order Sons of Italy Leadership Grant, $15,000 Elks Most Valuable Student Award, and $13,000 National Honor Society Scholarship. Funds are conveniently split into browsing categories, such as major subject, student type, state, degree level, and ethnicity. College Scholarships.org also lists Fortune 500 scholarships from companies like Pepsi, Google, Wal-Mart, and Dell.
2. DREAMer's Roadmap
Liked 5,100 times on Facebook, DREAMer's Roadmap is one of the best college scholarship websites for DACA recipients and non-U.S. citizens. Undocumented immigrants who don't qualify for federal financial aid use this website and its free Apple iPhone app to search for opportunities. Recently featured scholarships include the $5,000 Elie Wiesel Prize in Ethics, $14,000 Meritus College Fund, and $40,000 Microsoft Tuition Scholarship. Based in Palo Alto, DREAMer's Roadmap is supported by the MacArthur Foundation and Philanthropic Ventures Foundation. America's nearly 65,000 undocumented high school graduates should stop by.
3. Moolah SPOT
As of May 2020, Moolah SPOT has released only a beta version of its handy scholarship database. Though not fully published and debugged, it's a tremendous resource for locating more than 3.2 million scholarships in under 60 seconds. Unlike some scholarship websites, Moolah SPOT requires creating a free account and logging in. Members earn rewards points for spotting new scholarships and adding them to the website. Featured awards include the $25,000 AXA Achievement Scholarship, $20,000 Coca-Cola Scholars Program, and $18,000 CIA Undergraduate Scholarship. Gen and Kelly Tanabe, the authors of The Ultimate Scholarship Book, write helpful FAQ articles here too.
4. Scholarship Monkey
Created in 2014, Scholarship Monkey is a free website where current or new college students build personalized profiles for funding matches. Subscribing members receive email alerts of scholarship opportunities they're eligible for. People with profiles can conveniently save information on discovered scholarships. Internet users could conduct keyword searches for scholarships in certain fields. Students may also review pre-written scholarship lists by religion, gender, minority, state, and sport. Indexed funds include the Madeline Holmes Scholarship, Dow Chemistry Fellowship, David Earhart Memorial Scholarship, and Antoinette Ciolli Scholarship. Please note that most of Scholarship Monkey's featured prizes are school-specific.
5. SuperCollege
Since 1998, SuperCollege has stood amongst Silicon Valley's best independent online and print publishers focused on empowering young adults in higher education. The scholarship website maintains four unique channels for undergrads, graduate school, adult students, and parents. Fast, free searches connect SuperCollege users to more than 2.2 million scholarships. Creating a username and password with a valid email address is required. Popular programs include the $1,000 JumpStart Scholarship, $1,000 Scholarship Detective Launch Scholarship, and $1,000 Easy College Money Scholarship. SuperCollege has several 10-step guides with up to 315,000 views each. Students can buy books, such as How to Be Irresistible to Colleges, as well.
6. College Board BigFuture
College Board, the maker of the SAT and PSAT exams, maintains one of the best college scholarship websites called BigFuture. Annually, the website surveys financial aid programs available more than 6,000 two- and four-year member U.S. institutions. Student scholarships and paid internships worth nearly $6 billion combined are featured. Users are delivered the best matches based on personal and academic information. Some sample awards include the $10,000 Hach & Rose Scholarship, $15,000 Six Star Campus Scholarship, and $10,000 MyMozaic Recruit Connect Scholarship. College Board started its own $40,000 scholarships in 2020 too.
7. Christian Connector
The Christian Connector Inc. is an information services company in Grand Junction, Colorado, that has 20+ years of experience highlighting free faith-based college resources. About 200,000 students of various denominations have used the website to find university, scholarship, and application info. Christian Connector partners with 75 Christ-centered and Bible colleges to showcase financial aid options. Students start by filling out a simple profile with their email address. Subscribing members are automatically considered for the site's own $2,500 scholarship drawing. Using Christian Connector's ApplicationU portal also waives the application fees at participating institutions.
8. JLV College Counseling
Boasting over 13,300 followers, JLV College Counseling is a free scholarship website run by Jessica Velasco, the former admissions director at Northwest University. Jessica is a WACAC Emery Walker New Admissions Counselor Award recipient who has visited 47 colleges nationwide since 2006. Her well-maintained database has hundreds of scholarships. Students can search through all scholarships based on their deadline date. Scholarship categories, such as LGBTQ, military, and study abroad, are listed with clickable links. On Scholarship Saturdays, Jessica also creates mega posts of 85 prizes like the $2,000 Charles B. Staats Scholarship and $3,000 Saidie Orr Dunbar Nursing Scholarship.
9. Merit Scholarship List
Established in 2015 by MyKidsCollegeChoice.com founder Wendy Nelson, Merit Scholarship List is a subscription-based website for finding merit-based funding. Only scholarships with big amounts above $2,000 are indexed. Merit scholarships are narrowed down based on GPA and SAT/ACT scores. Interested students can perform a free trial search to evaluate the system firsthand. Afterward, users must create an account and pay the monthly $15 unlimited search fee. To save money, individuals may select the $99 year-long subscription instead. This extended membership comes with two 30-minute, live office sessions with Wendy for added scholarship tips.
10. Scholly
Featured on Shark Tank, Scholly is one of the top scholarship websites that uses artificial intelligence to match students to personalized scholarships. The platform was created by Christopher Gray, a Birmingham native who earned over $1.3 million in scholarships. Funding from investors Lori Greiner and Daymond John helped Scholly become the #1 iOS and Google Play app for three weeks. Scholly was even named Inc. magazine's top college startup. Annual Scholly accounts cost $44.99 but connect young adults to more than $100 million in scholarship opportunities. Members also download the Scholly Editor to submit winning scholarship essays.
11. Federal Student Aid
Every U.S. citizen and eligible non-citizen should head to the Federal Student Aid website for the FAFSA application. Completing this free form takes about 30-60 minutes for students with accurate tax information handy. The FAFSA determines if individuals qualify for the Federal Pell Grant or Federal Supplemental Educational Opportunity Grant based on income. Education majors seeking careers in teaching shortage areas can claim the $4,000 TEACH Grant. The Iraq and Afghanistan Service Grant assists young adults under age 24 whose parents died in the Armed Forces after 9/11. The Federal Student Aid website also offers a free scholarship search tool. There are presently 8,235 funds indexed for bachelor's and graduate degrees.
12. Student Scholarships.org
Headquartered in Washington, DC, Student Scholarships.org is another of the good scholarship websites for finding tuition aid across North America. Since 2003, this platform has remained 100 percent free to search in a mammoth collection of scholarships. Recently added funds include the $4,000 Ethiopian Heritage Scholarship, $5,000 Girls Impact the World Scholarship, and $10,000 NACE Foundation Scholarship. Student Scholarships.org is so useful and popular that it's referenced on 500+ school websites. Users benefit from over 2,000 career Q&A articles to select college majors. There are also nearly 150 course outlines to prepare for freshman year.
13. Tallo
Founded by Casey Welch and Donald Tylinski, Tallo is a for-profit, Mount Pleasant-based company also known as STEM Premier that's worth about $11.6 million. Since 2013, Tallo has made more than 65,000 connections to internships, jobs, and scholarships possible. Interested students download the Tallo app for free and create a profile. The software digs through $20 billion in scholarship opportunities to find ones members qualify for. Individuals are delivered scholarship matches prioritized by match score right to their dashboard. Several colleges, such as Penn State, Oregon Tech, and Clemson, use Tallo to recruit enrollees. Companies, including Lockheed Martin, Cummins, and Boeing, even reach out to members for employment.
14. The Scholarship System
Built on the #RebelFamily mentality by Jocelyn Paonita Pearson, The Scholarship System LLC is an online business that's saved college students more than $1.2 million already. The community has grown to over 2,500 families since 2014 to help graduate children debt-free. Students can download the scholarship resource guide with 100+ legitimate funds for $14.97. For free, The Scholarship System runs a 45-minute webinar workshop that's been featured on Forbes. Individuals can also reserve a seat for Jocelyn's six-week online scholarship course and receive 12-month access to the Free Money Lab.
15. BrokeScholar
Powered up in 2002, BrokeScholar is a free scholarship search engine that's 100 percent accessible without forking over personal information. The database has collected more than $2,000 college scholarships worth about $3 million combined. Scholarships are searchable by degree level, gender, race, and study area. Featured awards include the $10,000 Annie's Homegrown Sustainable Agriculture Scholarship, $5,000 George H. Hitchings Health Research Award, and $8,000 New Leader Scholarship. BrokeScholar lists valuable student discounts for companies like Urban Outfitters and Apple. Online promo codes are available for everything from automotive care to pet supplies.
16. CareerOneStop
Sponsored by the U.S. Department of Labor, CareerOneStop is an American job search hub that's created a college scholarship website. Using the Scholarship Finder tool quickly searches through over 8,000 available programs. Scholarships, fellowships, grants, prizes, and even loans are integrated. Front-page funds include the $5,000 Nitro College Scholarship, $5,000 $-H Youth in Action Award, and $10,000 USGIF Reinventing Geospatial Scholarship. Information is indexed by Cengage Learning Inc. for 100 percent free searches. Students narrow the options by gender, state, award type, study level, and affiliation.
17. Chegg
Given at A+ Better Business Bureau rating, Chegg is an educational technology giant led by CEO Dan Rosensweig with more than 3 million subscribers and $321 million in revenue. Since July 2005, Chegg has expanded beyond textbooks and digital media with a scholarship database. Students don't need an account to browse through about 25,000 scholarships with online applications. Joining Chegg leads to better profile matches and up to 90 percent textbook discounts though. Promoted programs include the $30,000 Princess Grace Award, $20,000 James Beard Foundation Scholarship, and $25,000 Atlas Shrugged Essay Contest Prize.
18. CollegeXpress
Owned by Carnegie Dartlet, CollegeXpress is an educational publisher that helps thousands of U.S. college students find top-ranking colleges and scholarships each year. Launched in 1995, it's another of the good scholarship websites internet users can access for free. To search, students simply input their keywords, GPA, SAT composite score, and academic year. There's an option to exclude restrictive, school-specific scholarships. Indexed funds include the $10,000 Jeannette Rankin Women's Scholarship, $32,000 Woodrow Wilson Fellowship, and $20,000 Midmark Technical Scholarship. Carnegie Dartlet even funds its own $10,000 scholarship contest for registered members.
19. Fastweb
Sold to Monster Worldwide in 2001, Financial Aid Search Through the Web (Fastweb) is the oldest college scholarship website started 25 years ago by entrepreneur Larry Organ. Today, Fastweb has nearly 10 million active members who've registered for free. Members complete quick questionnaires to get matched with the 1.5 million scholarships worth $3.4 billion in total. Researchers, including editor Shawna Newman, vet every scholarship to help students avoid scams. Featured programs include the $5,000 Discover Student Scholarship, $5,000 MeetMyCollege Scholarship, and $10,000 Opinion Outpost Prize. Fastweb also connects members to internships, part-time jobs, and student deals.
20. FinAid
Called the "grand-daddy of all websites" by The Boston Globe, FinAid is an excellent educational assistance site that charges students $0. Founder Mark Kantrowitz has won the Excellence in Financial Literacy Education Award for his work. High school seniors and college students scroll through over 1.5 million scholarships with a $3.4 billion collective value. Full-tuition scholarships, such as the Marion Burt Knott Scholarship and Society of Yeager Scholars Program, are featured. Unusual programs like the $1,000 Tall Clubs International Scholarship are also included. Students can get accurate answers to their questions on loans, 529 college savings plans, and military aid.
21. Going Merry
Started by Carnegie Mellon and Stanford alumni in 2016, Going Merry Inc. is a free, one-stop scholarship shop for locating money-saving financial aid. The company partners with over 10,000 U.S. high schools to assist 7,000 guidance counselors and 300,000 students. Members search through verified scholarships by value, competitiveness, deadline, and requirements. Building a complete profile increases the odds of big scholarship matches. Students enjoy a simplified application process with auto-filled forms. Applying for thousands of scholarships in bulk on the desktop website or free mobile app is simple.
22. MyCollegeOptions
MyCollegeOptions is a free, easy-to-use scholarship website with 24/7 access to post-secondary funding opportunities. The huge database has collected millions of scholarships available at more than 5,500 accredited U.S. colleges. Students must create a login account before conducting an advanced search. Awards can be filtered by location, major, religion, ethnicity, disability, major, and GPA range. Students could also simply type in a sponsoring college and find abundant financial aid. Available programs include the $10,000 David H.C. Read Preacher-Scholar Award, $5,400 Bruce Dice Scholarship, and $10,000 Advertising Age Media Scholarship.
23. Niche
Founded by Luke Skurman as College Prowler in August 2002, Niche is a data-driven, Pittsburgh-based business that creates both rankings and scholarship lists. Each year, about 50 million users access Niche and review the over 200,000 in-depth profiles. Access is free to read about the best scholarships, colleges, K-12 schools, neighborhoods, and workplaces. Scholarships are searchable by popularity, home state, degree major, minority, and ease of application. Niche sponsors its own $2,000 No Essay Scholarship, $1,000 College Survey Scholarship, and $1,000 What's Next For You? Scholarship too.
24. Peterson's
Staffed by 50 full-time employees, Peterson's LLC is an online college resource provider based in Highlands Ranch that assists more than 500,000 undergrad and post-grad students yearly. The scholarship search engine compiles 1.9 million scholarships from over 4,000 providers for $10 billion in financial aid. Peterson's is like the Google of scholarships for students to type in any keywords. Indexed programs include the $3,319 Hispanic Metropolitan Chamber Scholarship, $3,000 CBC Spouses Performing Arts Scholarship, and $10,000 ASSP Foundation Family Scholarship. Don't forget to apply for the $2,500 Peterson's World's Easiest Scholarship.
25. Sallie Mae
Headed by CEO Raymond Quinlan since 2014, Sallie Mae is a publicly-traded bank and student loan provider in Newark that generates a net income of $578 million. Despite being a lender, the SLM Corporation offers many financial planning tools to reduce college costs. Interested students must set up free accounts to search through over 5 million scholarships. Each new member enters the sweepstakes for the $1,000 Sallie Mae Monthly Scholarship. Individuals can create customized alerts for emails when new scholarship matches are indexed. The Bridging the Dream Scholarship Program rewards $25,000 to nine outstanding high school juniors and seniors.
26. Scholarships.com
Developed in 1998, Scholarships.com is a renowned, leading scholarship website that's rated A+ by the Better Business Bureau and approved by TRUSTe. This huge online database has 16 million registered members and welcomes more than 1 million monthly visitors. Students can review profiles on over 4,000 U.S. universities and discover 3.7 million college scholarships. Various categories, such as financial need, athletic ability, ethnicity, and school attendance, help dig into the directory for free. Sample scholarships include the $11,500 AAUW Scholarship for Women, $10,000 AIA Chicago Diversity Scholarship, and $12,000 Aubrey Lee Brooks Scholarship.
27. Scholar Snapp
Scholar Snapp is a no-cost, ad-free online platform where high school seniors and college students can easily apply for numerous scholarships with a few clicks. New members craft a profile with basic information like address and birth date. Students then upload frequently requested application documents, including transcripts and pre-written essays. The website is entirely secure with an SSL certificate to keep personal and financial data private. Scholar Snapp does the work of matching members to scholarships and auto-filling applications. Many providers, including the George Snow Scholarship Fund and Berkeley Community Fund, use the website.
28. Tuition Funding Sources
Sponsored by Wells Fargo, Tuition Funding Sources (TFS) is a comprehensive, trusted website that compiles information on more than 7 million scholarships worth $41 billion in total. Each month, site researchers add 5,000 new scholarships from around the country in one place. To search, students must register a free account. Website algorithms help match students to the right scholarships and send reminders when deadlines are approaching. Featured programs include the $1,500 Community Superhero Scholarship, $1,000 Stop Cyberbullying Scholarship, and $1,500 e-Commerce Scholarship. The TFS Toolkit also includes college profiles, career aptitude tests, and scholarship newsletters.
29. Unigo
Sold to EducationDynamics in 2016, Unigo is a leading, authoritative college search website that has published over 650,000 school reviews from real students. About 14 million online visitors also peruse Unigo's collection of more than 3.6 million scholarships. Students can conveniently sign in for free using their Facebook, Google, or Twitter account. Completing a scholarship profile takes three minutes tops to get personalized results. Individuals who write a college review are considered for a $1,000 scholarship. Until December 31st, the Unigo $10K Scholarship accepts applications with short, 250-word essays from members.
30. Cappex
The College Application Exchange, or Cappex for short, is a multi-billion-dollar scholarship database that serves more than 12 million members. Since 2006, the Chicago-based company of 60+ college graduates has compiled an online resource guide of 11 billion scholarships. There are even 4,000+ college profiles that are searchable from A-Z or by state. Students create an individualized profile for free and get sent scholarship matches. Cappex automatically calculates each student's chances of winning available scholarships. Members are entered to win the $1,000 Easy College Money Scholarship monthly.
Scholarship websites aren't the only places to look for tuition help. Some organizations don't advertise their scholarships to the masses on the internet. Therefore, conduct a local scholarship search offline to avoid missing valuable opportunities. Schedule an appointment at your college's financial aid office. Inquire about endowed scholarships that you may qualify for based on your major, athletic ability, artistic talent, or income level. Contact the employers of your parents or legal guardians to ask about scholarships for dependent children. Stop by nearby banks and credit unions to request information about their local scholarships. Call community foundations and nonprofits to see if they're funding new scholarships. Guidance counselors can also point you in the right scholarship direction. Use these bold, proactive steps plus the 30 best scholarship websites to maximize your winnings.
Recommended Rankings: