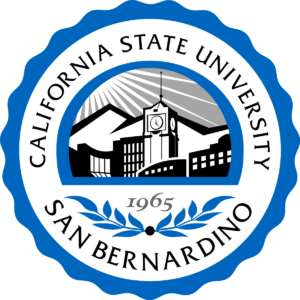 Innovative, Engaged Inland Empire Education at CSUSB
California State University San Bernardino appears in our ranking of the Top 50 Great College Deals: Master of Public Administration Online.
Named America's 179th best public college by Forbes, California State University San Bernardino is a space-grant, Hispanic-serving CCAA member that has 138 bachelor's, 67 master's, and two post-master's degrees plus the Online High School Program with a 28:1 student-teacher ratio. For example, the BS in Computer Engineering follows a 187-unit, ABET-accredited path headed by Dr. Haiyan Qiao where Coyotes might intern with Google, join the Robotics Team, practice in the Cyber Security Center, and pursue the 4+1 MS program. Chaired by Dr. Matthew Poole, the 180-unit BA in Studio Art encourages undergrads to exhibit in Dutton Gallery, work at the Robert & Frances Fullerton Museum, publish Dotphotozine, join Photography Club, and volunteer with the Prison Arts Collective.
Online on Blackboard, the College of Extended and Global Education grants a 90-unit, CSWE-accredited Master of Social Work led by Dr. Laurie Smith for $36,000 that includes a three-day San Bernardino orientation, part-time courses like Human Behavior, and 20 hours of weekly field practicum with Title IV-E stipends. Directed by Dr. Nicholas Jew, the 45-unit MA in Applied Archaeology offers opportunities to conduct Digital Anthropological Research Center projects, excavate the prehistoric Silver Lake Site, join ALPACA, and travel to Peru. Other degrees include the BA in Financial Planning, BA in Criminal Justice, BS in Health Science, BA in Physics, BS in Mathematics, MA in Psychological Science, MA in Child Development, MA in National Security, and EdD in Educational Leadership.
About California State University San Bernardino
California State University San Bernardino originated on April 29, 1960, when the Legislature authorized the founding of the San Bernardino-River State College for "Gate City" residents. In 1963, it became California State College at San Bernardino. In 1965, President John Pfau finally welcomed an inaugural coed class of 293 to its early three-building campus. In 1972, Serrano Village was built to house the first residential students. In 1984, the California State University San Bernardino name was adopted. On September 22, 1984, CSUSB started participating in National Collegiate Athletic Association Division II sports. In 1986, CSUSB leased land from the College of the Desert to open its extension. In 1994, President Anthony Evans launched the Yasuda Center for Extended Learning. The next year, CSUSB unveiled its 4,140-seat James and Aerianthi Coussoulis Arena. By 2011, California State University San Bernardino had a record-high 90 percent retention rate.
Endowed for $39.6 million, California State University San Bernardino now employs 864 faculty teaching 18,453 undergrad and 2,314 post-grad Coyotes from 35 countries online, on the 441-acre University District campus, or at the Palm Desert location with 140+ clubs like Acto Latino. In 2018, San Bernardino received a CASE District VII Circle of Excellence Award. In 2015, CSUSB won a $5 million California Award for Innovation in Higher Education. California State University San Bernardino accepted the 2003 IIE Heiskell Honorable Mention Award too. The U.S. News & World Report ranked CSUSB the 110th best engineering school, 157th best fine arts college, and 123rd top public affairs program. Diverse Issues in Higher Education picked San Bernardino 13th for minorities. On Niche, CSUSB has America's 265th most liberal academics and 429th best dining. Washington Monthly crowned California State University San Bernardino the 35th top master's institution.
California State University San Bernardino Accreditation Details
On February 20, 2015, the Western Association of Schools and Colleges (WASC) Senior College and University Commission took action to reaffirm the Level V accreditation at California State University San Bernardino through another Fall 2021 visit under the fourth president, Dr. Tomas Morales, who earned the AAAED Cesar Estrada Chavez Award. Located 424 miles north via Interstate 5 in Alameda, this elite eight-territory Pacific Coast Region accreditor is recognized by the Council on Higher Education Accreditation (CHEA) and California Department of Education. The 2019-20 Catalog also lists the following degree approvals:
National Association of Schools of Art and Design
Association to Advance Collegiate Schools of Business
Commission on Collegiate Nursing Education
Accreditation Board for Engineering and Technology
National Association of Schools of Music
Council on Social Work Education
Accreditation Council for Education in Nutrition and Dietetics
National Environmental Health, Science and Protection Accreditation Council
Council on Rehabilitation Education
National Association of Schools of Theatre
Council for the Accreditation of Educator Preparation
California State University San Bernardino Application Requirements
Getting into California State University San Bernardino is classified "moderately difficult" by Peterson's since just 8,798 of the 16,042 Fall 2018 applicants were chosen for 55 percent acceptance. First-year Coyotes must complete the A-G college preparatory pattern during high school with grades above C-. The eligibility index multiplies freshmen's GPA by 800 plus the SAT score. Likewise, the formula would multiply the ACT score by 10 and GPA by 200. California residents need minimum 2950 or 694 totals. Out-of-state undergrads always qualify with 3.61 and better GPAs. The Class of 2022 achieved an average 1000 SAT and 19 ACT score. Transfers need 60+ semester or 90+ quarter credits with college GPAs above 2.0. Graduate programs typically seek 2.5 upper-division GPAs and higher during accredited bachelor's preparation. The Brown College of Business requires minimum 470 GMAT scores. Successful master's and doctoral cohorts often need New GRE scores of 298 or greater. The Master of Science in Nursing mandates current RN licensure and 3.0 GPAs.
California State University San Bernardino has an undergrad admission period of October 1st to November 30th. All required documents must be filed by February 15th. The Office of Graduate Studies has general deadlines of July 8th for Fall, November 2nd for Winter, and March 4th for Spring starts. Accordingly, log into the Cal State Apply portal to submit the $55 CSU Application online. Forward official transcripts to 5500 University Parkway in San Bernardino, CA 92407. Submit testing results via SAT/GRE code 4099, ACT code 0205, or GMAT code 3VQ-W2-05. Send supplemental materials, such as the statement of purpose, residency form, current resume, 2-3 recommendations, and fee waiver. Contact (909) 537-5188 or moreinfo@csusb.edu with questions.
Tuition and Financial Aid
For 2019-20, California State University San Bernardino is charging in-state undergrads $1,914 per quarter. Non-resident tuition adds $264 per unit. Western University Exchange participants pay 150 percent of the resident price. Bachelor's majors cover the $411 mandatory campus fees quarterly. Room and board for Inland Empire dorms like Arrowhead Village costs $13,435 each year. CSUSB budgets $1,971 for books, $1,134 for transport, and $1,704 for personal. Annual undergrad attendance equals about $24,901 in-state and $37,210 out-of-state. Graduate tuition is typically $2,392 per quarter full-time. Non-resident master's students add $264 per unit. The Brown College tacks on $180 more per unit. Doctor of Education majors spend $3,946 quarterly.
According to the NCES College Navigator, the Office of Financial Aid in University Hall Room 150 connects 93 percent of incoming CSUSB Coyotes to median tuition assistance of $9,697 each for $21.62 million combined. Institutional funds include the Daniel Bagdon Scholarship, Vivien Bull Scholarship, Roger Broadfoot Memorial Scholarship, Margaret Lenz Scholarship, Bernard Kersey Scholarship, Dr. Peter Wetterlind Scholarship, Dora Prieto Scholarship, Barbara Taylor Scholarship, Frances Morongo Scholarship, Norman Lofthus Bright Vistas Scholarship, James Clark Trust Scholarship, and Betty Barker Scholarship. The University Legacy Scholars Program covers full tuition at the Palm Desert Campus for 15 Coachella Valley residents. The $5,000 President's Academic Excellence Scholarship assists freshmen registering for 36+ units with GPAs above 3.5. Federal resources, such as the Pell Grant or Direct Unsubsidized Loan, require FAFSA applications coded 001142. Californians also pursue the Cal Grant, State University Grant, Hampton Scholarship, Dale Schoettler Scholarship, Gregson Bautser Scholarship, and more.
Search six student-centered colleges for 200+ diverse value-added degrees placed 70th overall by Money magazine at the California State University San Bernardino website.