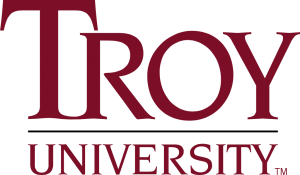 Affordable, High-Tech Education at Troy
Troy University appears in our ranking of the Top 50 Great College Deals: Master of Public Administration Online.
Ranked the South's 19th most innovative by the U.S. News & World Report, Troy University uses Canvas e-Learning software to deliver 88 undergrad and 91 graduate options, including 70 fully online programs, with a 15:1 student-faculty ratio. For instance, the BSN Nursing builds a 124-credit, CCNE-accredited curriculum in Troy or Dothan with 96.91 percent Alabama licensure success after Health Sciences Simulation Center exercises and Sigma Theta Tau membership. Directed by Dr. Judson Edwards, the 2016 MacVittie Emerging Leader Award winner, the 120-credit BA Financial Economics blends on-campus Manuel H. Johnson Center experiences with internships like the FDIC and Georgia-Pacific.
Exclusively online, the MS Strategic Communication offers digital access to the 200,000-volume Troy Library within a 30-credit, one-year track toward SCMP certification. The MS Clinical Mental Health Counseling led by Dr. Ruth Busby in Hawkins Hall outlines a 60-credit program with 700-hour internships, such as SpectraCare, Youth Villages, Laurel Oaks, and Easterling, for median $46,050 pay. Other degrees include the AS Computer Science, AS General Education, BA English, BA Latin American History, BS Marine Biology, BFA Theatre, MS Security Studies, MEd Collaborative Special Education, MBA Finance, MPA Nonprofit Management, MSW Social Work, and DNP Leadership.
About Troy University
Troy University originated on February 26, 1887, when the Alabama State Legislature approved a Pike County teacher-training school led by President Joseph M. Dill with $27 tuition. In 1893, it became the State Normal College at Troy under Dr. Edwin Ruthven Eldridge. In 1926, it acquired farmland to begin today's 820-acre Troy campus designed by the Olmsted Brothers in Forbes' 41st best state. The next year, Governor Bibb Graves gave it four-year status for the first Bachelor of Science. By 1957, it expanded to the master's level as Troy State College. In 1961, Troy started emphasizing distance adult education with the first off-site degree at Fort Rucker in Dothan. In 2001, Troy went abroad with a 1-2-1 Chinese Dual Degree Program in the People's Republic. Fully accredited in 2004, it was officially named Troy University the following August. In 2018, Troy claimed the NIST Grant to launch a Center for Materials & Manufacturing Sciences. Endowed for $104.4 million, Troy University now serves 18,086 Trojans from 11 countries online and on-site from Chesapeake to San Antonio with 200+ total clubs like Phi Alpha Theta. On Niche, Troy boasts America's 16th best online courses, 105th top athletics, and 156th best campus food. The Military Times "Best for Vets" school also ranked 183rd regionally for value in Washington Monthly.
Troy University Accreditation Details
In Spring 2010, Troy University was notified by the Southern Commission on Colleges and Schools Commission on Colleges (SACSCOC) Board of Trustees that the Level V accreditation was satisfactorily renewed for another 10-year cycle under Chancellor Jack Hawkins Jr., PhD, a Bronze Star recipient who earned a 2011 CASE Chief Executive Leadership Award. Located 199 miles up Interstate 85 in Decatur, this esteemed 11-state Southeast Region accreditor is recognized by the U.S. Secretary of Education and Alabama State Department of Education. The current Undergraduate/Graduate Catalog also lists these degree accreditations:
Accreditation Commission for Education in Nursing
National Association of Schools of Music
Council for the Accreditation of Educator Preparation
Council for Accreditation of Counseling and Related Education Programs
Council on Rehabilitation Education
Association to Advance Collegiate Schools of Business
Network of Schools of Public Policy, Affairs, and Administration
Accreditation Board for Engineering and Technology
Council on Social Work Education
Troy University Application Requirements
Enrolling at Troy University is classified "minimally difficult" by Peterson's because 5,938 of the 6,565 Fall 2017 applicants were successful for high 90 percent acceptance. First-year Trojans must graduate high school with at least 15 Carnegie units, including three in English, or receive the GED diploma. Most programs demand freshman GPAs above 2.0, but Accelerate Dual Enrollment seeks 3.0 GPAs. Adults age 25+ are free from testing with "C" averages or better. Otherwise, a minimum 20 ACT or 1030 New SAT score is mandated. Lower marks are only considered conditionally if GPAs surpass 2.5. International learners need a 500 TOEFL, 5.5 IELTS, or 480 SAT Reading score. The Graduate School needs validated proof of a four-year BA/BS degree from a regionally accredited college. For unconditional admission, achieving cumulative GPAs of 2.5 or greater in 120-130 credits is necessary. Minimum GRE marks of 150 Verbal and 140 Quantitative are sought after. Doctor of Nursing Practice cohorts must be post-MSN with active clinical licensure plus 3.0 GPAs. Incoming PhD Sport Management students need a 399 MAT, 540 GMAT, 157 LSAT, or 304 GRE score or greater.
Troy University offers rolling undergrad admission until August 1st for Fall, December 1st for Spring, or May 1st for Summer. Non-U.S. residents move dates up to June 1st, November 1st, and February 1st respectively. The Graduate School has general priority dates of May 1st, October 1st, and March 1st. However, the PhD Sport Management has a March 1st deadline. According, submit the Troy Application online with a $30 ($50 if graduate) non-refundable PayPal fee. Arrange electronic or paper transcripts to 100 University Park in Troy, AL 36082. For testing, select ACT code 0048, SAT/GRE code 1738, or 1013 MAT code. Additional documents often include the acknowledgement form, two recommendations, medical history form, housing application, passport identification, financial support statement, and résumé. Learn more by contacting (800) 414-5756 or ask@troy.edu.
Tuition and Financial Aid
For 2018-19, Troy University has charged full-time Alabama undergrads $4,875 per term or $9,750 annually. Non-resident bachelor's tuition was $9,750 each semester or $19,500 by year. Undergrads paid the $42 university fee, $50 registration fee, and $100 facility fee each term. Living at the Pike County campus' dorms like Gardner Hall added $1,650 to $3,500 every semester. Unlimited meal plans for Trojan Dining Hall are $1,600 extra. Troy budgets $1,138 for books and $3,297 for other essentials. Annual traditional attendance equals about $19,815 in-state and $27,399 out-of-state. Online undergrad courses are priced $325 to $650 per credit. The Graduate School bills Alabamans $425 and non-residents $850 per credit. So, the MS Biomedical Sciences would total $12,750 to $25,500 while the MBA General Management costs $13,175 to $26,350 overall.
According to the NCES College Navigator, the Financial Aid Office at Adams Administration Building connects 94 percent of incoming Troy Trojans to median assistance of $7,634 for $11.06 million combined. Institutional funds include the Gregory Glenn Riley Scholarship, Emily Anderson Nursing Scholarship, Dr. Emmett Kilpatrick Scholarship, Claude Allen Brown Scholarship, Bettie Hopper Perpetual Memorial Award, Patsy Brown Accounting Scholarship, Horizon Scholarship, Douglas Patterson Leadership Scholarship, Beach Optimist Club Scholarship, and Chancellor's Award. The Military & Family Scholarship reduces tuition to $250 per credit if GPAs remain above 2.0. Online students with 2.5 GPAs or higher get one nine-week course free with a Corporate Partner Discount. The $1,000 Mary Ann & William Hooten Current Scholarship has a February 28th deadline for psychology majors going abroad. Filing FAFSA applications coded 001047 determines Federal Pell Grant, SEOG Grant, Teach Grant, Work-Study, and Direct Loan amounts. Alabama state aid like the CollegeCounts Scholarship, Student Grant, Bernie Varnadore Scholarship, and Linly Heflin Scholarship also help.
Search through five accredited colleges offering 100+ degrees at 30 locations on the Troy University website.