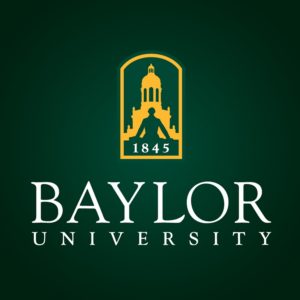 Degree Programs Offered at Baylor University
Baylor University appears in our ranking of the Top 50 Best Colleges in Texas.
Baylor University offers more than 100 majors for undergrads that range from American studies and anthropology to theater studies and supply chain management. It offers several programs in apparel studies, including apparel merchandising and apparel design and product development. The design program prepares students for designing and creating products and can also help them take their products to market. This program includes Fashion Illustration, Introduction to the Fashion Industry, Apparel Design and Costume Design and History. Those in the apparel merchandising program learn how to market products to consumers and buy products for companies.
The university also offers a Bachelor of Social Work (BSW) that U.S. News and World Report ranks as one of the tops in the country. It combines a liberal arts curriculum with required social work classes. Students take courses such as Foundations of Social Justice, Civic Education, Loss and Mourning and Aging and Mental Health. Majors can also do internships and gain some of the fieldwork experience that they will need in a Master of Social Work (MSW) program. Some of the other majors that undergrads can choose at Baylor University include studio art, recreation and leisure services, public relations, astronomy, biology, and education.
At the graduate level, Baylor University offers more than 100 degree programs. The university has an applied behavior analysis program that includes educational and school psychology courses. In the film and digital media program, students look at how filmmaking changed over the years and how directors now use technology in their films. This is one of the university's only programs without a set application deadline. Business majors can choose the taxation program if they want to take the Texas CPA exam or the executive Master of Business Administration (MBA) program if they do not want to take on-campus classes several days a week. The university has graduate programs in church music, marketing, education, computer science, journalism, social work and public policy too.
About Baylor University
Baylor University is a private university often called just Baylor. It was established in 1845 in the Republic of Texas and was affiliated with the Baptist Church. One of the requirements for early students was that they needed to attend church services every week. Though the university would grow in later years and add programs in other subjects, it is still affiliated with the Baptist General Convention of Texas. U.S. News and World Report included Baylor on lists of the best departments in social work, public health, physical therapy, psychology, English, chemistry, and biology. It also ranks Baylor as one of the top colleges in the United States and the world. Baylor also ranks nationally and globally by ARWU, Washington Monthly, and The Wall Street Journal.
Baylor University Accreditation Details
With accreditation from the Southern Association of Colleges and Schools (SACS), Baylor students can use the Free Application for Federal Student Aid (FAFSA) and get help paying for college. Many students will enroll in programs that have accreditation too, including the interior design, journalism and business programs. The accreditation that those programs have comes from organizations that include the Association to Advance Collegiate Schools of Business (AACSB), National Association of Schools of Music (NASM), Council on Social Work Education (CSWE), Council on Education for Public Health (CEPH) and Accrediting Council on Education in Journalism and Mass Communications (ACEJMC).
Baylor University Application Requirements
As a selective university, Baylor accepts around 39% of the students who apply to its undergrad programs. It has an early decision deadline of November first, which is a binding deadline. This means that students who apply by the beginning of November must agree to attend Baylor if they are accepted. The university has an early action deadline of January 15 that is not binding. There is also a March 15 regular application deadline. Prospective Baylor undergrads can apply with the university's application, through the Apply Texas website or with the Common Application. Students must apply with an essay and application fee, their high school/college transcripts and standardized test scores. Baylor will also accept up to two letters of recommendation and a resume. A short answer response is required of students applying for early decision. Incoming undergrads also need to pay a $500 enrollment deposit.
The university encourages students to view all of its graduate degree programs before they apply to make sure that those programs are right for them. Though most programs have an application deadline in the middle of April, some may have an earlier deadline. Students need to complete the Baylor application and pay the application fee. Waivers are available for veterans, those in the military and McNair Scholars. The university asks for a minimum of a college transcript and a GRE score. Certain programs may ask for letters of recommendation, essays, writing samples or interviews too.
Tuition and Financial Aid
Baylor charges the same tuition for resident and nonresident undergrads. They pay $44,544 each year if they take a minimum of 12 credits every semester, which qualifies them for full-time enrollment. Students pay another $4,702 in fees every year and an average of $12,682 for their room and board charges. Though Baylor is a private institution, it has financial aid packages that can cover most of a student's costs. It awards academic scholarships to those who have high test scores and grades. The university will accept scores up through the beginning of May, which can improve the student's chances of getting scholarships. Baylor can also give students federal and state aid, with more than 90% of undergrads receiving help from the government. To get grants and other awards, Baylor must have the student's FAFSA on file.
Full-time graduate students at Baylor pay $19,635 each semester or $39,270 to take classes over nine months. Those students pay another $4,136 in fees every year. On-campus housing is available for graduate students but costs an average of $7,583 for a housing package and another $5,832 for a meal plan. With Baylor assistantships, grad students who agree to work 10 or more hours a week can get a tuition waiver and a stipend. Those students also qualify for federal and alternative or private loans. Most of the students enrolled in one of the degree programs available at Baylor University receive at least one type of financial aid.