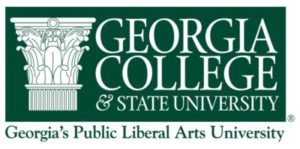 Accredited Public Liberal Arts Education at GCSU
Georgia College and State University appears in our ranking of the Top 50 Great College Deals: Master of Public Administration Online.
Placed 128th nationally by Forbes, Georgia College and State University is a mid-sized, state-funded COPLAC member in Milledgeville that confers 36 bachelor's, 27 master's, three specialist, and two doctoral degrees, including 21 fully online, at a 17:1 student-teacher ratio. For example, the Music Therapy B.M.T. crafts a 124-credit, AMTA-accredited "All-Steinway School" program coordinated by Dr. Tina Holmes-Davis to train Board Certified Music Therapists with MT Clinic practice, six-month field internships, and Max Noah Recital Hall performances. Directed by Dr. Aran MacKinnon at Humber-White House, the 120-credit History B.A. encourages undergrads to celebrate National History Day, travel from Ghana to Greece, join Phi Alpha Theta, and intern at Lockerly Arboretum.
Online on WebEx, the College of Health Sciences delivers a 40-credit, CCNE-accredited Women's Health Nurse Practitioner M.S.N. led by Dr. Debby MacMillan with two four-day campus immersions each June plus 675 hours at clinical sites like Emory Hospital or Gwinnett Medical Center. Chaired by Dr. Mandy Jarriel, the Athletic Training M.S. follows a 60-credit, two-year curriculum with Kinesiology Lab and NCAA Division II Peach Belt Conference experience for 100 percent Board of Certification Exam success.
Other Georgia College options include the Accounting B.B.A., Chemistry B.S., Computer Science B.S., Early Childhood B.S., Geography B.A., Library Media M.Ed., Public Administration MPA, Mathematics M.S., Political Science B.A., Rhetoric B.A., Special Education Ed.S., and World Languages B.A.
About Georgia College and State University
Georgia College and State University originated in 1889 when Augusta journalist Julia Flisch successfully lobbied for the General Assembly to charter a two-year institution for women. In 1891, the Georgia Normal & Industrial College was opened at the Old Governor's Mansion. In 1917, President Marvin M. Parks obtained state permission to award four-year bachelor's. Five years later, it was renamed the Georgia State College for Women. In 1935, Dean Ethel Adams notably started the college's "Golden Slipper" tradition. In 1945, future National Book Award recipient Flannery O'Connor graduated from Georgia State College. In 1957, the Master of Education became its first advanced degree. Desegregated in 1964, it allowed coeducational admission in 1967 as the Georgia College at Milledgeville. In 1996, the Georgia College and State University name was finally chosen.
Endowed for $40.1 million, Georgia College and State University now employs 404 faculty teaching 5,958 undergrad plus 1,031 post-grad Bobcats from 52 countries online or at the 43-acre Milledgeville campus on the Oconee River with 160+ clubs like Arts Unlimited. In 2019, GCSU won the Green Ribbon Award for Sustainability. In 2018, Georgia College received a GAPA General Excellence Award for The Colonnade. Its Wellness & Recreation Center accepted a 2014 Georgia AIA Architectural Merit Award too. The U.S. News & World Report named Georgia College 28th in the South with the 15th best business and 30th top nursing degrees online. On Niche, GCSU boasts America's 86th best dorms, 144th most Greek life, and 276th top public education. Money magazine declared Georgia College and State University the 653rd best investment. WalletHub noticed GCSU for the 280th best educational outcomes.
Georgia College and State University Accreditation Details
On January 15, 2015, Georgia College and State University formally announced that the Southern Association of Colleges and Schools Commission on Colleges (SACSCOC) Board of Trustees reaffirmed the Level V accreditation through 2024-25 under its 11th president, Dr. Steve Dorman, who earned the ASHA National Health Educator of the Year Award. Located 95 miles up Interstate 20 in Decatur, this superb 11-state Southeast Region accreditor is recognized by the Council on Higher Education Accreditation (CHEA) and Georgia Department of Education (GADOE). The Academic Affairs also lists these programmatic accreditations:
Association to Advance Collegiate Schools of Business
Council for the Accreditation of Educator Preparation
National Association of Schools of Music
Commission on Accreditation of Athletic Training Education
Accreditation Board for Engineering and Technology
National Association for the Education of Young Children
American Music Therapy Association
Commission on Collegiate Nursing Education
National Association of Schools of Public Affairs and Administration
Georgia College and State University Application Requirements
Entering Georgia College and State University is classified "moderately difficult" by Peterson's since 3,367 of the 4,329 Fall 2018 applicants were okayed for 78 percent acceptance. First-year Bobcats must finish the rigorous Georgia Required High School Curriculum (RHSC). This entails four Carnegie units each of English, mathematics, and science courses. The Class of 2022 presented an average 3.49 secondary GPA. The middle 50th percentile had SAT scores of 1140-1280. Mid-range admitted ACT scores were 24-29. Honors Program candidates need a minimum 1260 SAT or 27 ACT mark. International students need at least 523 TOEFL, 17 ACT English, or 6.0 IELTS scores. Transfers must hold 30+ qualifying semester credits with GPAs above 2.5. The Graduate School has varying requirements beyond the mandated bachelor's. For instance, the Special Education M.Ed. seeks licensed K-12 teachers with GPAs of 2.75 and higher. Public Administration M.P.A. cohorts need a minimum 290 GRE, 450 GMAT, or 395 MAT score. Georgia WebMBA students can forgo testing with business GPAs over 3.25.
Georgia College and State University set freshman deadlines of October 15th for Early Action or April 1st for Regular Decision. Preferential scholarship consideration ends on February 1st. Transfers can apply until July 1st for Fall, November 1st for Spring, April 1st for Maymester, or May 1st for Summer enrollment. The Graduate School has general priority deadlines of July 1st, November 1st, and April 1st. Creative Writing M.F.A. candidates must file before February 1st. School of Nursing programs close on March 1st each year. Accordingly, complete the GAFutures Application online for $35. Forward official transcripts to Campus Box 023 in Milledgeville, GA 31061. Send test results with SAT/GRE code 5252, ACT code 0828, or GMAT code 3TC-NH-78. Contact (800) 342-0471 or admissions@gcsu.edu to learn further steps.
Tuition and Financial Aid
For 2019-20, Georgia College and State University is charging in-state undergrads $4,765 each term. Non-resident bachelor's tuition is $14,355 by semester full-time. These figures include the $133 activities fee, $181 athletic fee, $275 institution fee, and $175 Wellness Center fee. Living at the Milledgeville campus' dorms like Adams Hall adds $11,320 for annual room and board. GCSU budgets $1,500 for books, $1,496 for transport, and $3,192 for miscellaneous per year. Annual undergrad attendance equals about $27,038 in-state and $48,764 out-of-state. The Graduate School has traditional flat-rate semester tuition of $3,525 for Georgians and $12,562 for non-residents. Online programs generally charge everyone $544 per credit though. The Master of Music Therapy is an exception billing $509 per credit. Online Master of Criminal Justice cohorts spend $459 per credit. The WebMBA costs the most at $739 per credit.
According to the NCES College Navigator, the Office of Financial Aid in Parks Hall Room 103 connects 80 percent of full-time GCSU Bobcats to tuition assistance averaging $7,346 apiece for $35.39 million combined. Institutional funds include the Benett-Dudley Scholarship, Edith Fletcher Echols Education Scholarship, Generation Next Scholarship, Anthony Tan Scholarship, Katherine Inmon Ard Scholarship, Dr. Bob Wilson Scholarship, Ralph Norman Scholarship, Marjorie Prentice Graduate Research Scholarship, Matthew Buchanan Scholarship, and Esther Cathy Endowed Scholarship. The Trustee Scholarship gifts $6,000 annually to exemplary freshmen meeting the 1310 SAT or 28 ACT minimum. The $3,000 Vera Vincent Scholarship aids College of Arts & Sciences majors with GPAs above 3.5. Federal programs, such as the Pell Grant and Teach Grant, require FAFSA applications coded 001602. The Georgia Student Finance Commission also has in-state resources like the Hope Grant, Zell Miller Scholarship, and Access Loan.
Search through five student-centered schools providing 85+ preeminent programs ranked 160th overall by Washington Monthly at the Georgia College and State University website.