If there is one thing we hear a lot when it comes to higher education, it's that we need to encourage more people to enroll in STEM majors. What does STEM stand for? Science, Technology, Engineering, and Mathematics. What do these subjects have in common? Well, they tend to be more work, for one. They also all feed into the fastest growing sectors of the economy. Sectors that are growing faster than we currently produce professionals in those fields. Finally, on average, just 28% of STEM professionals are women.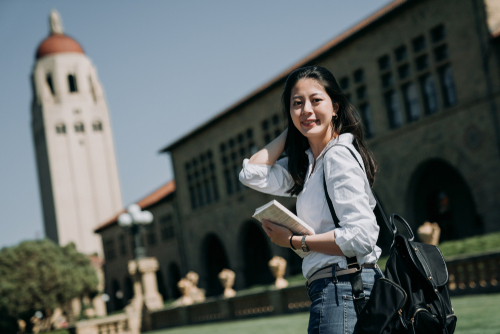 The reasons behind this are beyond the scope of this article, but we'll talk a little bit more about why it's important to increase the number of women in STEM fields in the FAQ at the end of the article. Since women are around 50% of the workforce, one of the best ways to increase the number of STEM professionals is to support more women with interest in STEM majors. That's where the scholarships featured in this article come in. We've collected ten of the best STEM scholarships for women currently available.
Virginia Heinlein Memorial Scholarship
While two Heinlein Society scholarships are available to STEM majors of any gender, the Virginia Heinlein Memorial Scholarship is only for women majoring in engineering, math, biological science, or physical science. The scholarship is not automatically renewed, but those who have won the scholarship already can re-apply each year. Unlike many scholarships, this scholarship is open to residents of any country. Applicants will write a 500-1,000 word essay on one of six topics listed on the website.
Scholarship Amount: $3,000
Scholarship Deadline: Apr. 1
Generation Google Scholarship for Women in Gaming
The Generation Google scholarship program has partnered with the Google gaming platform Stadia to offer this massive scholarship to women pursuing degrees in gaming. The scholarship is designed to support women who want to enter the gaming industry, as they are historically underrepresented there. The scholarship is available to women studying at any higher education level. There is no specific information as to the scholarship application period except that it opens in the fall.
Scholarship Amount: $10,000
Scholarship Deadline: Opens in Fall
BHW Group Scholarship
This STEM scholarship is for women studying in any STEM field at the undergraduate or master's degree level. International students are welcome to apply as long as they are attending a program based in the United States. The initial application process is a breeze; students submit their name, email, phone number, school (if decided) and major. Then they write a 500-800 word essay on their favorite app, what they like about it, and a time it played a significant role in improving their day.
Scholarship Amount: $3,000
Scholarship Deadline: Apr 15th
Science Ambassador Scholarship
This scholarship for women in STEM degrees is funded by the sales of Cards Against Humanity's Science Pack, a 30 card expansion for the popular game. It's more than just a scholarship, as it comes with a community of mentors and students who work in STEM fields. Students can apply by creating a three minute or less video on any STEM topic they're passionate about. It doesn't necessarily have to be your particular field of study. For more information check out the website!
Scholarship Amount: Full Ride
Scholarship Deadline: TBA
SSAI Scholarship
This STEM scholarship is sponsored by Science Systems and Applications Incorporated, a woman-owned business operating in the earth and space sciences, advanced computing, scientific analysis, instrument engineering, systems development, and information technology industries. To be eligible for this scholarship students must participate in the Society of Physics Students. The scholarship is available to students in their sophomore or junior year.
Scholarship Amount: $2,000
Scholarship Deadline: Mar 15th
AWIS Scholarship
This scholarship is available to women in their sophomore or junior year of study in physics. Preference is given to well-rounded students who excel both in academics and outdoor activities involving service, sports, music, and other non-academic activities. Students must be majoring in physics, geophysics, space physics, or geosciences. The list of submission guidelines and application requirements can be found on the scholarship website linked above.
Scholarship Amount: $2,000
Scholarship Deadline: Mar 15
IISE Scholarship
The scholarships offered by IISE are available to active members of the Institute of Industrial and Systems Engineers. There are numerous scholarships available, including a $4,000 scholarship available to women majoring in industrial engineering at a school with an industrial engineering program accredited by an institution recognized by IISE.
Scholarship Amount: $4,000
Scholarship Deadline: Nov 15
Boosting Women in STEM
The motivation for bold.org behind offering this scholarship is the gender imbalance in STEM industries. The organization notes that only 28% of the STEM workforce is women, and the gender gap grows when looking at the fastest-growing and highest paid technology and engineering sectors. Applicants will write an essay answering the question "How are STEM occupations important to help people adapt and thrive in a post-pandemic world?"
Scholarship Amount: $1,000
Scholarship Deadline: Mar 31
Society of Women Engineers Scholarship
The Society of Women Engineers offers a variety of scholarships with awards from $1,000-$16,000. Some of these awards are renewable for multiple years while others are one-time awards. There are awards for both traditional students and non-traditional students who have been out of the workforce or away from engineering programs for specified amounts of time.
Scholarship Amount: up to $16,000
Scholarship Deadline: Freshmen May 1, Sophomore and later Feb 15
Palantir Women in Tech Scholarship
Palantir awards 10 scholarships of $7,000 to women pursuing degrees in computer science, engineering, and technical studies. Students must be a freshman, sophomore, or junior. They also must be majoring in computer science, engineering, software engineering, or another field closely related to those three. Applicants must identify as a woman, and not have been awarded a Palantir scholarship before. Applicants will write two essays and must submit their resume, university information, major, and expected year of graduation.
Scholarship Amount: $7,000
Scholarship Deadline: Apr 1, 4pm PST
Frequently Asked Questions
Why is it important to address the gender gap in STEM?
First, it's important that there are many different gaps in STEM professions. The gender gap is just one of these. There are also socio-economic gaps and racial gaps that need to be addressed in the field as well. Diversity is important in STEM because science, technology, engineering, and mathematics are the keys to solving many problems and crises facing society today. People with different life experiences understand problems and their implications differently, and often will have different approaches to solving those problems. Take the Internet as an example. Almost every social media platform has been designed by a white man, and is implemented and administered overwhelmingly by white men.
There are consistent problems across all these platforms that involve the harassment of women, or widespread issues with white supremacy and the spread of hateful ideologies. These issues don't directly affect white men, so it makes sense that it wouldn't necessarily have occurred to them to implement safeguards to limit this kind of activity. It's a blind spot in design. If these platforms had been designed by teams with more women and people of color involved in the process, there is a chance these potential (at the design point in the timeline) issues would have been brought up and the design teams would have been more prepared to address these issues in the initial design of the platform. For instance, maybe platforms would have integrated block and mute functions much earlier. Maybe they would have implemented shareable block list features so people could preemptively limit their interactions with harassment-prone individuals instead of reactively blocking every single person who harasses them individually. Maybe the platforms would have given people the ability to limit who can see their activity right off the bat.
GCD Staff
February 2021
Related:
Other scholarships to consider:
This concludes our review of top scholarships for women in STEM.