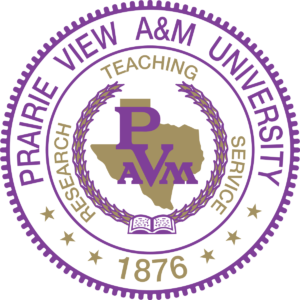 Degree Programs Offered at Prairie View A&M University
Prairie View A&M University appears in our ranking of the Top 50 Best Colleges in Texas.
Prairie View A&M University offers degree programs through eight colleges and schools and the Northwest Houston Center. Nursing is a popular major for undergrads because it includes practical training in the field that gives students experience with patients. The Bachelor of Science in Nursing (BSN) program is open to new students and those with a nursing license. Students can also make the transition from a licensed vocational nurse or a registered nurse to a BSN degree through the university's LVN to BSN and RN to BSN programs. They can graduate in 12 months or less.
The Brailsford College of Arts and Sciences can help students earn degrees in music, theater and behavior science. It is one of the only 185 schools in the nation that offer Steinway pianos that students can use in their classes and during practice sessions as well as when they perform in front of others. A Bachelor of Arts (BA) in General Music is available with concentrations in voice, piano or instrumental music. The same concentrations are available in the BA in Music Education program, which helps students teach music and singing to others. Other majors open for undergrads include nutrition, agriculture, management, social work, marketing, and computer science.
At the graduate level, students can choose from 30 programs that include a major in marriage and family studies. It teaches students how to work with individuals, couples, and families and is similar to the marriage and family therapy major offered at other schools. Theories of Child Development, Human Development, Family Communication, and Family Theory and Issues are the four classes that make up the program's core. Other classes that students can take before doing a thesis include Counseling Diverse Populations, Family Financial Counseling, Marriage and Family Therapy and Child and Adolescent Therapy. It features a marriage and family practicum too.
Another top problem is the university's Master of Business Administration (MBA). It asks students to take six credits of electives and complete the business core, which is worth 30 credits. The core includes Organizational Behavior, Theory of Financial Management, Managerial Communication, Managerial Accounting, and Production and Operations Management. In the executive MBA program, students take 12 classes in two years at the Northwest Houston Center, including eight-week classes and one Saturday course. Graduate students can also study accounting, sociology, chemistry, juvenile justice, physical education and other subjects at Prairie View A&M University.
About Prairie View A&M University
Prairie View A&M University is a public university and one of the oldest centers for higher education in Texas. Established in 1876 as the Agricultural and Mechanical College for the Benefit of Colored Youth, it opened not long after the Civil War as a way to offer opportunities for black students in the south. It would later adopt the name Prairie View Normal and Industrial College as its curriculum changed before becoming Prairie View University and then Prairie View A&M University. The university is also known as Prairie View A&M, PV, and PVAMU. It is one of the oldest historically all-black schools in the south and has a student body that includes more than 80% African Americans. PV has more than 150 organizations and clubs, including a Student Government Association and several fraternities and sororities. The university also has an enrollment of more than 9,500 students across all levels.
Prairie View A&M University Accreditation Details
The Association to Advance Collegiate Schools of Business (AACSB) is just one of the professional organizations that awarded PVAMU accreditation for its degree programs. This accreditation covers all business and management tracks. Other program accreditation covers the university's tracks in dietetics, education, nursing, engineering, architecture, and agriculture. PV has regional accreditation from the Southern Association of Colleges and Schools (SACS), which is why students can submit the Free Application for Federal Student Aid (FAFSA) to get a financial aid package and why they can transfer credits when they come to the university.
Prairie View A&M University Application Requirements
Undergrads need to use the Texas Common Application when applying to PVAMU, which lets them apply to other state colleges at the same time. The application charges a $40 fee when students reach the end. PVAMU also requires a copy of the student's GED certificate or official high school transcript to make sure that they have the training needed to enter college. Other requirements include a grade point average of 2.8 or higher and a minimum score of 15 on the ACT or 800 on the SAT. The university asks for official scores from either test.
Graduate students should check with the departments that oversee each program to make sure that they meet the minimum requirements needed for admission. They can attend workshops on the PV campus to get help in improving their writing before they begin classes and with the application. All programs ask for a completed application and a college transcript that shows the student has a bachelor's degree and that they took classes relating to their graduate students. They may need to submit other documents for certain programs, including a GRE score or a score from a similar test, letters of recommendation, writing samples or a resume.
Tuition and Financial Aid
PV charges undergrads $5,393 per semester for enrollment if they take a full course load and are Texas residents, which includes all their fees and tuition. Nonresidents pay $12,827 every semester for full-time enrollment. Undergrads pay an average of $2,574 for their room and board every year. The university has resident and nonresident rates for graduate students too. Those students pay $3,815 every semester as a resident and $8,295 if they're not from Texas. Both rates include all their fees too.
The FAFSA helps all students qualify for financial aid such as one of the jobs that are part of the work-study program. Undergrads can work up to 10 hours every week, but graduate students can work more hours and get advanced positions working for their professors. Some grants go to Texas residents and other students as well as scholarships for undergrads and advanced students. PV also helps students qualify for PLUS, subsidized and unsubsidized loans. To get loans and other financial aid for any of the degree programs offered by Prairie View A&M University, students must submit the FAFSA.