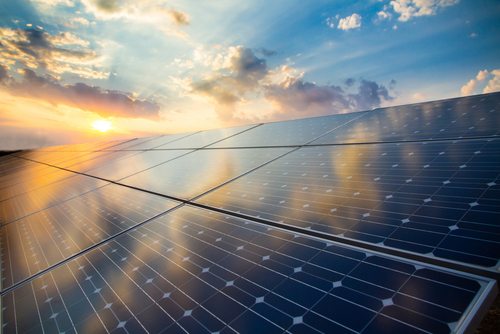 Renewable energy scholarships can help you get into this exciting industry! Renewable energy is the future. That's not just marketing–most nations around the world are committed to developing their renewable energy infrastructure to make it the primary, or even the only, source of energy in their grid.
This makes renewable energy a great choice for your career, as it's rare to have the chance to get in on the ground floor of a brand new industry just as it's taking off. The people who devote their education to becoming professionals in the renewable energy sector now will become the experts and leaders that forge our path to a future of sustainable energy. And if you're thinking that's something that needs to be supported, you're not alone.
Here, we're featuring five amazing renewable energy scholarships/internships to support young leaders in the field. Normally we don't include internships in these lists, but the internships featured here are through the U.S. Department of Energy, take place over 8-12 weeks during the summer, and come with a stipend that you would be hard pressed to make if you worked full time at a summer job. That kind of value is hard to find and is just as valuable as a scholarship, both monetarily and professionally, so we included the internships. If you have more questions about renewable energy engineering scholarships, renewable energy, or how to finance your college education, check out the FAQ at the end of the article.
Reviewing Top Energy Scholarships and Internships
U.S. Department of Energy Scholars Program
Internships are a huge benefit to students looking to gain real-world experience but it can be difficult to swing an internship if it's unpaid. The Department of Energy Scholars Program offers 8-12 week summer internships that come with a $600/wk stipend for undergraduates ($650/wk for graduates). The department of energy is big, though, and the internships can be with any number of affiliated organizations, so make sure you find the best fit for you!
Internship Amount: $600-$650/wk stipend
Application Deadline: See Website
Minority Educational Institution Student Partnership Program
This 10-week internship is for minority undergraduate and graduate students. Students are placed in an office within the DOE or one of its labs. The internship is designed to provide technical and professional experience, and it includes both networking opportunities and personal development workshops. Students must be at least 18 years old, be a U.S. citizen, have a 3.0 or greater GPA, be enrolled in college full-time, demonstrate leadership potential, have a commitment to public service, be interested in energy-related issues, and have strong written and verbal communication skills. The undergraduate stipend is $600/wk, and the graduate stipend is $850/wk. Due to COVID-19, the 2021 internship will be virtual. Virtual interns still receive the stipend.
Internship Amount: $600/wk-$850/wk stipend
Application Deadline: Contact Organization
Renewable Energy Scholarship Foundation
The Renewable Energy Scholarship Foundation scholarships are awarded to five or six students based on their academic merit and their accomplishments in the field. Each scholarship is $2,000 in cash with no strings attached, to be used to cover expenses related to your education. Students can be undergraduate or graduate level and studying any area related to renewable energy. Examples of acceptable areas of study include economics, law, public policy, energy storage, demand response, grid-interactive efficient buildings & load flexibility, advanced grid modernization, greening of the grid, and more. Students must either be studying in Oregon or Washington, or be from either of those states and studying in a different state.
Scholarship Amount: $2,000
Application Deadline: Feb. 15
BluEarth Renewables
The BluEarth Renewables scholarships are offered to students who are residents of Canada or the United States. Two renewable energy scholarships are offered. The first is available only to indigenous students studying full time at an accredited college, university, or trade school. The renewable energy trades scholarship is available to students who are studying in an energy trades program focused on wind, hydro, or solar energy.
Scholarship Amount: Not Available
Application Deadline: Sep. 15
Midwest Renewable Energy Association
The Midwest Renewable Energy Association partners with the Straubel Foundation to offer the Clean Energy Leadership Award. The award's purpose is to provide financial assistance to students pursuing a career in renewable energy, energy efficiency, sustainability, or clean technology. To be eligible for these environmental scholarships, students must reside in the states of Wisconsin, Minnesota, Michigan, Iowa, Illinois, Indiana, Ohio, or Missouri.
Scholarship Amount: Varies
Application Deadline: Mar. 30th
Frequently Asked Questions
What is renewable energy?
Renewable energy is simply energy that is collected or generated from renewable resources, which are resources that don't deplete over time. These include wind, rain, sunlight, tides, waves, and geothermal heat. Hydroelectric power is considered by some to be renewable, but others argue that it's not technically renewable. Hydro power also isn't necessarily considered green energy. Even though it is carbon neutral, it has a large impact on the environment, as it requires dams and reservoirs to be created which sometimes adversely impact the local ecosystem. Renewable energy is a growing industry, and it is the future of energy production. 30 nations around the world currently use renewable energy to provide at least 20% of their nation's electricity. The increased use of renewable energy has lead to a decline in the growth of fossil fuel energy sources, and renewable energy is slowly replacing the older fossil fuel model. The main competition for renewable energy, as far as growth is concerned, is natural gas and nuclear power. But many countries have committed to working toward making their grids 100% based on renewable energy in the future. Projections indicate renewable energy will equal coal and natural gas generation by 2040.
Is renewable energy a good career?
All jobs related to renewable energy are pretty good career choices right now, as it is a young, growing industry with broad support from nations around the world. This means lots of investment, not just in the industry itself but in the sciences and academic fields that study all aspects of implementing renewable energy. Economics, law, policy, and most STEM fields will need professionals focused on renewable energy to make sure it is properly incorporated into our global society in order to combat climate change and scarcity.
If you're looking for a good engineering specialty for renewable energy, take your pick. The sector uses mechanical, chemical, industrial, and electrical engineers. Scientists of just about every specialty can get involved as well. Electrical engineers working in the sector earn between $70,000 and $80,000 per year right now, but as demand for specialized and experienced engineers grows with the industry, so will the available salaries.
What is the best renewable energy sector to specialize in?
This is a difficult question to answer. The best answer is probably the one that best captures your imagination and interest. Some renewable energy sectors, like wind and solar, are more established. But geothermal and tidal energy are exciting areas with lots of untapped potential for ambitious scientists and engineers. Transportation applications for renewable energy are also incredibly important for our environment. Research on solar vehicles has been happening for a long time, as has research on fuel created from biomass. Solving the transportation fuel problem is going to be essential in the coming years. My advice would be, if you're interested in renewable energy as a career, to get into it from the angle that most interests you and captures your imagination. It's an exciting time to enter the field and there are lots of opportunities to forge your own path.
Any tips for getting these great scholarships and internships?
If you see one you really like, target it. Look at the requirements, and do what you can to make yourself an ideal candidate for the scholarships or internships. DOE internships are likely very competitive. So specializing yourself, having a good idea of what area of the DOE you are interested in, and targeting a specific internship within the program is the best method.
Make sure you collect all the relevant information about eligibility, etc. that each scholarship or internship offers, and don't be afraid to call them up and ask for more information. Then make yourself a plan. There are often commonalities between scholarships that are sector specific. So see if there is anything you can do that will help make you a great candidate for more than one of the scholarships on the list. Going after these scholarships is about being smart and using your time efficiently, because one thing they all have in common is that they like to see good grades. But even if your grades aren't the greatest, as long as they meet the minimum requirement and you have other things going for you, you can still score a great scholarship.
Any other advice about how to finance my college education?
Scholarships are a great supplement, and internships with stipends that pay as well as these DOE ones are incredibly rare (you probably won't make as much at any typical summer job). But these should always be supplementary to other forms of financial aid. Scholarships are great, but they aren't reliable, and while some of them might be available for multiple years, many are one-time deals. So make sure you fully understand your other, more reliable financial aid options. Read up on the FAFSA application process and make sure you understand it. Get your FAFSA application in as soon as possible. If you're applying for universities, apply as early as possible. Don't wait until the last minute, because institutional financial aid is limited, and it's often given out on a first-come, first-served basis. So, if you see a school has an early application period, go for it. If not, get the application completed and submit it on the first day of the application season. Some of the best colleges and universities in the United States are public colleges. Check out the options in your state, because tuition is much cheaper for residents. If you can't get into the best state college or university in your state, don't despair. It's often easier to transfer in from a community college or other state college or university. So get your general education credits out of the way at one of those, keep your grades up, and transferring in should be simple!
Related:
Small Colleges for Environmentally-Minded Students
GCD Staff
April 2021
This concludes our list of renewable energy scholarships and internships.