Welcome to our ranking of the 10 Best Deals on Online MBA and Online Master's in Marketing Degrees. Spanning nearly every industry we interact with on a daily basis, the effects of marketing are both constant and ever-changing. Marketing professionals with an MBA are considered especially employable in the industry; this master's degree opens doors to powerful marketing roles with high salaries. Some of the careers pursued by marketing master's alumni include brand strategist, management consulting, social media, advertising, and other exciting positions.
For those seeking a master's degree in marketing online, there are a growing number of schools who have added this program to their academic offerings. The scheduling flexibility of online master's programs is often necessary for marketing professionals who wish to maintain their work routine.
In compiling this list, we examined 50 institutions that have online opportunities in graduate-level marketing. We then narrowed this field by awarding points based on features including comprehensive curriculum in marketing that evolves with the changing field climate, a faculty of seasoned marketing professionals, high rate of employability among recent alumni, course and degree schedule flexibility, well-connected network of alumni, and additional points for features that added more value.
The 10 finalists profiled below scored the highest among accredited schools with a tuition (per College Navigator) of $33,000 USD or less. These schools are ranked in order of points earned; in the event of a tie in points, the schools with the lower net price are ranked higher.
#10 – Post University
ONLINE MBA IN MARKETING
Points: 8
Total Enrollment: 8,366 Graduate Enrollment: 724
Tuition: $7,500
Post University is a higher education opportunity with low tuition, committed faculty, and a vast range of online degrees. For graduate students seeking an online MBA with a concentration in marketing, Post offers a challenging program that values the importance of career specialization. The online marketing MBA invites students to be highly interactive in subject areas that include product development; integrated marketing for managers; customer relationship management; and matching value propositions to buyers. All of Post University's online MBA students complete a series of foundational courses integral to a diverse, successful career in business administration.
#9 – Columbia Southern University
ONLINE MBA, MARKETING CONCENTRATION
Points: 8
Total Enrollment: 21,359 Graduate Enrollment: 5,877
Tuition: $4,950
With a tuition under $5,000, Columbia Southern University is a highly affordable opportunity to earn a master's degree online. MBA students who choose a marketing concentration are prepared for a future in respected management roles. CSU's online marketing master's program focuses on core business principles; new product development; strategic marketing; B2B marketing; and other subject areas that give graduates a competitive edge in a rapidly changing marketplace. Columbia Southern has a greatly resourceful career center to guide students to the next phase of their careers. In a recent survey, 97% of CSU students responded they would recommend the school to others.
#8 – Walden University
Minneapolis, Minnesota
Points: 9
Total Enrollment: 52,188 Graduate Enrollment: 43,228
Tuition: $12,075
Walden University, an academic institution that exists entirely online, serves over 47,000 students from 50 states and 120 countries. For prospective students seeking an online master's degree in marketing, Walden has a program that features the latest in virtual learning environments. This college's online marketing master's has course topics including content development; social media; brand management; marketing strategy; and other significant field areas. Walden University's master's of science in marketing additionally includes a graduate certificate in digital marketing; this certificate enhances the relevancy of the marketing professional.
#7 – Capella University
ONLINE MBA IN MARKETING
Points: 10
Total Enrollment: 35,061 Graduate Enrollment: 26,311
Tuition: $13,176
Since 1993, the multiple award-winning Capella University has maintained its high academic standards. This college's online MBA degree in marketing is widely considered one of the most competitive in the workplace; 96% of employers who hired Capella alumni have rated them as exceptional. The online master of science in marketing emphasizes customer relationship-building; product design; market research; and sales strategy. Additionally, online master's students engage in an individualized capstone projects that further enhances commitment to a marketing career. Capella University's "MBA Central" is an excellent resource in current events, networking opportunities, and more.
#6 – Liberty University
ONLINE MASTER OF SCIENCE IN MARKETING
Points: 10
Total Enrollment: 81,459 Graduate Enrollment: 31,175
Tuition: $7,781
One of the most respected online educations available, Liberty University has offered over 500 areas of study since 1985. Liberty's online master of science in marketing focuses its curriculum on digital and advertising specialties. This MS program covers current trends in strategic digital marketing campaigns; social media; project management; sports marketing; public relations; and more. Liberty University has a low student-to-faculty ratio, allowing for engaged and personalized learning. This college has an active, well-connected network of employers who frequently seek Liberty master's graduates.
#5 – Regis University
ONLINE MBA IN MARKETING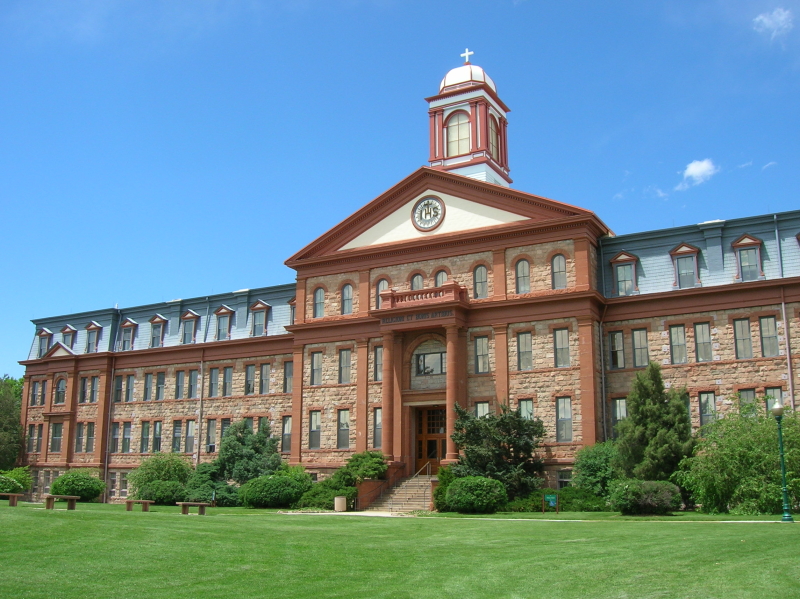 Points: 11
Total Enrollment: 9,208 Graduate Enrollment: 4,199
Tuition: $10,800
Recently ranked a "Top University in the West" by U.S. News & World Report, Regis University joins award-winning faculty with career-driven students. RU's online MBA in marketing is based on the core business principles applied in the field. Regis' curriculum for the marketing master's program includes topics in international marketing; customer relations; product management; marketing strategy; and more. Additionally, online master's students engage in an interactive case analysis intended to enhance their skill set and confidence. MBA graduates of Regis University most frequently advance to careers in sales, advertising, and brand direction.
#4 – Washington State University
ONLINE MBA, MARKETING CONCENTRATION
Points: 12
Total Enrollment: 28,686 Graduate Enrollment: 4,819
Out-of-State-Tuition: $24,656
Washington State University's Carson School of Business has a widely-renowned MBA program that is considered more selective than its peer institutions. The MBA in marketing online produces professionals who have solid skills in strategy and complex decision-making. In addition to a unique marketing curriculum, students enrolled in the MBA master's program are given experiential learning opportunities that prepare them for successful leadership roles. WSU has a proud alumni network that forges connections on a global scale; all MBA students are invited to make contact with graduates who are now in successful marketing roles.
#3 – Arizona State University
ONLINE MBA, MARKETING CONCENTRATION
Points: 12
Total Enrollment:50,320 Graduate Enrollment:10,359
Out-of-State-Tuition: $12,580
Arizona State University's W. P. Carey School of Business is a close-knit academic community committed to developing successful graduates. ASU's online MBA in marketing is strategically designed to foster a deep understanding of integral business concepts; students only take one core course per week at the beginning of the program, ensuring optimum immersion in the topic. Online MBA students in marketing receive curriculum related to new product development, global marketing, and many more. The W.P. Carey School's MBA in marketing program was recently ranked #4 by Bloomberg Businessweek.
#2 – Rutgers University
ONLINE MASTER'S DEGREE IN MARKETING
Points: 13
Total Enrollment: 35,061  Graduate Enrollment: 26,311
Out-of-State-Tuition: $26,808
Led by world-renowned faculty committed to accessibility, online learning at Rutgers University is a strong option for students seeking a graduate degree. This college's marketing master's degree online can be pursued with either a social media or digital marketing concentration. The Rutgers University School of Business offers a diverse, rich curriculum in marketing management; consumer behavior; pricing strategies; entrepreneurship; global marketing; retail management; and many other special topics that enhance expertise in the field. Rutgers' alumni of its online master's in marketing are employed by high-profile companies including Subaru and Lockheed Martin.
#1 – Marist College
ONLINE MASTER'S IN INTEGRATED MARKETING
Points: 13
Total Enrollment: 6,356 Graduate Enrollment: 840
Tuition: $13,500
Marist College, a recognized leader in academic excellence, has earned consistent praise from publications including U.S. News & World Report and Barron's Best Buys in College Education. This school values the importance of becoming a well-rounded contributor to a rapidly evolving workforce. Marist's graduate-level marketing communication degree was designed by industry professionals; this online marketing master of arts provides the skills necessary to remain industry-competitive. Some of the marketing areas explored by online master's students include advertising; corporate communications; public relations; and brand management. Marist College is known for its extensive networking opportunities, with connections to companies such as Bank of America and BMW.
This concludes our ranking of the best deals in online MBA and online master's in marketing degrees.
By GCD Staff
June 2016